What Are Amazon FBA Transaction Fees and Fee Breakdowns
If you use Amazon's FBA (Fulfillment by Amazon) service, you've probably seen a few extra FBA fees pop up on your statements. In this article, we'll explain what those fees mean (in real life), and how to record them in your books.
Find our updated fees guides for 2021 here:
Table of Contents
What is Fulfillment by Amazon?
Fulfillment by Amazon (FBA) is a service provided by Amazon, in which your inventory can be stored at one of their warehouses, and orders are picked, packed, shipped, and tracked for you.
Being an FBA seller removes the stress of selecting, packing and shipping items yourself, not to mention meeting Amazon's tight delivery timeframes. There are, however, costs associated with being an FBA seller, and these come in the form of FBA Amazon transaction fees.
Understanding FBA Transaction Fees
It's important to understand where FBA transaction fees are coming from, so you can account for them properly.
As an FBA seller, you are considered a "professional seller" and pay a monthly subscription of $39.99. This is on top of the subscription fee are other FBA transaction fees that you see in Seller Central.
But what do those Amazon fees represent? Some of the FBA transaction fees we'll be explaining aren't shown on the example above, but they may show up on your Amazon settlement at some point.
FBA Order Handling Fee
When you look at the example transaction pictured above, the FBA Order Handling Fee doesn't seem like a deal breaker at less than 1% gross. But what does FBA Order Handling Fee mean?
The FBA Order Handling Fee is literally just that — it is a fee to physically touch your product. After all, someone has to do it, now that you use FBA, it doesn't have to be you.
Variable Closing Fee: BMVD or 'Media' Items
Media items, or BMVD (books, media, videos, and DVDs) aren't included in the order handling fee because they have a fee category that's all their own.
Variable Closing Fee is a fixed price ranging from $1.30-$1.80 depending on the product that Amazon attaches to items deemed as BVMD or 'Media'. In essence, it's a handling fee specific to media items. This fee is in addition to the referral fee you pay for each item.
Refund Administration Fee
BMVD
When a customer requests a full refund on a BMVD product, Amazon refunds the entire amount for the original order related fees.
If a partial refund is requested for a BMVD product, Amazon retains the variable closing fee and credits you a proportional amount of the referral fee originally charged for the order. This is based on the percentage of the item price you refunded to the buyer.
Curious about partial BMVD refund calculations? Log in to Amazon Seller Central and query "Partial Refunds for Media Products".
Non-BMVD Refund Fees
When a shopper requests a full refund on a non-BMVD purchased item, Amazon charges the FBA seller 20% of the original order related charges, up to a maximum of $5.
The same applies to partial refunds, with a bit of the original referral fee credited to your account based on the percentage of the item price you refunded the buyer.
Amazon retains no more than $5 for each item refunded, meaning that if you have two identical items in a single order refunded, the items fall under the same line refund charge, and you won't be charged more than $5.
If you refund two different items in a single order you will be charged a refund administration fee of $5, with a maximum up to $10.
Since Amazon handles the refund and return process, it makes sense that they'd charge for it. If you're curious about the refund administration fees, here are some sample calculations from Amazon.
FBA Pick and Pack Fee
The FBA Pick and Pack Fee is exactly what it sounds like. You need to pay for a worker to physically pick your product from one box and pack it into a new box.
FBA Weight Handling Fee
The FBA Weight Handling Fee is sort of an extension to the FBA Order Handling Fee.
Just like the Order Handling Fee, you are paying for someone to touch your product, above and beyond a simple pick and pack. Under this transaction fee, your item is charged for how much effort it physically takes to move your product.
As we all know, it's much harder to lift an unwieldy, flat pack box than it is to lift a box of shoes.
Objects that are small and mostly inconsequential have a very small fee, even less than order handling.
Look at the example in the image below. You'll see that Amazon charges a whopping $124.58 for the Amazon Weight Handling Fee.
Not only is this item heavy(ish), it's also an awkward shape.
What its dimensions and weight tell us is that it probably requires two people or some sort of lifting device to transport it. This is why the FBA seller is charged for in the form of the FBA Weight Handling Fee.
Referral Fee On Item Price
Referral Fee On Item Price is sometimes known as Seller Fee in your Amazon Settlement.
Essentially, the Referral Fee On Item Price is Amazon's commission for presenting your item to the customer and making the sale.
This can range anywhere from 6% to 20%, though most Amazon sellers pay around 15%. Your Referral Fee is determined by sale price and product category. This fee is taken out of your profit from Amazon when the item is sold.
Amazon has a comprehensive list of the categories items fall under for their referral fees.
FBA Storage Fee
As an FBA seller your inventory can be stored in a warehouse owned by Amazon, also known as an Amazon Fulfillment Centre.
For the convenience of no longer storing your product yourself, Amazon charges a monthly inventory storage fee based on the daily average volume of space your product takes up (in cubic feet), until your inventory is properly packaged and ready to ship.
This means that your monthly storage fee may fluctuate, based on the amount of inventory you have stored in an Amazon Fulfillment Center.
Your storage fee also varies based on the time of year. October to December is considered a peak storage period, and it therefore costs more to store your inventory at an Amazon Fulfillment Centre during that time.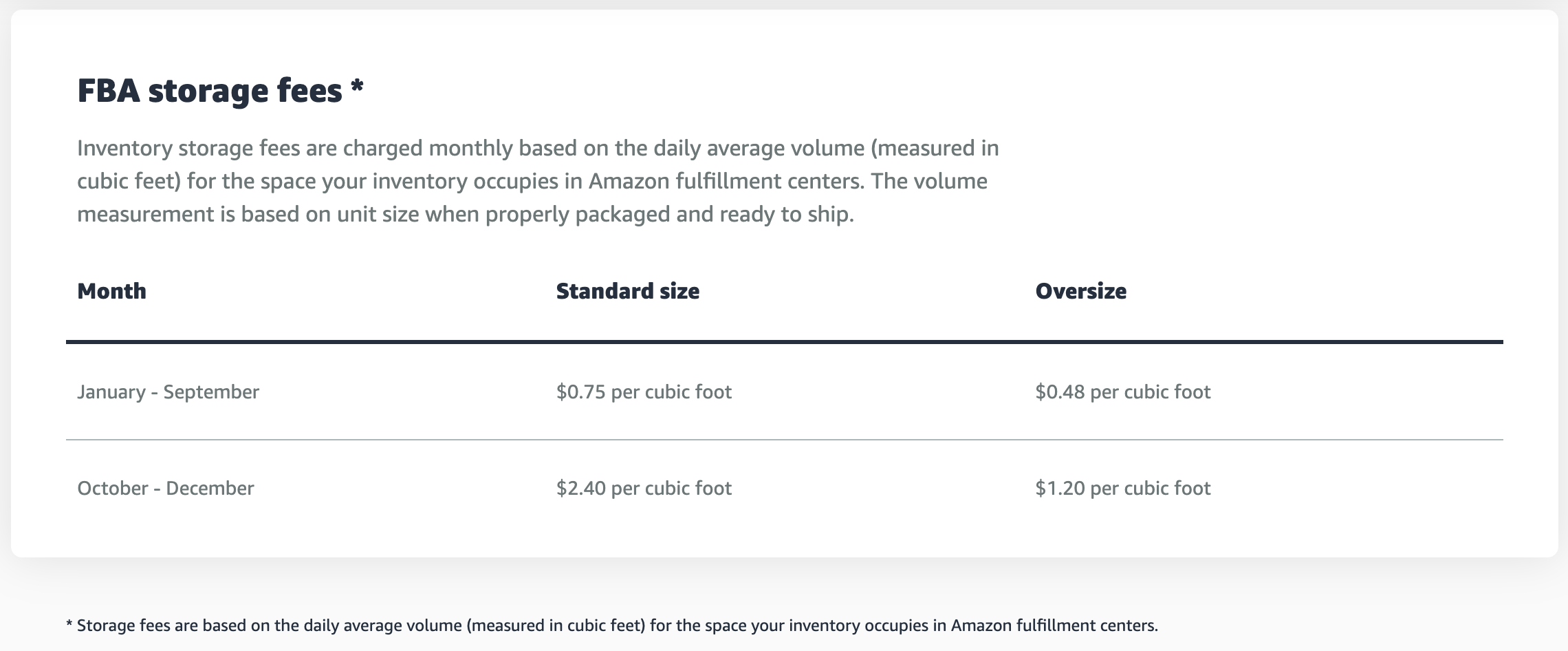 Long Term Storage Fee
This fee only applies if your inventory has been at an Amazon fulfillment center for 365 days or more. The fee is $6.90 per cubic foot or $0.15 per unit, whichever is greater. Long-term storage fees are assessed on the 15th of each month.
Amazon FBA Fees Calculator
Amazon's FBA Fee Calculator is a useful tool to use to help you better plan for your business. It's simple to use, and is readily available on Seller Central.
Amazon stresses that the calculated FBA fees should be used as a guide only, and that you should consult the Amazon Services Business Solutions Agreement for up-to-date costs and fees.
Accounting for FBA Transaction Fees
Now that you understand what those Amazon FBA transaction fees are, and why they exist, how do you account for them in your accounting software?
Problems Amazon FBA Sellers Have With Accounting
One of the key problems Amazon sellers have with their accounting is they consider the net amount they receive from Amazon their net profit. This isn't the case.
If you're just starting your business, or even if you have been in business for years and you're still using 'cash accounting' you either know exactly what we're talking about when we talk about issues with cash accounting, or you're going to find out in the near future.
Cash vs. Accrual Accounting
Cash accounting can lead to problems because you're claiming profit that isn't actually profit, which can lead to unbalanced books. You don't want that.
So what's the solution? Accrual accounting. This is all about being aware of where each penny is coming from, where it's going and keeping track of both in your accounting software in a simple and timely way.
When you use the accrual accounting method, revenue and expenses are recorded when a transaction occurs, rather than when the money shows up.
Clear Financials
Understanding where your Amazon fees are coming from can help you better understand your business performance. It can also help you plan to grow your business in the future.
If you are aware of peak periods, when you can barely keep inventory stocked; or slow periods, when it takes ages to shift a single item; you can plan better, ensuring you wrack up less Amazon storage fees.
Sound complicated and time-consuming? We can help.
A2X is a leading performer in accounting software because it makes accrual accounting easy. Talk to us about getting your Amazon accounting clear and accurate.
Also on the blog