Etsy SEO Guide: Everything You Need To Know [Ultimate Guide]
Etsy SEO is worth your time.
Still one of the top digital marketing strategies for the greatest return, SEO for Etsy can be broken down into a few key areas for relatively straightforward application.
The only challenging thing about SEO is that it's a journey, not a destination. You're never really done with SEO, whether on Etsy or elsewhere.
Etsy's SEO ranking factors are no secret. The platform breaks down exactly what it's looking for and here, we'll explore how you can maximize your organic traffic potential, factor by factor.
In this Etsy SEO guide:
Table of Contents
Are you ready to take the guesswork out of your Etsy accounting?
Etsy is a great place to sell unique products, and it's perfect for creative entrepreneurs who aren't necessarily excited about accounting. Discover the easy way of looking after your Etsy finances so that you can spend more time doing what matters most to you.
Download our free guide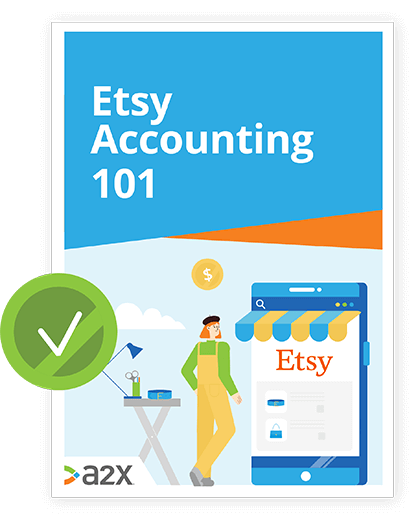 Ready to start funnelling that organic traffic to your store? Let's do it.
What is Etsy SEO?
Etsy Search Engine Optimization (SEO) is the process of improving your listings and your store in ways that should, in time, boost your visibility in Etsy search results pages.
The Etsy search engine needs to know what your listing is all about. And it perceives this through things like your listing title, description, and category.
It also needs to know that you will give a potential customer the best possible Etsy experience, so it will boost the stores with a great reputation and feedback.
Strong Etsy SEO is a holistic practice.
Simply stuffing a few keywords into your product descriptions likely won't cut it.
Etsy will also be tracking any changing customer behavior, and updating its algorithms to match. So not only should you be approaching SEO on Etsy in an integrated sense, but in an ongoing, evolving one too.
What Things Should Be the Focus of SEO on Etsy?
Etsy wants to give its customers the best experience possible - from the moment they land on the website, to the completion (ideally) of a sale.
The only way Etsy can ensure this happens is to encourage customers to choose the sellers who appear most relevant, liked and trustworthy.
Etsy lists the following as its algorithm search factors:
Tag and title relevance
Item attribute relevance
Listing quality
Customer and market experience
Recency
Shop location
Postage price
We will explore each of these areas in more depth below, giving you all the SEO tools you need so that Etsy picks up what you're putting down.
Pro tip: Etsy adjusts its search results based on shopper habits. This means that when you search, your results may be different to someone else searching the same keyword. Use your traffic details page when assessing your visibility, not the Etsy search bar.
Optimizing Your Etsy Store: Step-by-Step
Let's break down our Etsy SEO tricks for each of those search factors above.
Tags and titles
Etsy will only show listings that match a search query, which it will look for in listing titles and tags.
The example Etsy gives is that if the keyword "banana backpack" is searched, then listings won't be shown unless they contain both "banana" and "backpack".
Those that match the entire phrase, i.e. "banana backpack", will be ranked higher than those that contain the words separately.
Those that contain the phrase in both the title and its tags, rather than one or the other, will be ranked more highly.
Words at the beginning of titles are considered more important than those at the end.
How to figure out what relevant keywords and tags to use
Keywords tell us how people search for what they want.
The Etsy keyword customers use to find you might be obvious, but it might not be. You need to do a little research in order to figure out your primary keyword and any others that may be worth including.
The primary keyword should be the most relevant to your product, and go at the beginning of your title - since Etsy regards that as most important. You can use a few others throughout your listing description.
To find Etsy keywords for your listing:
Brainstorm the types of search terms that you would use to find your products.
Enter those into Etsy search and look at the listings that rank for them.
For each listing, make a note of all the things you think make it strong (hint: use the list above of Etsy algorithm search factors to help you). What other keywords and phrases are used in the listing? (Remember, "keywords" can also be entire phrases). What can you learn from the listing?
Key tips for writing Etsy titles
Include your primary keyword at the beginning of the title.
Make the title easy and pleasant to read, not stuffed with keywords.
Make it short, so shoppers can read it all no matter the device they use.
Etsy suggests that if you're selling artwork, you should put the name of it in your listing description, not your title. Keep your title optimized for searchers that won't necessarily know the name of your work.
Key tips for choosing Etsy tags
You can choose 13 tags, so use them all.
Use a variety of tags that are relevant to the product, not just descriptive ones. Where appropriate, you could include color, size, recipient (i.e. "gifts for men"), occasion, style, solution (i.e. "office organization"), materials or techniques.
Don't repeat any tags, it won't boost your rankings so it's a waste.
Do use multiple words within your tags for more targeted traffic. For example, "banana backpack" is stronger than "banana" and "backpack", and you have saved yourself another tag.
Refresh your tags. Keep an eye on your shop stats, and for those listings not performing, try new tags.
Think about using regional phrases. Etsy uses the example of "thongs" in Australia rather than "flip flops". You should use the former as a tag too. Don't use different languages from the marketplace you're on, though.
Do use long-tail keywords. These are more specific and so typically more transactional. People searching for these are most relevant to your product.
Don't worry about plurals. Etsy uses the root word to search, so even if the word is quite different in its plural form, Etsy recognizes the same root.
For more Etsy keyword ideas, you can use the following search engine keyword tools:
Item attributes
"Attributes are like free 'super tags'. They're extra category-specific keywords, which you can add on top of your 13 open-field listing tags to help your items appear in relevant searches and browse experiences."
These extra details about your listings help Etsy drill down further into exactly what you are offering. They are just as important for Etsy SEO.
An attribute might be the material, color, size or style of your product. For example, for clothing patterns or room decor.
Attributes describe what products are, not how they are used.
The Etsy Taxonomy team determines the attributes available for you to select from, based on the category you chose for your listing.
These attributes evolve as the team learns more about customer behavior, so as with all your SEO for Etsy, you need to evolve your choices too.
Key tips for choosing item attributes:
Use all relevant attributes. If your item is the color "lemon", also include "yellow". If your pattern is made up of "leaves", you could also include "nature", or "outdoor".
Attributes are a bit more official and technical than your tags and descriptions. The latter can be chosen on your terms, after you've applied all relevant attributes.
Keep checking back! New attributes are added regularly, so keep your listings on the pulse.
Listing quality
When a new listing is added on Etsy, it gets a neutral quality score and a small, temporary boost in the search results.
This is to help Etsy's algorithm learn a bit more about it, based on customer engagement through clicks, favorites and purchases.
Etsy will also rank your listings based on how others for your store have performed, so it's worth working on your listing quality and conversion record.
Key tips for optimizing listings:
Make your first photo your best. All photos should be hi-res and top quality, but the first one is your first impression to customers. You get 10 photos per listing, and whilst the number you include doesn't impact your SEO, it may help you convert more sales. Check out Etsy's list of 7 types of product photography shots for inspiration.
Create an eye-catching, short and fairly descriptive title.
Set a competitive price which still earns you profit in the end.
Write a compelling product description which includes your Etsy keywords (inspired by your latest Etsy shop stats), the features and benefits of the product, and any background information about your store.
Keep your processing times accurate and up to date. Etsy shoppers are often looking for gifts or items for a special occasion, so your turnaround times will impact whether they buy from you or a competitor.
Don't underestimate the influence of postage time and costs. We'll explore this further down in the blog.
Covering these bases should, in theory, boost your conversion and "listing quality" SEO performance as a result.
Customer and market experience
What does great customer experience look like on Etsy?
Firstly, it looks like a visual listing that is easy to read, well laid out and structured, and complete with details. Photos are hi-res, show the product accurately, and the product description answers all the natural questions a customer would have about the item.
Ideally, that all leads to a sale.
Tips for continuing that great customer experience:
Regular communication with the customer. Keep them updated about the progress of their order, including any shipping alerts or delays.
Keep up-to-date with the messaging system to ensure that you don't miss questions or comments from your customers. Use " vacation mode" if you're away from your business to notify customers that you may be slow to reply.
If you package your items, think about the unboxing experience. What impressions would you like to give your customers, and how can you achieve that through packaging?
Include a thank you note. This could be handwritten to match Etsy's handmade feel, or something printed - the sentiment is the same and helps customers connect with the human behind the brand.
Include a special offer or free gift with purchase. This helps show the customer that they are valued, and that shopping with you gives them a little bit more.
What's the point of all this?
The goal is that it culminates in excellent reviews - and plenty of them.
Reviews are how Etsy's algorithm understands that you are delivering great customer experience, and that you should be boosted to the top of the search results.
Most recent
We briefly mentioned this above, but when you add a new listing to Etsy, it gets a small and temporary boost in the search results pages.
Etsy needs to figure out whether customers will like this listing, so it gives the item a chance to generate some impressions (views), clicks and purchases.
If you sell items that are one-off pieces, like vintage products for example, and you list new things regularly, then Etsy will use your store performance data too.
The bottom line? New listings aren't at a disadvantage, and it's important to keep working on your entire strategy to keep them performing well.
Location
According to Etsy, buyers in Europe, Australia and Canada have expressed the preference for shopping within their own countries (or those close by).
Searches from within those countries will take seller and shop location into account. For searches within other countries (like the US), this is not the case.
There isn't much you can do about this aspect of Etsy SEO, except to be honest about your location, and know that it may impact your overseas sales.
Postage
Etsy's own surveys have demonstrated that buyers are looking for good value with shipping, with around 20% more likely to convert if it is free. For this reason, Etsy considers postage options in its SEO algorithm.
For the items which offer guaranteed free delivery within the US, Etsy prioritizes these in search results and in its email, social media, and television marketing.
There are ways to offer great shipping options without breaking the bank. You can adjust your item price to enable free shipping or set a minimum spend, for example.
Bonus Etsy SEO tips
Here are some extra tips for your Etsy SEO strategy.
Adding shop sections
Customers should be able to navigate your store with ease so they don't get frustrated and leave it - or worse still, leave Etsy.
Shop sections are a great way to organize your products for seamless searches and a great experience.
How you label the sections of your store matters to your Etsy SEO, so apply your keyword research but make your labels short, clear and concise before anything else.
Generating inbound links
If links from outside Etsy are sending people to your store, then search engines can see that your content is interesting on and off the platform.
By having your own website and blog that links back to your Etsy store, you have the opportunity to drive SEO in new ways to both entities.
You can also look for opportunities to be featured by other websites, perhaps by guest blogging, or sending products out for reviews.
Using search analytics
We've mentioned the Etsy search analytics tool that the platform provides, but how should you use it?
Your Etsy shop stats tell you how your customers found your listings. By learning which terms help you rank and which don't, you can adjust your SEO strategy for maximum results over time.
The key with these changes is to record them so that you can measure their impact.
Keep an eye on the search terms that are bringing customers to you. Do these match your titles and tags? Could you adjust or add to these? Track changes to spot any impact.
If your store is generating plenty of impressions (views) but no clicks, your listing may not be eye-catching enough or relevant enough. Are your tags an exact match to search queries? If not, try niching down and being more specific. Is your product title and first photo attractive enough? Update these and see how it impacts your conversions.
You can sort the queries that your items are matched with by revenue. This will give you your most lucrative keywords. Can you add these in your listings that aren't performing so well?
Anti-SEO: What Not to Do on Etsy
These practices may hinder your SEO performance on Etsy:
Stuffing your Etsy pages with text, whether they contain keywords or not. This is not good user experience, and will make it harder for customers to find the information they need.
Steer clear of fluff and filler. Use only information that is focused, relevant and interesting - that goes for blogs too, if you use them in your brand strategy.
Don't fall for clandestine link-building websites that allow you to buy links. Google knows what they're doing, and you may be penalized for associating with them.
Search engines both on and off Etsy will reward users that display expertise, authority and trustworthiness.
SEO Tools & Help for Etsy
There are a whole host of resources out there for Etsy SEO help.
Here are just a few examples in slightly different formats:
However you like to learn about SEO, keep it at the forefront of your Etsy business plan and journey for maximum impact in the long term.
Can Your Accounts Handle Growth?
Optimizing your Etsy store and increasing your sales is great, but do you have the accounting infrastructure to handle it?
Etsy sellers have numerous costs to account for in their bookkeeping, all of which can be automated to give them the time back they need to create their products and deliver for customers.
A2X integrates Etsy with QuickBooks or Xero and to break down your bank deposits for you, and calculate exactly what transactions were included in the settlement.
A2X splits any settlements that span months and organizes books via the accrual method for the most accurate forecasting data.
For accurate accounting without the fuss, try A2X for free today!
Also on the blog
Are you ready to take the guesswork out of your Etsy accounting?
Etsy is a great place to sell unique products, and it's perfect for creative entrepreneurs who aren't necessarily excited about accounting. Discover the easy way of looking after your Etsy finances so that you can spend more time doing what matters most to you.
Download our free guide