Get Better Accounting for Shopify with A2X for Shopify
Shopify sellers have better accounting with A2X for Shopify integration
In today's technology-driven world, there is no real excuse for poor accounting. While most businesses and Shopify sellers find it a monotonous and time-consuming chore, it's essential for tracking, managing and optimizing the growth of your business.
Say goodbye to spreadsheets and invest in user-friendly and effective accounting software. Having a robust system in place will help you manage your cash flow and taxes – simplifying your finances.
In addition to this, there is software to help relieve Shopify Seller's biggest pain point with accounting. This includes importing individual transactions into your accounting system. No matter how good your accounting software, this process always throws a spanner in the works, clogging your system – and making reconciliation a nightmare.
If you're a new Shopify seller having issues with your accounting, you need A2X for Shopify.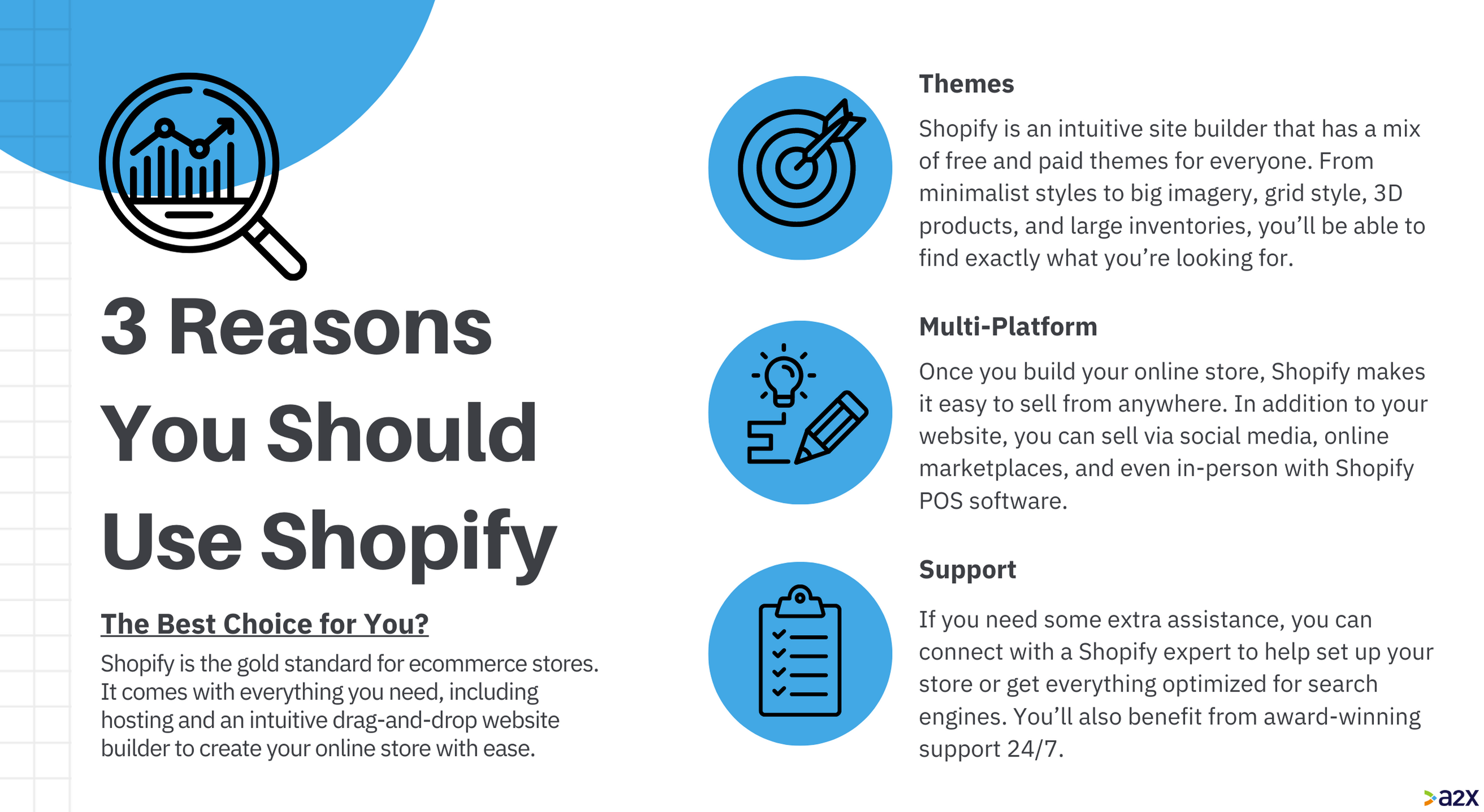 This image was created by CrazyEgg using data and information gleaned from  their research into website builders.
Where it all started
A2X is the brainchild of two software engineers – Ashley Schroder and Paul Grey. Founded on ten years' worth of experience working with Amazon's marketplace systems. Both Ashley and Paul have been selling internationally with Amazon and FBA since 2008, knowing all too well from first-hand experience the accounting challenges faced by Amazon and Shopify sellers.
In 2015, the A2X for Amazon integration launched with Xero and later QuickBooks Online. Over the years, it has helped countless Amazon sellers with accuracy and reconciliation. It didn't take long for the Shopify market to come looking for a similar solution, and in June 2019 the A2X for Shopify integration landed.
How A2X for Shopify works
At its core, A2X for Shopify is an integrator and is designed to help your ecommerce platform and your accounting software work more efficiently together.
You'll find, as your business grows and order numbers increase in volume, importing Shopify pay-outs data into your accounting software will quickly become a mammoth task.
Manually transferring data using spreadsheets requires a lot of manpower, and can easily result in errors. This is where the real value of an integrator app becomes obvious.
Your Shopify pay-outs comprise several different transactions – sales revenue, transaction fees, refunds, plus other data.
With that in mind, even if you're only processing a couple of orders a day, you can see how dumping all that data into your accounting system could rapidly overwhelm it.
Collecting transaction data
A2X for Shopify collects transaction data, organizes it, and then creates accurate summaries of each group that reconcile perfectly to your payouts. The app then exports this information into your accounting system automatically.
By starting with a summary of your pay-outs instead of individual sales, reconciliation is easier and more accurate. You can compare sales from other avenues like Amazon with greater levels of accuracy and know you can rely on accurate financial data to make better business decisions.
It's the tool both experts and everyday people use
Most ecommerce sellers will sell their products across several different platforms to reach different target audiences. This is the beauty of ecommerce – there are no boundaries – but operating in this way means multiple payment gateways can complicate things.
Benefits of A2X:
Forget about having to import data – once you're set up, A2X will automatically recognise new pay-outs every time they appear in your bank account.
Make it your own – create your ideal accounting set-up by choosing the mapping of each type of transaction in your accounts chart.
Say goodbye to multiple accounts for different stores – if you have more than one Shopify store, simplify your finances and combine them all within the same A2X account.
Multiple currencies are no issue – A2X works with all currencies and multi-currency stores.
If something goes wrong, don't panic – simply reverse the statement without losing any of your financial data.
Used worldwide
Ecommerce accountants all around the world use A2X with their clients and for their own businesses. There are even ecommerce sellers, like Peter Richardson, who find A2X so easy, they use it themselves.
"I've been so impressed with A2X for Amazon that we've implemented A2X for our Shopify store. Existing apps and integrations to move Shopify's sales data into QuickBooks online are on two ends of a spectrum - low-cost with limited functionality, or expensive with high functionality – but nobody has built anything until now for those sellers that are in between.

A2X for Shopify pulls in all of the sales and revenue data that we would expect, based on our experience with A2X for Amazon."

- Peter Richardson
The secret to seamless accounting
Accounting might not be everyone's forte, but that doesn't mean it has to be problematic or taking up all your time. If you're still manually reconciling your Shopify pay-outs, pulling out fee, refund and adjustment data, then you may be aware you need to cut back on hours spent reconciling your accounts on a monthly basis.
Save yourself hours, and benefit from more accurate bookkeeping, by simplifying the flow of your financial information from Shopify to your accounting system, with A2X for Shopify.
Here's a guide to help you seamlessly integrate A2X for Shopify with Xero or QuickBooks Online. For a more in-depth look at accounting for Shopify, here's a definitive guide to Shopify accounting.
Learn how to manage your Shopify accounting the right way
If you want to scale up your Shopify business, you need reliable accounting. Discover the best tools, key tax information and how to ensure that your Shopify accounting is set up for success.
Download our free guide