Social Media for Ecommerce Businesses Today [2023 Guide]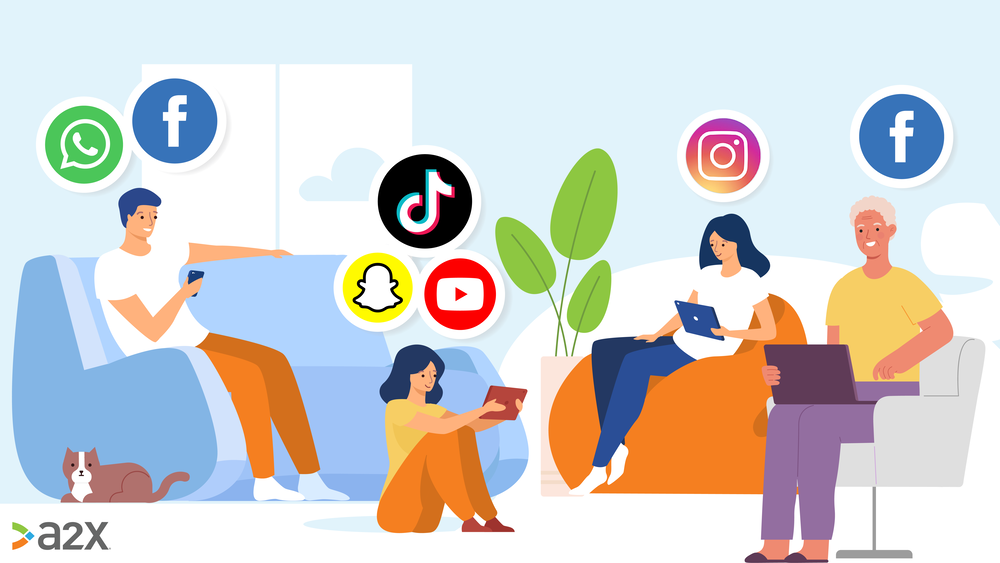 "Pushing a company agenda on social media is like throwing water balloons at a porcupine."
It's no secret that social media is a powerful tool for businesses.
But its power lies in engaging with the right audience in the right way, which is not an easy thing to nail. Particularly when audience interests, needs, and expectations change.
Simply posting an ad or a product is not enough. Your customers want more from you.
So, what do they want, exactly? Are there any foolproof tactics for ecommerce businesses on social media that will help you cut through the clutter of your competitors and shine?
The truth might surprise you.
In this guide to social media for ecommerce brands today, we'll be covering:
Table of Contents
Learn how to set up your ecommerce accounting foundations like a pro
Accounting for ecommerce sales presents a unique set of challenges. Discover the key concepts, software, terminoloy and knowledge you need to simplify your business.
Download our free guide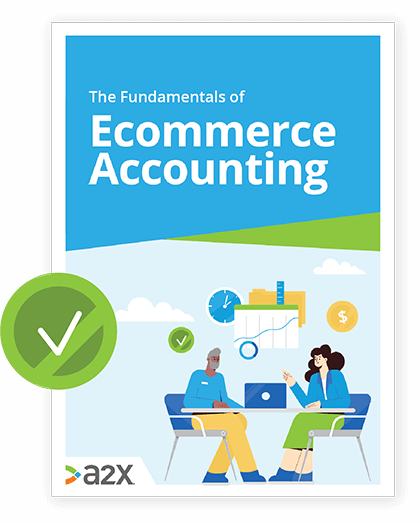 Let's get social.
Short On Time? Here's All The Generational Behavior At A Glance…
Get all the information you need in one easy visual.
Find out who uses what, where they are, the growth of social channels, and changes in behavior.

Source: Global Web Index.
Social Media Users Today
"Social media is a contact sport."
With almost three billion active monthly users, Facebook remains the world's social media channel of choice: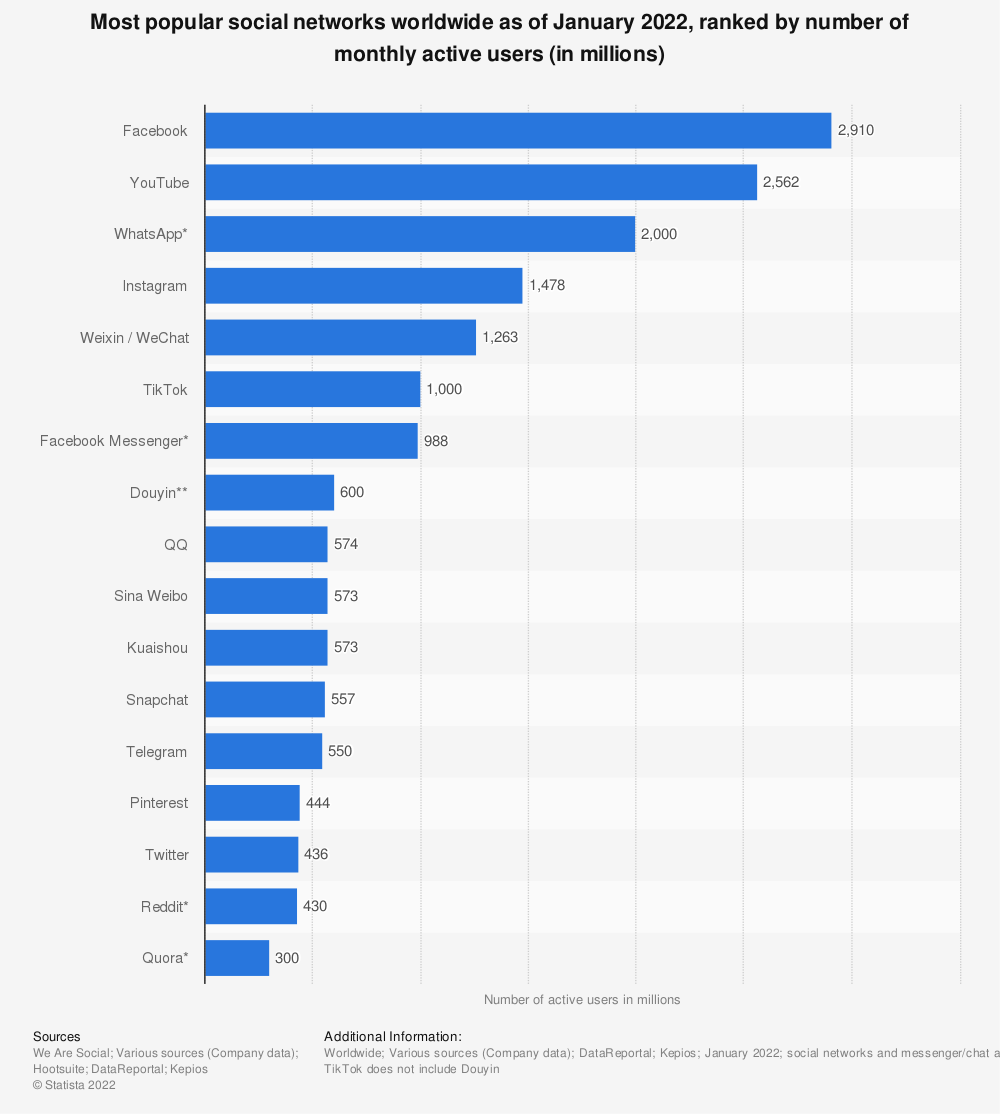 Source: Statista.
That's almost one-third of the world's population actively engaged on Facebook - quite the marketing tool.
Back in the 1970s, it was estimated that the average person saw perhaps 500 - 1,600 ads each day. Today, the estimation is closer to 6,000 - 10,000.
In the space of a decade, from 2010-2020, Google's ad revenue grew five times over, to an astonishing $146.92 billion. And spend on social media ads, specifically, increased by over 50% in the last half of 2020.
So whilst it's likely that you'll find plenty of potential customers online, you'll find just as many competitors wrestling for their attention.
Is it worth the time and investment?
Let's get to know the landscape a little more:
So what's the key to breaking through all the noise, and reaching your customers?
The right approach for them.
It's important to understand who your target audience is to be able to predict where they spend time on social media, and what might attract them to (or put them off) your brand.
Since similar age groups tend to behave in similar ways online, marketers sometimes use generational cohorts in their strategy.
You can use these too for your ecommerce store.
Let's dig deeper into what they mean and how they work.
What Generations Want From Ecommerce Brands On Social Media
"Social media is about the people, not your business. Provide for the people and the people will provide for you."
Your ecommerce business will have a target audience.
Ideally, you know who this is already. And they might fall into one or more generational categories.
Splitting the age groups by generation helps us figure out the similarities and differences between what drives potential audiences, how their environment shapes their values, views, and behavior, and how best to attract them.
No matter what your ecommerce business is selling, or where, this information could make or break your long-term goals.
After all, there's no you without them.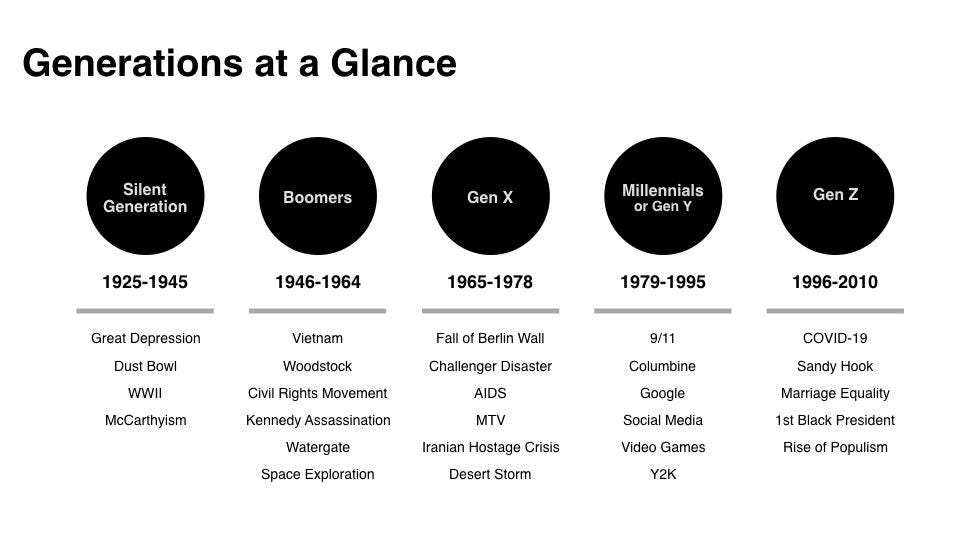 Source: Forbes.
The above infographic introduces the generations and the types of things that happened during their formative years. These things may have impacted how they view and interact with the world around them, and this could indicate how your ecommerce brand needs to behave to appeal to them.
Since social media is a vehicle for communication, dialogue, and discovery between your customers and your store, understanding these things will help with this connection.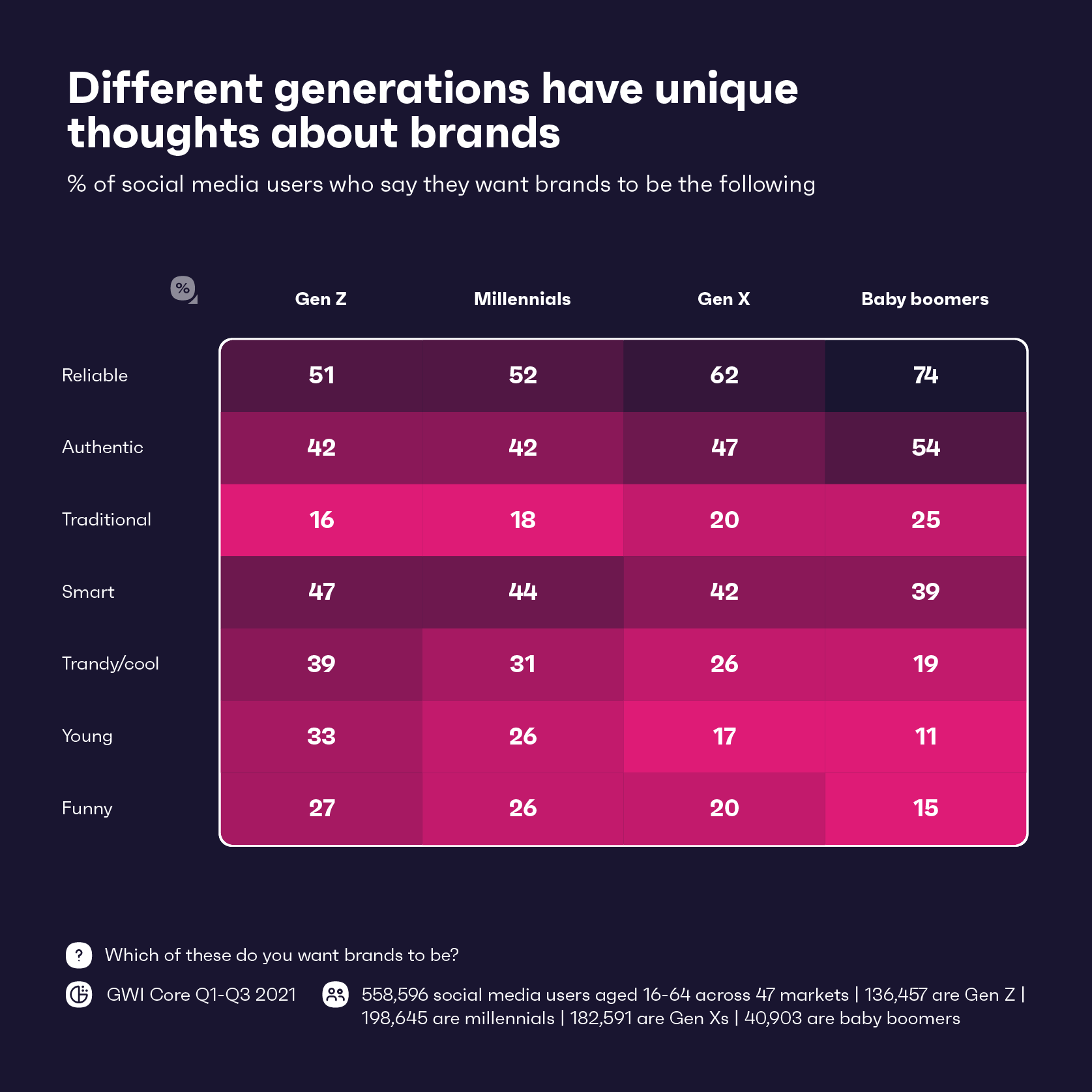 Source: GWI.
For each of these generational cohorts, let's explore who they are, what makes them unique, and our top three tips to appeal to each.
The dates used for each generation below are based on the Forbes infographic above. These can vary slightly between sources.
Gen Z (born 1996-2012)
"Gen Zers are the first true digital natives, they're more racially and ethnically diverse than previous generations, and they're predicted to be the most educated generation to date. This is a generation that values individuality, mobilizes for a variety of causes, and tends to view consumption as a means of personal expression."
Gen Z wields a huge amount of financial sway in the US market, worth around $143 billion.
As the generation most impacted by contemporary political movements, and most likely to have recently called out brands online for political values, the approach that marketers need to take to reach them may not be an obvious one at first glance.
Check out these findings from market research on Gen Z to see what matters most to them, and how they typically behave online.
According to research based on interviews with Gen Z representatives:
They're least likely to follow brands on social media. Instead, they like to build connections with people, with 79% saying they take influencer recommendations when buying products.
They prefer video content and platforms like Instagram, YouTube, TikTok, and Snapchat. Only 32% of brands are using TikTok, even though it's hugely popular with Gen Z.
They like to participate in and share viral content, often related to pop culture trends and issues.
They are more likely to define themselves by what they do than who they are, for example, through jobs and hobbies, rather than race or religion.
More than half of them get their news from social media, which is drastically different to other generations.
More than a third say that in the last year alone, they have criticised a brand online for political reasons. 39% also said they boycotted a brand on political grounds in the last year.
Top 3 tips to reach Gen Z on social media:
Brand neutrality on political and social issues is not an option. Social justice is particularly important to this age group, and it's important to them to hear from brands about their stance on issues.
They are an incredibly diverse, discerning bunch, and not afraid to speak out against or for things they believe in. Your approach in attracting them should be inclusive and well-informed, both by what's happening in pop culture and in the mainstream media. It also needs to be transparent.
They are information-savvy, going to the extent of training algorithms with their behavior on social media in order to get the content they want. You likely won't reach them by accident or hold their attention if your content doesn't hit the mark.
Having issues with your Gen Z marketing strategy? Maybe you're doing these things wrong.
Millennials/Gen Y (born 1979-1995)
"Millennials are confident, ambitious, and achievement-oriented. They have high expectations of their employers, and aren't afraid to question authority. Generation Y wants meaningful work and a solid learning curve.

The members of this generation are willing to trade high pay for fewer billable hours, flexible schedules, and a better work/life balance.

Millennials are tech-savvy, family-centric, team-oriented, crave attention, and prone to job-hopping."
Old enough to remember the first computers but young enough to be comfortable using the latest tech of today, millennials are the biggest cohort in the workplace right now.
The values that matter most to millennials:
Honesty (77% voted as important)
Reliability (74%)
Helping family (74%)
Compassion (72%)
Commitment (72%)
According to research, millennials:
Don't mind following brands online, and are less likely to unfollow.
They're most likely to connect with brands via Facebook (70%), Instagram (64%), and Twitter (33%).
They're the generation most likely to buy after seeing an ad or reading a review.
Treating employees well is a huge driver of brand affinity for millennials.
They like the idea of brands donating to a good cause and don't seem to mind how much.
38% of millennials pay some attention to ethical and political values of companies they buy from, with 15% paying a lot of attention. 29% will avoid a company with different political views to their own.
They will boycott companies like Gen Z might, and 24% have in the last year - but only 26% said it was due to political issues.
Top 3 tips for attracting millennials on social media:
Millennials, like their older counterparts, want honesty, reliability, and good value from brands most of all. Next up they look for customer loyalty, responsibility, and innovation. Displaying a combination of these in your messaging should appeal to them.
Millennials are loyal customers to brands they like, and 68% say they usually shop from a select few brands. If you can foster good relationships with millennial customers, you should be rewarded in the long-term.
Relationships matter to millennials. Poor customer service is the quickest way to lose them, followed by treatment of employees and unethical labor practices. We saw from the values list above that they prize compassion and commitment, so keeping these in mind with business messaging and operations is key.
Gen X (born 1965-1978)
"The late 1970s all through to the 1980s was a period of social and cultural change especially in the United States and these changes had a material impact on Gen Xers. It was a period in which women's presence at workplaces grew rapidly leading to both parents working.

Hence, Gen Xers, as children, received little or no supervision from their parents for the better part of the day. Their behavior was largely influenced by their peers rather than their parents.

Gen Xers, therefore, appreciate the value of independence and informality and are also technologically savvy, more educated than their parents, and are a more flexible generation."
Making up more than 30% of the American population, Gen X outspends all other generations when it comes to housing, eating out, entertainment, and clothing.
Experienced shopping on and offline, you'll find many of them via traditional media too; 48% listening to the radio, 62% reading newspapers, and 85% watching TV.
Typical traits of Gen X'ers:
Skeptical
Independent
Adaptable
Tech-savvy
Pragmatic
Gen X use of social media has increased, with 76% saying they've used it more in the past year.
They spend almost 2 hours online a day, looking for company information, information to help make buying decisions, or to connect with friends and family.
Facebook is their channel of choice, with WhatsApp and Instagram next in line.
Top 3 tips for attracting Gen X'ers:
They know their worth as a customer and expect brands to treat them with this in mind. 95% expect responses to feedback or complaints from brands online, and are least likely to resolve issues over the phone - so make sure your ecommerce store has means of online communication.
They don't like being bombarded with ads, and would rather do their own research to make decisions about brands. So, help them - make it easy to find out lots about you!
They're a discerning group, so building trust is important. You can do this with customer reviews and testimonials, showing you care about customer experience and put it at the center of your brand.
Baby Boomers (born 1946-1964)
"The "baby boom" period defined and gave people born in this generation the name "baby boomers." The baby boom phenomenon in the United States was a sharp rise in birth rates soon after World War II, beginning in 1946 where a record was broken for the highest ever number of births in a calendar year in U.S. history…

Due to the COVID-19 pandemic and global lockdowns in 2020-2021, the use of social media by baby boomers… has been increasing. Baby boomers were using social media more frequently even before the pandemic. About 90% of them indicated that they prefer Facebook over other social media platforms. They also use platforms such as Instagram and Snapchat."
The Baby Boomer generation saw extensive change in the US growing up.
From the civil and women's rights movements to the moon landing, these typically hard workers are dedicated to long-term goals and excellence. They may be less self-serving than younger generations, due to their upbringing.
Typical traits of Baby Boomers:
Hard-working
Competitive
Value tight relationships
Independent
Pursuance of excellence and quality
According to sources:
About 70% of the US' disposable income is from Baby Boomers. They are typically more financially stable than the other generations.
They enjoy social media, particularly Facebook. In a survey by SproutSocial, 63% reported using WhatsApp and 57% YouTube.
They are typically bargain-hunters and like to use the internet to look for deals and discounts. They don't succumb to peer pressure in the same way as other cohorts.
Their primary drivers for liking/following companies is information about services (69%) and staying up to date on company news (51%). They actively dislike irrelevant content.
Top 3 tips for attracting Boomers:
Blend the traditional with the novel when it comes to marketing styles. This might be a combination of Facebook ads with newspaper or TV ads.
Make the benefits of your company and products detailed, easy to find, and honest. A customer-centric approach is also beneficial - show them reviews and testimonials, and follow-up their questions or feedback personally.
Don't forget them! Two-thirds of Baby Boomers surveyed by SproutSocial said their social media use has increased in the last year. Use promos to attract them and keep them interested.
Your Foolproof Social Media Strategy
This in-depth knowledge and research is all well and good, but how should an ecommerce seller put it all into practice?
Here's a basic checklist of the things you can do to ensure your store appeals to your target audience.
Define your target audience as specifically as you can
Ideally, you'll have a few customers already, and you can find out whether they fit the demographic you thought you would be selling to or not.
You want to learn as much about them as possible in order to see where they are likely to fit within the generational cohorts discussed here.
You might notice that there are similarities between close cohorts which helps if you think your brand may appeal to more than one.
Use research like the above to map out what they want
Understanding their most likely traits and values will help shape your approach to messaging, content, images, and deals to offer them.
For example, Gen Z and some Millennials may expect you to be actively involved in social issues and vocal about political stance. Baby Boomers on the other hand may be more interested in your company's news, products, and customer service.
Plan your first one or two social media channels based on your findings
Start small and grow. Each social media channel requires a slightly different approach to maximize your traffic, so learn what each takes and deliver on that before expanding.
This might be particularly important for Shopify sellers since your marketing is all on you. But sellers on other channels could still benefit from setting up social media accounts to promote products too.
And remember, if Gen X is your target audience, you're more likely to find them on Facebook than TikTok. Use the insights above to guide your strategy so you don't waste time and money.
Produce excellent, consistent, relevant content
There are conflicting sources about whether it's better to post something regularly, or only top-quality posts less regularly. It all depends on your brand, products, and audience.
Just make sure whatever you're doing is consistent, valuable, and attractive to your target audience.
Need a little more guidance?
Check out The Definitive Shopify Marketing Guide for an overview of marketing best practice for Shopify sellers in particular, but which sellers on any platform can use too.
Are Your Accounts As Informed As Your Social Media Strategy?
Are you still reconciling your books manually?
Is it taking hours each month to match your transactions with your settlement statement and bank deposits?
As your expert social media strategy takes effect and sales grow, this is only going to get more time-consuming - and error-prone.
With A2X, all of this could be automated, and take you just a few minutes instead.
By integrating A2X with your accounting software and Amazon, Shopify, eBay, Etsy, or Walmart account (or a combination of them), you'll get generated journal summaries for each payout that detail every income and expense line associated with it.
Your books will also be organized via the industry-standard accrual method of accounting, which is required when businesses reach a certain size - no accounting training needed!
See what A2X can do for your ecommerce business today with a free trial.
Also on the Blog
Learn how to set up your ecommerce accounting foundations like a pro
Accounting for ecommerce sales presents a unique set of challenges. Discover the key concepts, software, terminoloy and knowledge you need to simplify your business.
Download our free guide