The Definitive Shopify Marketing Resource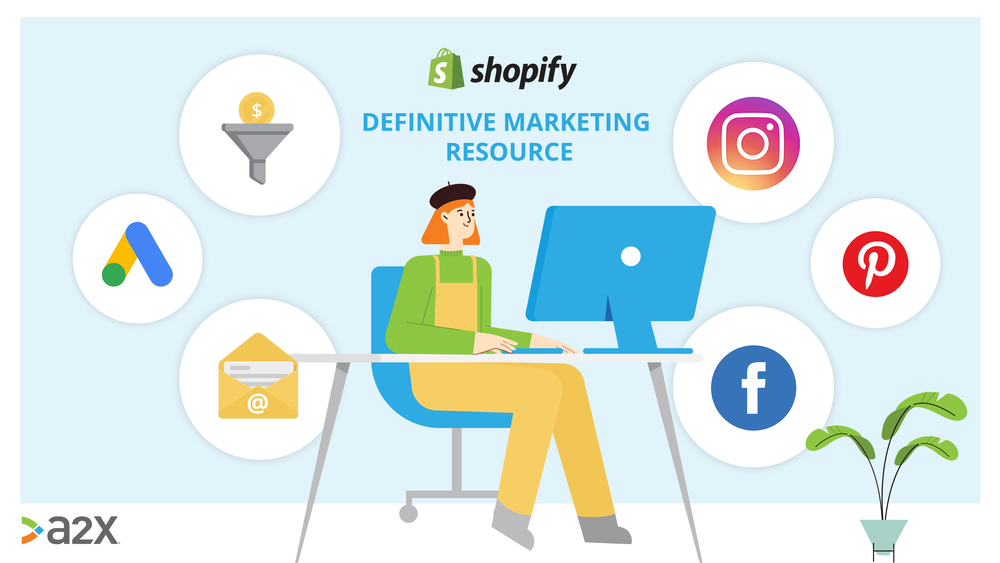 "Marketing is about values. It's a complicated and noisy world, and we're not going to get a chance to get people to remember much about us. No company is. So we have to be really clear about what we want them to know about us."
As a Shopify store owner, you'll no doubt know that marketing is important for your business.
Not marketing your store would be like opening it and not telling anyone!
But where do you start? Do you pick Facebook and Instagram because everyone else seems to? What about Google Ads, are they a must too?
What about email marketing? Is it worth the time and effort?
Smart marketing begins with understanding your customer. So in this guide, we'll not only cover your options, but how to choose them, what to measure, and ways to improve.
In this guide to Shopify marketing, you'll find:
Table of Contents
Learn how to manage your Shopify accounting the right way
If you want to scale up your Shopify business, you need reliable accounting. Discover the best tools, key tax information and how to ensure that your Shopify accounting is set up for success.
Download our free guide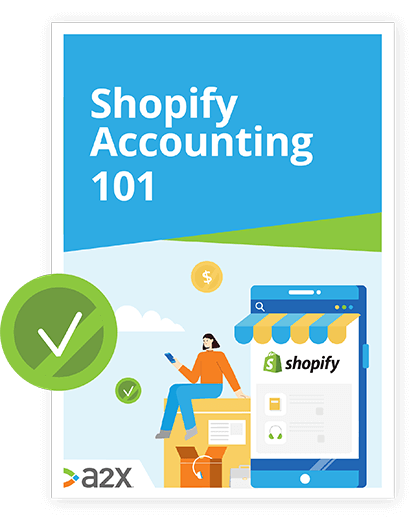 Let's jump in.
What's Involved in Marketing Your Shopify Store?
Marketing is critical to a competitive, successful business.
And for Shopify sellers with no existing traffic, there's really no future for your business without it.
Marketing is all about attracting customers.
You need to know who they are, where they are, and how to interest them.
Finding your target audience
Knowing who your ideal customers are will help you make smarter and more effective marketing decisions.
This can influence which products you sell, where you advertise them, and how you design your store.
The best way to understand and reach your customers is to research and then categorize them.
Shopify mentions three major categories for defining a customer:
Demographics
Demographics are a common way to divide the market because they're an easy statistic to measure.
You can split customers into small groups based on age, gender, ethnicity, location, income, education, occupation, marital status, and more.
To build a targeted campaign ( which studies show can be up to 2.7 times as effective) you want to make it super specific.
For example, you might run a campaign that's targeted at female massage therapists aged 35–45, single with children, living in suburban Australia. Just be sure that you are advertising the right product in the right places for that type of customer.
You can learn about customer demographics by using Google Analytics, accessing national census data, or running a customer survey.
Interests
Another way to further split your audience is through psychographics.
These include customers' attitudes, personality, opinions, interests, lifestyle, grievances, and hobbies. Anything from books and films they like to their political stance or what they get up to on the weekends.
Knowing your audience's psychographic data will help you create more relevant ads and content, and sell products that they're currently in the market for.
Purchase intent
Lastly, you can categorize your customers by their mood or mindset.
This is based on recent interactions they've had with your brand (if any), such as searching for a product or reading a specific blog post on your website.
In this case, you are approaching marketing from a sales-funnel perspective (more on this in the next section) and the goal is to gently nudge them towards the next step in making an informed purchase.
Purchase intentions take several things into account as you try to imagine the pathway to making that purchase for your customer. There's behavioral data, channel usage, device type, and demographics to consider.
It's worth noting that the three categories above are not mutually exclusive.
If you can create a targeted campaign that combines the demographics, interests, and purchase intentions of a customer, then you'll have a solid chance of improving sales with that customer type.
And since we touched on it once already briefly, let's talk a little more about sales funnels and the pathway to purchase.
Using Shopify funnels to determine your marketing strategy
A marketing funnel is an intentionally organized, strategic plan for your marketing activities.
In our guide to Shopify sales and marketing funnels, we break down why you need them and how to create them.
But here's a sneak peek.
6 big benefits of Shopify funnels for sellers:
You can spend less time on marketing your store.
They can help you increase brand awareness.
You'll be able to curate a brand experience.
They help to turn window-shoppers into purchasers.
They help to identify and diagnose faults (or leaks) in your purchasing pathway.
They allow you to build long-term relationships with your customers.
"If you're in business, you're in marketing. And if you're in marketing, you need a [marketing] funnel."
You will probably want to explore a number of different marketing activities for your business, and this is a great plan - but only if every action you take is intentional.
Marketing funnels help you plan when you'll target certain customers, what you'll say to them, and how you'll engage with them. This is what leads to sustained and healthy customer-brand relationships.
Marketing funnels ideally lead prospects into your sales funnel - but we'll leave that part to the dedicated guide.
A marketing funnel deals with customers who don't know you at all; have heard of you and are considering you; and who are primed and ready to purchase.
The funnel intentionally filters your browsers into (ideally) repeat, loyal buyers.
Check out this example of where different marketing channels sit within a marketing funnel:
Source: SpurIT.
Once you've categorized your customers, or potential customers, you can determine the best marketing channel for each group based on where they sit within the funnel.
And when you've done that, well, it's time to start marketing!
The Different Shopify Marketing Channels (And How To Use Them)
Customer research tells you who your target audience is. Shopify funnels tell you the best strategy for each customer.
Marketing channels are how you attract new buyers to your store.
This section will take you through a few of the most common marketing channels you can use to reach new customers, and explore how to get the most out of them.
Social media marketing
"At the start of the pandemic from March through April, marketing on Facebook and Instagram via Shopify's channel integration saw 36% growth in monthly active users—a trend that continues to rise."
Younger consumers are having a huge impact on the ecommerce world, particularly when it comes to purchases made through social media.
What does this mean for you as a Shopify seller?
The stronger your social media presence, the better.
Source: Statista.
Social media marketing for ecommerce stores is huge. Of the many social media channels out there, four stand out as potential routes to success for Shopify store owners: Pinterest, Facebook, Instagram, and TikTok.
Let's look at each in turn.
Pinterest for Shopify sellers
Pinterest as a marketing tool can be super effective when done correctly.
The best thing about Pinterest is that content lasts longer than on other social media channels. What you create now can and will appear in future searches well after the day you hit publish. Your stylish pins won't get buried in a feed, like on other platforms.
By creating meaningful stories in your SEO descriptions, and keeping your branding consistent with your business, you can captivate your audience and drive them to your store.
Some key things to note about Pinterest:
71.1% of Pinterest users identify as women.
Pins without people perform better than Pins with people.
It's important to optimize your image specs for mobile.
There's also the Pinterest button, rich pins, and buyable pins to consider.
For more information about Pinterest, read our complete guide to creating a Pinterest marketing strategy for Shopify.
Facebook for Shopify sellers
Facebook is a great avenue for Shopify sellers to connect with their customers, build brand recognition, and publish targeted ads.
One way to build a community around your brand is by taking advantage of Facebook Groups.
Creating a group based on your store or your industry will allow you to get free and authentic feedback from your audience, as well as learn what other products they might be interested in.
This multifaceted platform is also a great place to strengthen your brand voice through content and respond directly to any queries potential customers may have.
On top of all this, Shopify has recently partnered with Facebook to create Facebook Shops.
Source: Shopify.
Shopify sellers are now able to open a mini version of their store within Facebook and Instagram. It's certainly something worth looking into if you're keen to explore these channels.
You can read Shopify's full blog introducing this new feature here.
Once you've established a presence on Facebook and started creating Facebook ad campaigns, it's time to take it a step further.
Here are some advanced tips for Shopify sellers using Facebook as a marketing channel:
Add a Facebook Pixel to your store to track conversions and evaluate the success of your Facebook ads.
Use Facebook Custom Audiences to grow your audience and upsell your current customers.
Get feedback from your customers by following up with them on Facebook after they purchase a product.
Use Facebook to share your published content from other platforms, such as blog posts and webinars.
Make use of the Shopify Facebook Marketing app to create and manage your Facebook ad campaigns.
Post engaging content regularly to keep your brand in the mind of your consumers.
Facebook offers so many different ways to market your brand. And with such a large and varied user base, there's a good chance your target audience is already using it.
Instagram for Shopify sellers
Over a billion people use Instagram. It's that big.
Tapping into this massive market offers many golden opportunities for marketers. You can tell your story through multiple forms of media, reach a wider audience, and post targeted ads that convert.
In our Ultimate Shopify Instagram Guide, we mentioned that the platform is mostly used by millennials and that millennials want transparency from the brands they buy from.
But this wasn't the only important piece of information worth noting.
Let's review a few more of the valuable points we uncover in that guide:
50% of users have visited a website to make a purchase after seeing a product or service on Instagram.
Hashtags, geotags, stories, Reels, and high-quality filters can help to increase your following.
Using sponsored posts and working with influencers are great ways to promote your brand on Instagram.
Increase engagement by running competitions and giveaways.
You can use apps to enhance and optimize your Instagram marketing process.
Make use of product tagging with shoppable posts.
Instagram is largely dominated by millennials, so it provides an excellent platform for reaching young adult audiences.
TikTok for Shopify sellers
"Unlike other platforms, TikTok uses a unique discovery algorithm that gives every video an equal chance to go viral, regardless of how popular the content creator is. This allows for the rapid scaling of a social media presence, fast growth, and virtually unlimited marketing experimentation."
The above quote says it all: TikTok has a major advantage for marketing when it comes to rapid scaling.
As a relatively new platform, TikTok is especially useful for marketing to younger audiences. In fact, 62% of its users are between the ages of 10 and 29.
Here are some tips for building and running your TikTok Shopify marketing campaign:
Understand the landscape: Learn what goes viral and what doesn't before you start posting.
Become a Pro user to obtain more data about your content.
Entertain and inform - don't blatantly try to sell products; it's not what TikTok users are looking for.
Be authentic.
Keep it super simple with your posts.
Connect with users in the comments sections.
Stay on top of trends and go with the flow for hot topics.
That's it from us on the social media front, but remember: There are more channels out there than these four.
Other options include LinkedIn, Snapchat, Youtube, Whatsapp, Wechat… the list goes on.
Shop around and go where your audience is hanging out.
Email marketing
"[Email marketing has] become one of the most cost-effective and conversion-rich ways to market an ecommerce store today, with an average return of $42 for every dollar spent."
Before you decide which email marketing platform to use, you need to know what they're for and how to use them.
First up, here are a few reasons why every ecommerce business needs email marketing:
Email marketing allows you to build ongoing customer relationships and plays a pivotal role in inspiring customers to purchase from you more than once.
It can be used effectively for acquisition and retention (two birds, one marketing channel).
Email marketing can improve your three main growth multipliers: Total number of customers, total number of purchases, and average order value.
You can get incredibly specific with your email marketing campaigns through segmentation.
Email isn't influenced by third-party platforms (such as Facebook or Google).
When it's done right, email works.
The first step is choosing an email marketing provider.
It's important that you choose a (well-reviewed) platform and get the ball rolling as quickly as possible; you can always change service later on. Shopify now provides their own email marketing channel, which is worth consideration.
Next, you'll want to build your list of email subscribers. Start growing your list of email subscribers as soon as you can.
You might already have access to previous sales information - this is a good starting place when creating your list.
But you can also take it a step further.
Lead magnets are an excellent way to gather email addresses. Offer a piece of content for free, such as a whitepaper or pdf guide, in exchange for an email address. You can use Google Ads and social media to attract potential customers (leads) to your lead magnet.
It can also help to have an email opt-in form on the homepage of your website.
Once you've got your email list, segment your subscribers based on customer behavior and which stage of the sales funnel they're currently in. (If this all sounds a touch too market-y, that's ok too, you're already ahead of many of your competitors getting this far!)
Here are a few final tips for email marketing strategies:
Learn all the rules and regulations about email marketing so you don't end up getting in trouble with the law or landing in the spam folder every time.
Use discounts and incentives to boost the effectiveness of your emails.
Learn more about automated email marketing campaigns in this blog by Shopify.
Email is a crucial marketing tool for any ecommerce business. Remember to research, experiment, test, and adapt your strategy continuously.
Content marketing
"Content marketing is a strategic marketing approach focused on creating and distributing valuable, relevant, and consistent content to attract and retain a clearly defined audience — and, ultimately, to drive profitable customer action."
Content marketing for ecommerce brands works much the same as it does for any other business: The more appealing and relevant your content, the more sales you will make.
You can think of content marketing like a television station.
Stations make money from ads, not TV shows or films. But in order to get people to watch the ads, they must first attract them with entertaining media - in other words, great content.
If you publish valuable content that's applicable and accessible to your target audience, your brand will reap the benefits.
With a good Shopify content marketing strategy, you can become known as a trusted expert in your field and educate or "qualify" prospective buyers on the products you are selling.
Content offers a perfect opportunity to attract new leads organically (for free) and showcase the ways your product can solve your potential customer's problems.
It's also beneficial for keeping your brand in the mind of previous customers. When done correctly, it's possible to create an invaluable sense of community that centers on your brand.
To create a successful and ongoing content marketing strategy for your online business, consider the following advice:
Increase organic discoveries by investing time into learning about SEO.
Take advantage of some of the free content creation tools available online.
Don't limit yourself to a single format. You can create blog posts, social media posts, videos and podcasts, infographics, and more.
Try to create a content mix that makes sense for your brand and audience, yet differs from that of your competitors.
Build a content calendar around your strategy to ensure that everything is completed and published on time, every time.
In this age of complete accessibility online, content is king.
Start thinking of your brand as more than just a business; think of it as the ultimate resource for your target audience.
Paid ads for Shopify
Paid ads give your store visibility, a bit like putting a sign outside your physical shop. The biggest difference is that you get to choose exactly who sees them, and where.
In 2018, Shopify launched Marketing in Shopify: A way to create and measure ad campaigns all in one place, directly in Shopify.
But before you start creating your paid ad campaigns, there are a few things you need to consider.
Most importantly: Where your ads are going to appear, how you're going to track them, and what they're going to say.
There are several channels where you can publish paid ads. And like everything, you need to consider where your audience is going to be.
Google Ads tend to be highly popular among businesses since Google is the most visited website in the world:
But you can also promote your business on sites such as Facebook, Instagram, and Pinterest, which we covered earlier, along with Bing ( Microsoft Advertising), and even Snapchat.
Determine the best channel for your ads based on where your customers are hanging out.
Then make sure you're using persuasive copy and filling each ad with relevant keywords you know your audience will be searching for.
Last but not least, make sure you're tracking the performance of your ads from the get-go.
Check out our section below for further information on what to measure and how to track your ad campaigns.
Affiliate marketing and influencers
"Influencer marketing is the fastest way to accelerate your brand on social media."
You may already be familiar with affiliate marketing and influencer marketing.
If you're not, they can both be summarized in a single sentence:
Mutually beneficial partnerships in which people outside of your organization agree to promote your products, in exchange for some kind of reward.
It's the classic quid pro quo technique.
And it's easy to identify the benefits of these two marketing channels.
Influencer and affiliate marketing are beneficial for Shopify sellers because:
They're relatively low-risk and proven to be effective marketing methods.
They're potentially low-cost tactics that can be designed to only require payment when proven successful.
Once you're set-up, there is very little admin required to keep the partnerships running.
You can build trust and engagement around your brand.
You'll reach audiences you may not have been able to previously.
But to get the most out of the benefits of these two programs, you need to know what you're doing.
If your profit margins are small, then you may not be able to afford to both pay your affiliates/influencers and still turn a profit.
That said, you may be able to offer alternatives to direct payments such as personal discounts or free items. Only partner with influencers or businesses that resonate with your brand and share a similar audience.
Give your influencers a clear brief of what is expected of them and be vocal about any issues that might arise.
Here are a few more tips for nailing your affiliate and influencer marketing campaigns:
We've covered the main marketing channels for you, but these aren't the only avenues for growth available.
It may also be worth your time to look into SMS marketing, referral programs, and any other channels you come across during your research.
Next, let's dive into automation.
Integrated Shopify Marketing Tools
Finding the right apps and software to automate your store is going to save you hours.
Let's take a look at some of the best products out there for optimizing your Shopify store.
Shopify marketing apps
There are hundreds of marketing apps available for Shopify sellers, and choosing the right one for your business is important.
Apps improve the accuracy and consistency of your campaigns, allow you to save time and money on laborious tasks, and ensure every strategy is correctly executed on time.
You can waste hours trying to find the best Shopify email marketing apps and the perfect SEO tool to boost the reach of your published content. An effective email template for a Shopify store can help you increase customer engagement, showcase your products, and drive more sales.
To save you some time, here are our number one recommendations, based on customer reviews online:
Check out our Top 10 Best Shopify Apps for Increasing Sales for even more recommendations!
Shopify accounting apps
Going beyond marketing, you can continue to grow your business by automating other aspects of running a Shopify store.
One area that's especially important to automate is accounting.
Here are our best recommendations for cloud accounting automation software:
Once you've chosen your preferred accounting software, complete the ecommerce automation setup by connecting your Shopify store with A2X for Shopify.
A2X is a connector app that sits between your accounting software and your sales channels (such as Shopify).
It automatically downloads Shopify settlements, breaks down all your expenses, sales, and fees into individual line items, then consolidates them into tidy journal summaries that are posted directly into your accounting software.
With A2X, your reconciliation process takes minutes, not hours.
Try A2X for Shopify free today.
Ways to Measure and Improve Your Shopify Marketing
A huge part of running a Shopify ads campaign is measuring its success and adjusting your tactics accordingly.
The first thing you'll want to do is add Google Analytics to your Shopify website.
If you're not familiar with Google Analytics for Shopify, we've written a complete guide on GA for Shopify that is worth checking out before you get started.
Also, if you decide to use Facebook Ads to grow your business, be sure to install a Facebook Pixel in your Shopify store to measure and track your campaigns.
What to measure and how to turn your findings into progress
It's important to continuously measure Shopify traffic, conversions, click-through rates, and other metrics on your site.
But more than that, you should be measuring all of your marketing campaigns across different channels, testing different tactics, and sharpening your marketing strategies to a fine point.
Once you have the data, you'll be able to make the right changes that will drive more traffic to your Shopify store.
Which metrics you focus on should be tied directly to your goals for each campaign.
If you are trying to increase engagement, measure things like comments, replies, and customer interactions.
If you're trying to drive more traffic to your store, measure things like conversions, click-through rates, and total sales.
If you're trying to reach more people with your brand and become a subject authority, measure your position within the field by comparing your store with your competitors and seeing how much of the conversation around your industry is connected to you.
Before we go, let us leave you with this: Marketing is never perfect.
The true key to successful marketing is understanding that not every strategy or tactic you try will be successful, and being willing to test, adapt, and reimagine ideas until you find the sweet spot in every campaign.
Also on the Blog
Learn how to manage your Shopify accounting the right way
If you want to scale up your Shopify business, you need reliable accounting. Discover the best tools, key tax information and how to ensure that your Shopify accounting is set up for success.
Download our free guide