15 Actionable Shopify Tips To Grow Your Store in 2021
At their Reunite 2020 event, Shopify announced some pretty cool updates for 2021.
As one of the leading ecommerce tools, Shopify is constantly evolving and expanding its software, adding new apps and integrations to help its merchants thrive.
And with over 600,000 sellers on the platform, if you're one of them, you'll want to know as many Shopify tips and tricks as early as possible to come out ahead.
So if your Shopify seeds are planted and you're ready to show them some TLC, this guide is for you.
Table of Contents
Learn how to manage your Shopify accounting the right way
If you want to scale up your Shopify business, you need reliable accounting. Discover the best tools, key tax information and how to ensure that your Shopify accounting is set up for success.
Download our free guide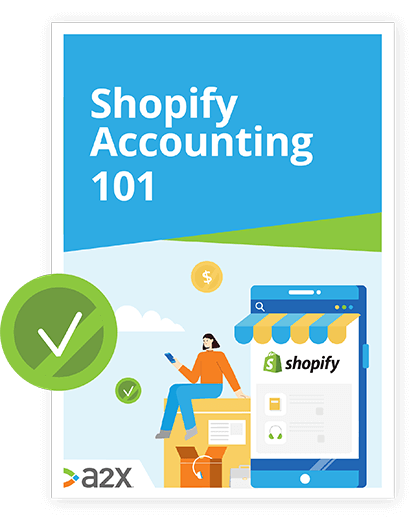 Grab a notebook, and let's dive in.
A Quick Checklist of the Basics
Before we dive head first into augmented reality and chatbots, let's go back to basics.
Not all Shopify stores are successful. And although we can't know for sure how many fail, we do know some of the most common reasons why. These might include picking the wrong dropshipping niche, a bad choice of products or low quality products, bad customer service and a lack of marketing.
It's important that the below is optimized first before you spend time (and potentially money) on the fancy "nice-to-haves". A resilient business needs a continuity plan, and these will help keep your biz stable as you enhance it.
First thing's first, let's optimize the basics
Smart products based on research
What you want to sell may not be what is selling. Your product choices should be governed by customer behavior and demand; two things that can be measured and used to make informed decisions. If you are thinking of expanding your inventory, make sure you've done your research and your sums before investing. These tips from Shopify are a good reminder for how to choose products to sell.
Similar to the above, make sure the niche you pick makes sense to your target audience and adds value. This is the best way to stand apart from the crowd, and could easily be forgotten as you grow. Always keep this top of mind as you invest in new stock or apps. See Shopify's tips for finding niche markets here.
Transparent listings and suppliers
Always aim to give your customers too much information rather than not enough. Ensure your listings are spell-checked, detailed, and accurate. And if you dropship stock, have a piece sent to you before you start selling - a common reason for failing Shopify stores is poor quality products. This is a good way to make sure you have checked what your customers are receiving first-hand.
Excellent customer relations
It might seem obvious, but customer relations cannot be overlooked. Make sure you are easy to reach, fast to reply and always friendly. Every customer has the potential to return, so treat them as if they have invested in you long-term already.
You want your Shopify store to be easy to navigate and quick to load. You might be surprised to hear that you can influence these two things, and they in turn influence your bounce rates. 40% of customers won't wait more than three seconds for a page to load - that's almost half your potential revenue gone. See Shopify's blog on optimizing your theme for performance here.
(Hint: we'll discuss marketing a bit more below, so this is just the tip of the ad iceberg). There are so many opportunities to market your Shopify store, and not all of them cost money.
Think about where your target audience is, and how to reach them. What kind of media do they consume? Which social platforms are they on? Would they respond to video better than images, GIFs, memes, Instagram stories, blogs - how can you pique interest? Before paying for ads, get some free branding out there first.
We're not just saying it because we know ecommerce accounting software best, but having automated accounts is a no-brainer for business owners, especially remote sellers or those operating on multiple platforms.
Your money is the life force of your business. Accounting involves a lot of data entry, repetitive tasks, calculations and number crunching - almost all of which can be done by machines designed to get it right every time. By eliminating the risk of human error from the life force of your business, you give it the best chance of success.
Shopify can integrate with accounting software like Xero, QuickBooks and Sage to turn much of your accounting automatic.
By adding A2X into the mix, you will have accounts organized via the accrual method with neat journal summaries breaking down all your bank deposits from Shopify - fees, charges, taxes, all accounted for. Start your free trial here.
Shopify's Most Exciting Updates for 2021
Now the fundamentals are covered, let's get to the fun part - what's new for this year.
When Shopify announced it's latest updates, it covered the following areas:
Money
Online store
Omnichannel and marketing
Back office
Shipping
Performance
Here, we'll focus on the points and categories which are particularly useful for those wishing to grow their stores this year. Then, we'll jump into actionable tips for how you can use these new features for your store.
Money updates
Shopify Capital moves to the UK and Canada
Shopify's financing program for small businesses can now be accessed by sellers outside of the US. If you're in the UK or Canada, you may be eligible for financing.
Shopify launches its own version of a Buy Now Pay Later program, giving buyers the option to spread costs.
Online store updates
For sellers trading overseas or looking to, Shopify are introducing local domains. Your customers will be sent to your store with the appropriate currency and language of their location, helping keep their experience as tailored to them as possible.
In addition, for merchants using multiple currencies, more stable prices will be set for products. With less fluctuation, buyers will have a better experience, and it will be easier for sellers to plan their costs and advertising budgets without the fear of changing prices.
Greater customization of store design
Merchants will have more control than ever over the pages of their websites, able to integrate apps and add sections without coding. This means that some of the new features and functions will be more accessible to sellers.
The chances of selling to an existing customer are around 60-70% versus 5-20% for a new prospect. That's a significant difference and the data-driven model of subscriptions allows businesses to cross-sell and market their products more effectively. Learn more about ecommerce subscriptions here.
Omnichannel and marketing updates
You can now design and manage email campaigns with Shopify Email. Email marketing can be incredibly effective:
"According to studies by DMA and Demand Metric, the average return on investment (ROI) for email marketing is 122%, which is more than 4 times higher than other marketing formats including social media, direct mail, and paid search."

- Medium (2018).
Free Google Shopping listings
Shopify has partnered with Google to allow merchants to list for free on the Google Shopping app. If a seller already has products synced with the app, they don't need to do anything. Find out more about Google Shopping ads here.
Facebook Shops allows sellers to build a mini version of their store and sync it directly with Facebook and Instagram. You can manage it all from Shopify, load your product catalog and expand your audience over social media.
Shipping updates
Shopify Fulfilment Network
Shopify has invested heavily in their version of Amazon FBA with seven warehouses in the US and 99.5% of orders placed there shipped the same day. It gives merchants the freedom to retain their own branding but support in inventory and shipping management. Currently, the network serves only North America but Shopify is looking to expand. Find out more here.
For the full Reunite 2020 announcement, click here.
The Ultimate 15 Tips for Shopify Growth This Year
The key to growth is the perfect synergy of resource and creativity. What tools out there speak to your brand, and can be used to help it soar?
With so many options, it's important to be discerning, and only invest in what makes sense for your store. Will your target audience respond to this value add?
If not, there won't be added value in it, and it might drain your resources.
Think about the below as you strategize your Shopify growth:
What are your business goals?
What are your business priorities?
Separate your to-dos from your ideas.
Think about what will get you results the quickest.
Try a piecemeal approach so you can track what's working.
By keeping these top of mind, you can ensure that you make the best decisions for your business, can measure their success, and adjust your approach along the way.
Ready to take the plunge? Let's do it.
Redefine your marketplaces
After its expansion into the digital space, retail has exploded across channels. Customers can buy not just on a website, but via Google ads, social media, apps, voice controlled devices and more. Online shopping today is more about micro-moments.
This increase in omnichannel selling has led to the creation of headless commerce to help merchants manage a busy backend without worrying about the front so much. This is the extreme end of the spectrum.
Redefine your marketplaces this year by leveraging the following for Shopify:
Facebook Shops
Facebook lookalike audiences
Instagram integration
Google Shopping listings
Shopify's Shop app
ACTION IT: Where are most of your customers? That's the platform you need to be focusing your strategy on, and platforms are coming up with new ways for you to use them all the time.
Leverage social media trends
Most target audiences use some form of social media. With your followers able not only to see products recommended for them, but also what their friends like and follow too, this network is a marketer's dream.
Think about using the following to enhance your social media presence and feel accessible to your audience:
Be specific about why you want to work with them and assess the audience of candidates you are considering. Ensure that your content will resonate with that audience, and that the influencer has decent engagement with their followers. See more on finding the right influencers for your Shopify store here.
User-Generated Content (UGC)
What's better for your brand than a photoshopped model you paid to wear your clothing or use your product? Real customers that love your product so much they took a photo with it and tagged you. Running UGC competitions and encouraging people to share their photos creates social proof for you. See tips from Shopify on UGC here.
Get down with the kids and behave as they do on social media. Assess how your target audience likes to use a platform - do they like using filters? Create one. Do they watch and interact with Stories? Curate posts that tempt them to interact with yours, you can even use them as market research tools and run polls or ask questions. Find out more about why you should bother with Stories here.
ACTION IT: Pick an area to explore first and do your research. Does it make sense for your brand?
Build a subscription database
As we saw above, customers are far more likely to buy from you a second time - up to three times more likely, in fact. So it makes sense to hold onto the information of those that invested in you once before.
With subscriptions comes data. You can learn more about your customers, products, messaging, sales funnel and more - all invaluable information to guide your business strategies. You can design a community around your brand, and use it to help define your business goals and journey as you grow.
ACTION IT: Find out more about starting subscriptions on Shopify here.
Embrace email marketing
As we saw above, Shopify Email has emerged so that sellers can take advantage of the undeniable value of email marketing campaigns. Take a look at this chart from Medium showing how email marketing stacks up against the other channels:
Cart abandonment is a big issue for online retailers, so having the opportunity to remarket to customers who may have left the checkout screen could save you a significant number of sales.
For best results with email marketing, use social media to grow your audience and attract leads to subscribe. Then, use email marketing campaigns to nurture and convert those leads.
ACTION IT: Learn everything you need to know about Shopify email marketing here.
Upsell and cross-sell
Upselling involves suggesting to a customer a better version of a product than the one they are about to buy (e.g. a laptop with more memory). Cross-selling involves suggesting they buy a related product to enhance the one they are about to buy (e.g. a laptop case).
These tactics can be very effective, but you need to bear these things in mind:
The customer has seen the lower price now, so how will adding on or upgrading solve their original problem even better?
Is this other product truly a better fit for them than the one in the cart?
ACTION IT: See more about upselling on Shopify here.
Anticipate future sales
You can grow your store by thinking ahead about your target audience and what kinds of products might attract them in the near future. This is where product research is key and you can get a little creative:
Perform keyword and long tail keyword research
Geographic validation research
Social media trends
Test the water
What does test the water mean? Just that - list a product you don't sell yet, optimize the listing the same way you would on the rest of your store, and tag it as "out of stock".
Test how many requests for back in-stock notifications you get from customers, and you will get a feel for how popular a product could be. This is particularly useful if you have different variations of a product and only want to sell one.
ACTION IT: How to test product line extensions before investing.
Explore content marketing
Shopify has a blogging function, and blogs are a great way to increase the SEO of your website and drive organic traffic.
By building a blog of interesting, relevant content, you can establish yourself as an authority in your chosen industry - or at least a multifaceted brand with a voice.
Here are some ace Shopify blog tips to help yours speak volumes:
Feature guests and interviews with others of interest in your industry.
Highlight certain products and showcase them to help drive sales.
Create long-form content and even downloadables to add value to your readers and tempt other websites to link to you.
And content doesn't have to just be blogs either. Podcasts and videos are also great ways to connect with your audience and lend a human touch to an otherwise faceless platform.
ACTION IT: Find more blogs on ecommerce content marketing by Shopify here.
Personalize customer experiences
Your customers don't want to feel like sheep, one in a crowd - an order number. They expect more from online retailers these days; tailored recommendations and solutions that will save them time.
Fortunately, Shopify is onto it. There are a number of ways you can personalize your consumer journey:
Localize your store to suit their location.
Create customer profiles.
Offer the wishlist function (which you can incorporate into your email marketing).
ACTION IT: Find out more about personalization on Shopify here and the ways you can get started immediately.
Mimic the in-store experience online
Buying online isn't a tangible experience, and this may be the greatest hurdle when it comes to converting your customers.
Fortunately, the technology exists now to get as close to the real thing as possible, and for Shopify sellers this looks like:
Virtual and augmented reality product placement
Customers today can "try on" clothes virtually, "place" furniture in their homes using cameras, and bring a digital product to life before they buy it.
To fully nerd-out on this technology, which was introduced last year, check out this video. Skip to 55 seconds in to see David Beauchamp, Head of AR/VR at Shopify, talk in detail about these new features:
Virtual tours, meetings and consults
If your store could benefit from one-to-one interactions with customers, virtual tours or consults could be a great value-add.
For example, a clothing brand could offer personal styling sessions online as a great upsell and cross-sell technique, one which also puts the customer at the heart of their buying experience.
ACTION IT: Find out more about Shopify augmented and virtual reality here.
Be more interactive with customers
Chatbots and live messaging are surprisingly popular with online shoppers. In 2019, more than 60% of customers said they preferred getting quick answers via chatbot for their simpler questions.
You can also inform a returning customer of their order status over live chat too, even if they haven't sent a message. This ensures that any interaction with you is relevant and unique to them. Here's an example with Luxy Hair:
ACTION IT: Find Shopify's live chat apps and customer support integrations here.
Reward your customers
According to Stitch Labs, returning customers make up on average 11% of a customer base, but account for 22% revenue and spend around 15% more each year.
Here are some tips for Shopify customer rewards:
Set up a loyalty program which incentivizes and rewards big spenders.
Try selling an exclusive program with great deals, access to special events or promotions and maybe even discounts with a partner brand.
Keep it simple with promotions for subscribers or past customers to help keep your brand top of mind.
ACTION IT: How to craft a customer loyalty program for your Shopify store.
Keep your social proof fresh and visible
Social proof can be user-generated content, testimonials, reviews, case studies - any demonstration of customers interacting with (and loving) your brand.
You want to show potential leads why they should shop with you, and how happy other customers are with their purchases. The key thing to remember with social proofs is to keep them as recent as possible.
ACTION IT: How to use social proof for your Shopify store.
Offer more ways to pay
In our own original research, we analyzed 1,000 Shopify payment gateways to see which proved most popular with customers.
The answer? Whilst Shop Pay and PayPal came out on top, the resounding message was that customers like choice. Buy Now Pay Later options like Afterpay are also up there, so Shopify's release of its own version, Shop Pay, is timely.
ACTION IT: Pay attention (pun intended) to the gateways offered to your customers, could you give them more choice? Check out Shopify's tips on choosing payment gateways here.
Get altruistic
In a report compiled by IBM last year, they found that:
51% of consumers said they would change shopping behavior to reduce environmental impact.
Almost 80% indicated that sustainability mattered to them.
Of those that said it was important to them, 70% said they would pay a premium to support conscious brands.
They also found that 81% of their worldwide respondents fell into one of two categories: value driven consumers (41%) who look for good value, and purpose-driven consumers (40%) who want alignment from brands with their personal values.
The bottom line? Ethical and sustainable sells - but be transparent about it. Greenwashing is on the up and the purpose-driven consumer will tend to dig deeper into your credentials.
You could look to offset your carbon emissions by adding apps like Carbonclick, or find other causes close to your brand for customers to donate to when they make a purchase.
ACTION IT: Find out how you can make steps towards sustainable business practices and what it means for you in the long-term here.
Outsource your fulfilment
The big practical one. If you haven't already, out-sourcing your fulfilment could be a smart step in your business' growth journey.
Shopify Fulfilment Network is growing fast and takes a lot of the hassle out of inventory management and shipping for you.
ACTION IT: Find out whether the Shopify Fulfilment Network is right for your business here.
Ready, Get Set…
So there you have it. 15 Shopify selling tips to take your store into the stratosphere this year.
Whatever you sell and however you sell it, you'll no doubt have found an exciting value-add here to level-up your business.
Remember, a business can't grow without accurate accounts. Have accounting software sorted but no connector app?
Consider trying A2X for Shopify on a free trial today, and ensure your foundations are ready to support the build.
Also on the blog
Learn how to manage your Shopify accounting the right way
If you want to scale up your Shopify business, you need reliable accounting. Discover the best tools, key tax information and how to ensure that your Shopify accounting is set up for success.
Download our free guide