eBay Seller Fees: The Definitive Guide [Full Resource]
Any expense to your business must be monitored closely.
Every ecommerce seller will have to pay a fee to their chosen platform. In the same way that a brick-and-mortar store pays rent or buys a property from which to sell, digital business owners pay for the space they occupy online.
But if they're not careful, these numerous fees can add up and chew into profit margins left, right and center.
From listing fees to final value fees, subscription fees, dispute fees, international fees and no fees at all, this guide breaks down everything you need to know to manage yours for your eBay store effectively.
Can they be reduced? With careful planning and a bit of strategy, they certainly can. And that's what we'll explore here too.
This blog is a part of our eBay accounting hub. Previously, we discussed all the accounting software tools you might need for eBay and how to integrate them with your account.
In this blog on eBay seller fees:
Table of Contents
Want to feel completely confident in your ecommerce bookkeeping?
Businesses that document their processes grow faster and make more profit. Download our free checklist to get all of the essential ecommerce bookkeeping processes you need every week, month, quarter, and year.
Download it here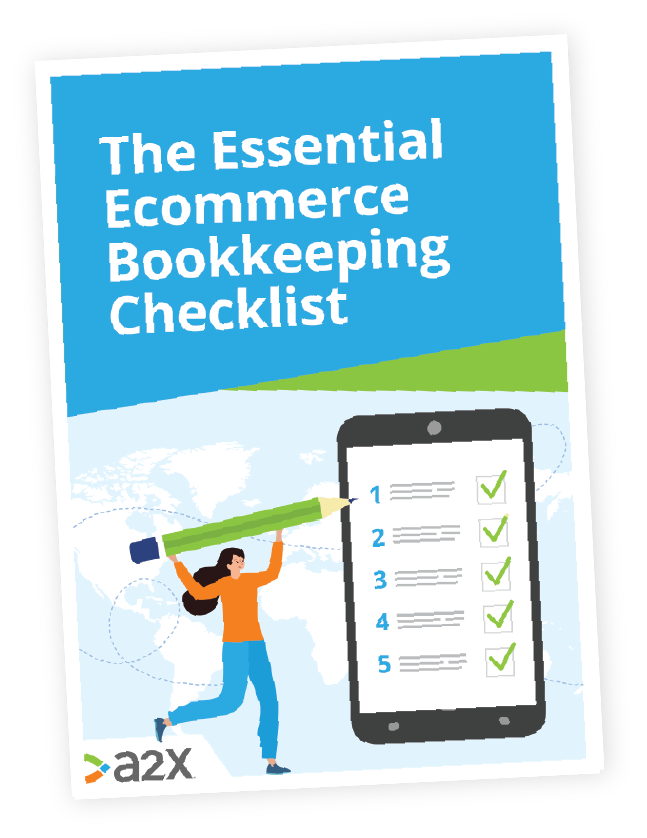 An Introduction to eBay Fees
Your eBay fees should be a core element of your budgeting and sales strategy.
How can you keep them as low as possible, while making as much profit as possible?
The first step is to learn about them. By simply educating yourself on what they are, when they're charged, and what impacts them, you can save your business some serious cash in the long run.
But then you're here, reading this - so you probably already know that.
Sellers are being moved over to eBay's managed payments service, and eventually, this will become the default. This new system impacts your fees, so since it's becoming the new norm, let's start with this.
How managed payments will impact your fees
If you're an existing eBay seller, chances are you've received an email asking if you'd like to register for managed payments.
In eBay's words, "Fees are simpler when eBay manages your payments."
The idea of managed payments is to streamline your fees so that you get to deal with less numbers in your financial statements.
If you were using another payment provider like PayPal, its fee used to be separate and added on top of any selling fees. These are combined now for a simpler reconciliation process.
Source: eBay
Consequently, eBay final value fees – which we'll discuss in a moment – have increased to cover a broader range of costs.
So whilst eBay has streamlined the back-end a tad for you, you'll still see the following fee types creep up at various times.
Let's explore each of them and how eBay arrives at the amounts you are charged.
eBay Listing Fees
eBay refers to its listing fees as "insertion" fees.
These are the standard fees to sell your products on eBay, and they're charged upfront – before the item can officially be listed.
eBay insertion fees are the very first fees you'll come across as a seller, so it's essential that you know what they are and how they work.
How eBay insertion fees are calculated
eBay fees for selling on their marketplace are calculated based on the item you're listing, how you list it, and your account type.
Listings with multiple items, such as a "guitar bundle" or "5x collector cards" only receive a single insertion fee.
Insertion fees are non-refundable, regardless of whether or not the item sells.
eBay calculates insertion fees based on the following things:
Your subscription level
Category or categories the item is listed in
Duration of your listing
Optional upgrades added to your listing
We'll touch more on how subscription levels affect your insertion fees later. Now, we're going to look at each of those other areas above in more detail.
Different categories have different rates for insertion fees. Items listed under two categories must pay an extra insertion fee for each.
Check out what insertion fees look like for different categories below:
Source: eBay.
Listing time and optional upgrades
eBay offers sellers the opportunity to enhance their listings with paid upgrades that make them stand out.
The cost of these upgrades can depend on the listing type, and are added to the original listing fee.
There are two types of listings on eBay:
Fixed-price listings
Auction-style listings
Fixed-price listings, known as "Good 'Til Cancelled" listings, automatically renew every calendar month.
This is how the optional upgrade costs look for this listing type:
Source: eBay
Auction-style listings have a set date marking when the listing, if unsold, will expire. The below charts show how both auction length and starting price can affect the optional upgrade fees:
Source: eBay
Now that we've covered how eBay fees work as you list items, let's check out fees that are charged after a sale.
eBay Final Value Fees
eBay final value fees are the ones you get charged post-sale. They do not include sales tax.
Final value fees occur as soon as the buyer hits "Buy Now" or wins your auction, even if they don't complete the sale.
In the case of the latter, you may be eligible for a final value fee refund.
How eBay final value fees are calculated
Final value fees are based on the price your item sells for, the marketplace region you're located in, and the shipping method used to complete the sale.
As with insertion fees, the category within which you list your item and your store subscription level can also affect your final value fees.
Whichever shipping method your buyer selects at the purchase screen will affect how much you're charged in final value fees.
However, there is an exception to this rule.
If you opt for 1-day or international shipping, paired with a cheaper option such as domestic, the fee will be calculated using the cheapest available option.
Marketplace region and account type
For sellers using, say, ebay.com, the standard eBay final value fee percentage is different from those using ebay.com.au (the Australian marketplace).
Your account type – not to be confused with store subscription type – may have an impact, too. For business sellers, the percentage is lower in some regions than it is for private sellers.
This is demonstrated in the following chart, taken from eBay's own website:
Source: eBay.
Like insertion fees, the category or categories you list your product under affects the total cost of your final value fees.
Certain categories have different final value fee percentages, as well as higher or lower maximum final value fees than standard categories.
Unlike insertion fees, however, products listed under two categories are only charged one final value fee.
eBay Store Fees
If you're a fairly active seller on eBay, you may want to consider opting for a store subscription.
Here we'll break down the costs of each of the levels of store subscription, (including no subscription), as well as explain how these different store types may affect your other fees.
What is an eBay store subscription?
With a monthly subscription, eBay allows you to run your own store.
What this means is that you'll have access to a variety of benefits, depending upon your subscription level, that can make the sales process more economical in the long run.
You'll get access to more zero-insertion fees per month (see next section for details), additional tools to help you manage and promote your business, and in some cases, lower fees.
The cost of a store subscription is dependent upon how frequently you choose to pay – monthly or yearly.
Here's how you can save on different store types by opting for annual payment:
Source: eBay
How your subscription level can affect fee costs
As we mentioned, insertion fees and final value fees can be reduced by going with a higher-level subscription model.
Insertion fees by subscription type
If you're interested in lowering your insertion fees, this chart demonstrates how you can do that by opting for a higher subscription:
|   | Non-Store | Starter | Basic | Premium | Anchor | Enterprise |
| --- | --- | --- | --- | --- | --- | --- |
| Fixed-price listing fee | 35¢ | 30¢ | 25¢ | 10¢ | 5¢ | 5¢ |
| Auction-style listing fee | 35¢ | 30¢ | 25¢ | 15¢ | 10¢ | 10¢ |
| Free auction listings for collectibles and fashion | 0 | 0 | 250/mo | 500/mo | 1,000/mo | 2,500/mo |
Source: eBay
Final value fees by subscription type
In the case of final value fees, your store subscription works a little differently.
Instead of directly reducing the base rate (since there isn't one for final value fees), having a store subscription means lowering the percentage contributing towards the fee, as well as the maximum price at which the fees are capped.
For Anchor and Enterprise Store subscribers, final value fees are capped at $250 per item for all categories. For Basic and Premium Store subscribers, they're capped at $350 per item for most categories.
Compare that to the caps on the following table for Starter Store subscribers (the cheapest subscription option):
Source: eBay
To learn more about setting up an eBay store, visit this page.
Other eBay Seller Fees You Should Know
Before we dive into the best methods for managing your eBay fees during the accounting process, there are just a few more fees you should know about.
Zero Insertion Fees
Every month, eBay gifts sellers an allowance for 200+ listings exempt from basic listing fees known as " zero insertion fee" listings.
If you're interested in cutting back on your total eBay fees, taking advantage of zero insertion fees is an excellent option.
The number of zero-insertion fees offered to sellers each month depends on their store subscription level, as this table explains:
Source: eBay
Dispute Fees
If something is wrong with a buyer's order, they might decide to open a payment dispute.
And if eBay decides the dispute is reasonable, and finds you responsible, you'll be charged a dispute fee.

The dispute fee is exclusive of sales tax and equal to $20 per dispute.
International Fees
Finally, when the person buying your item is using a registered address or a shipping address (or both) outside the US, and your registered address is within the US, you could be liable for international fees.
These fees are automatically deducted from the sale and come to 1.65% of the sale price of your listing.
eBay Fees in a Snapshot
At a glance, these are the key eBay fees all sellers should be aware of:
Insertion fees (which may also include optional listing upgrade fees): The fees you pay to list an item on eBay.
Final value fees: The fees you pay after an item is sold on eBay.
Store subscription fees: The monthly fees you pay to operate an eBay seller store.
And these additional circumstantial fees may also apply:
Zero-insertion fees: Technically not a fee, but rather a type of listing devoid of insertion fees.
Dispute fees: The fees you pay when eBay finds you liable for a dispute claim.
International fees: The fees you pay when a buyer is using an address outside of the US.
In the previous article in our eBay accounting series, we talked about how accounting software can bring efficiency to the eBay sales process.
Now, we're going to break down how integrating your accounting software with A2X will give you a clearer understanding of your eBay fees, and enable accurate comparison of different fees across multiple sales channels.
Optimizing your eBay selling with A2X
Keeping track of your eBay fees can be confusing, but it's crucial to maintaining healthy profit margins and a strong bottom line.
Ecommerce platforms like eBay tend to send settlement statements that aren't always user-friendly and span months, making it a time-consuming, manual nightmare trying to figure out what you were charged when and why.
This is the problem that A2X solves.
What A2X gives you
Books organized via the accrual accounting method, approved by the GAAP and required of larger businesses.
An accurate, detailed picture of your cash flow, allowing for easy financial forecasting.
Neat and tidy journal entries that summarize and break down your settlement statements.
Account and tax mapping that can be modified and updated at any time to suit your specific business needs.
Hours of saved time that might have otherwise been spent stressing over your accounts.
Support for multi-channel selling, in case you decide to expand beyond eBay at any point in your ecommerce journey.
Check out some verified Capterra reviews of A2X:
"Does what [it] says on the tin. We've tried countless other apps and all of them have one issue or another and this one just works."
"This software has saved me so much time and effort with accounting. Especially when I first started, I was lost and A2X helped me to better understand what I need to account for an[d] simplified things."
"This product has added a whole new aspect of scalability to our business, and saves a great deal of time."
To get started with A2X right now, sign up for free here.
Next in the Series…
Next up in our eBay accounting series, we cover taxes. From sales tax to income tax, VAT and GST, ecommerce sellers need to know about them all.
Other eBay Resources
Want to feel completely confident in your ecommerce bookkeeping?
Businesses that document their processes grow faster and make more profit. Download our free checklist to get all of the essential ecommerce bookkeeping processes you need every week, month, quarter, and year.
Download it here