Finding The Perfect Web Designer [An Accountant's Guide]
So, you're keen to update and improve your website, but you're unsure where to start?
Here, we've pulled together a short and easy guide to finding the right web designer. It's an investment, so spending time making your decision is a smart move.
This guide will cover:
Table of Contents
Become an A2X Partner
Join the A2X Partner Program to build your expertise, grow your client base, find community, and earn discounts.
Join now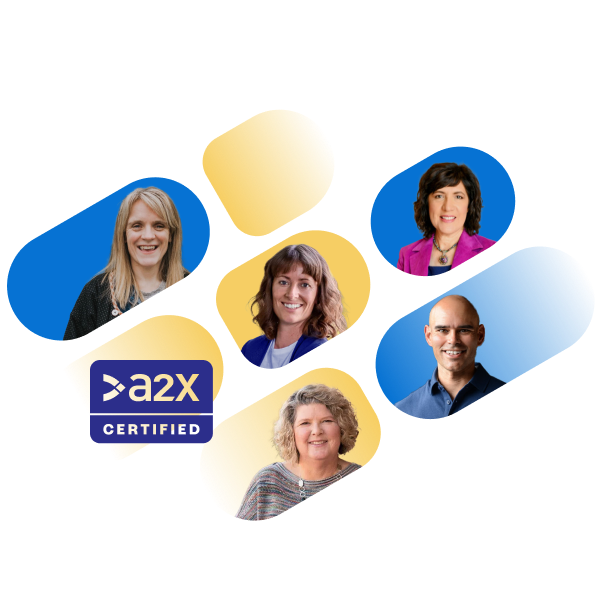 Let's get designing!
Things to look for in a web designer
Keep these things in mind for your search.
Experience and expertise
You will want someone who will listen and understand the unique DNA of your business and your objectives.
It is also valuable to have someone who brings their own point of view, who through the experience of working with other business owners and designing other websites, can bring a fresh perspective and make suggestions of their own.
Some website designers specialize in websites for accountants and provide the option of continuing to manage the websites, adding relevant content on a regular basis.
If possible, get recommendations from people you trust, and talk to at least a couple of designers and get detailed quotes and timelines before making your decision.
Reviews and examples of their work
Once you've narrowed down a couple of designers, spend some time looking at websites they've created.
Are they modern, clear and easy to navigate? Do they load quickly and read well on mobile as well as desktop? This is crucial as many people browse for services on their phones.
As well as viewing the websites, consider speaking to the designer's recent clients and find out what they were like to work with – was it easy to make changes along the way, and were budgets and timeframes met?
Expertise in Search Engine Optimization (SEO)
You want potential clients to find your business when they do a web search.
So, your website needs to be designed with this in mind - in terms of the layout, the content and some of the 'behind-the-scenes' set up.
SEO is one of the key things your designer needs to execute upon well.
You might have the best website in the world, but if no-one can find it using a search engine, then it's not doing its job.
Make sure you understand what search terms people might use in their searches to find a business like yours and communicate these to the designer. We have a comprehensive guide dedicated to SEO for accountants here to help.
When you're looking at other websites the designer has created, note whether they ranked well on Google when you searched for them using obvious search terms. If they didn't, talk to the designer about this. You need to be confident that your website will be visible in a search.
Are you changing your brand and website content?
Do you want to make changes to your brand at the same time you update your website?
For example, your business name, logo design or brand colours?
Do you need help writing copy for your website?
If so, it might be worthwhile engaging designers who have all these skills in-house, so they can be managed easily at the same time in one place.
What To Consider With Website Design
Your designer will make suggestions, but keep the following in mind throughout the process.
What does your website need to do?
Is it simply an online brochure or does it need to be more interactive?
Consider whether the following features would be useful now or could be in a couple of years:
An enquiry form on your website, so your leads are contained in one place, rather than in different emails.
A link to your calendar, or an app (like Calendly) that people can book meetings with you.
Payment options – so your clients or prospective clients can pay their monthly bill, or for an online course.
Social media icons such as LinkedIn, so your clients can connect with you.
The opportunity to sign up to your newsletter, receive a copy of your e-book or download another type of relevant lead magnet.
Who will manage and update your website?
Do you want the web designer to manage your website for you and update content, or would you prefer to do this yourself?
For simple updates such as changes to staff profiles, holiday hours, or logos of apps you use in your business, you might find it more convenient to do this in-house.
Think about future changes too.
Is it likely you'll want to add new website pages or start a blog?
If you want to manage this yourself, you'll need to make sure that your website is created in a program that makes this easy, and you'll need some training on how to work with your website.
Get specific about which clients you want to target
When your dream clients visit your website, you want to make sure you convert them, so it's important to consider who those dream clients are and communicate this to your designer.
Your website needs to reflect your expertise and strengths that will appeal to those clients.
When our partners want to grow the ecommerce side of their business, we recommend they have an ecommerce landing page, and we've prepared a guide on what you could include on that landing page.
Do you need an ecommerce-only website?
We're sometimes asked whether accountants need a dedicated ecommerce-only website to really establish themselves in the ecommerce niche.
Some of our accounting partners have done this, and their business name and website reflect that they serve solely ecommerce businesses.
Either they only serve ecommerce clients, or they have set up a second business and website solely focussed on ecommerce, while keeping their original website which reflects their expertise in a range of different industries.
Having a dedicated ecommerce website demonstrates commitment to the ecommerce niche and provides the opportunity to tailor your website to the unique issues and opportunities faced by ecommerce businesses.
Having an ecommerce-related name is also likely to help with your SEO ranking.
Our partner accountants who have dedicated ecommerce websites have found they get a lot of organic leads through Google searches because of this targeted branding.
Most of our accounting partners serve clients across a range of industries and their websites reflect this diversity.
Either approach is fine, but if you want to attract ecommerce clients, we strongly recommend you include an ecommerce landing page on your website, so your ecommerce expertise is visible to search engines and demonstrated to potential clients.
In summary…
A website is a big investment of your time and money - you want to make sure it's done well so you reap the rewards.
Choosing the right designer is key to a successful project. You've got to love their work and find them easy to work with.
Good feedback from their recent clients will help give you the confidence that you've found the right person.
It's important that they have expertise in SEO – you don't want a website that no one can find!
There are almost endless options in terms of website features, design and content. It will help if you think about what you need before meeting with designers.
Your designer will likely bring their own ideas to the table, so keep an open mind, but your upfront preparation should help you define the scope of the project more quickly.
Your checklist:
Shortlist website designers with the right experience, and get recommendations if possible.
Review the designers work and get references from their clients.
Make sure they have SEO expertise.
Note any other other skill-sets needed such as branding design or copywriting.
Decide what functionality your website will need.
Decide who will manage and update your new website going forward.
Document who your dream clients are (e.g. size and industry) and the services you want to provide.
We hope you found this guide useful. If you have any questions, please get in touch with our marketing team at partners@a2xaccounting.com.
Next in the Series…
The final guide in our ecommerce accounting hub for accountants is all about the latest industry trends, and how you can support your clients to get ahead of them today ➡️ Read now.
Become an A2X Partner
Join the A2X Partner Program to build your expertise, grow your client base, find community, and earn discounts.
Join now