The Ultimate Ecommerce Accountant's Guide to Search Engine Optimization (SEO)
If you're an ecommerce accountant looking to increase your website's organic traffic, then you're in the right place.
This SEO guide is a pretty comprehensive one.
The goal of this guide is to make sense of SEO best practice, as it relates to ecommerce specialist accountants and their websites.
It is split into the elements that make up a strong brand entity online, and it goes deep and technical - that is, if you want it to.
With expanding sections for greater depth, you can immerse yourself in as much or as little of the granular detail as you have the time (and motivation) for.
We'll explain what's most important and what's less so, so that if you want to stick to the topline and avoid marketing spiel where possible, we've got you.
NB: We'll be referring to Google as a representative "search engine" in this guide.
Your Introduction to SEO
Search Engine Optimization is all about great user experience.
The most important thing to know about Search Engine Optimization is that it's an ongoing process. You're never really done with it.
To be successful with SEO, you need to be as active and evolving as search engine users.
You need to understand what they are looking for and where, how they communicate, interact with your site, and what drives them both to engage with or move on from you.
If you can nail SEO, the traffic that you get to your website should not only increase, but be the right traffic with the intention to find an accountant like you - all without costing you a cent in advertising.
Sound good? It is, but it does take some work.
Search engines like Google want to give their users the best experience.
If you get great at defining which users you are the best experience for, it will get better at directing them your way and not towards your competitors.
In other words, once you have your niche within the specialist accounting space, you'll be able to target focused users more likely to want your service.
So how does Google rate your site among your competitors?
One way to think of your website is like a tree.
In order for it to be fruitful, i.e., generate lots of new search leads and potential customers, it needs a few robust elements all working together: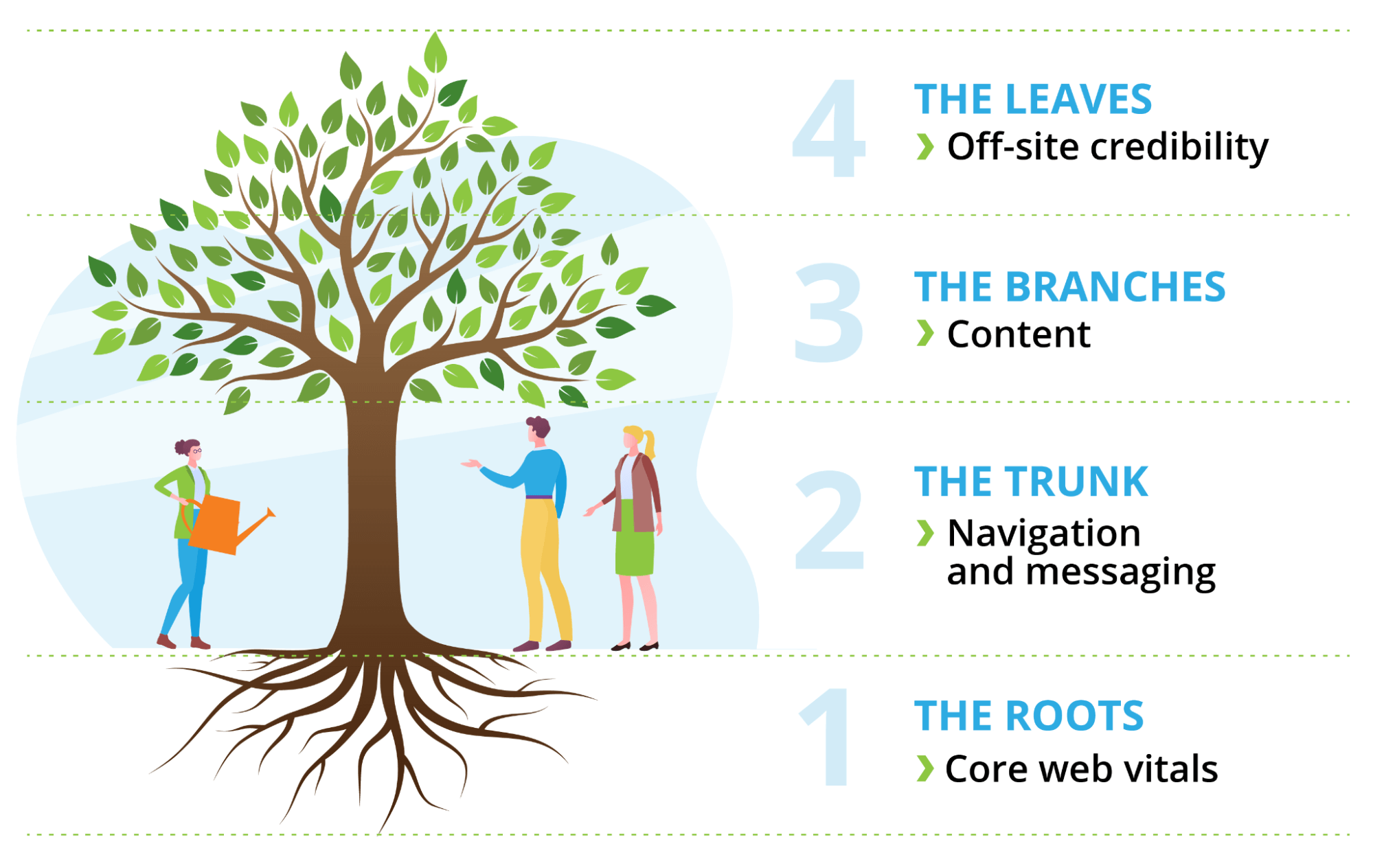 The stronger your elements are, the more attractive a hub your website is - both for search engines, and for ecommerce sellers looking for you.
Today, Google is all about entities when it comes to SEO - not just one or two great blogs about bookkeeping methods or accounting software choices.
It's looking at the entire tree.
So a holistic approach is more important now than ever.
By optimizing each element of your tree, we'll be covering off the three types of SEO:

Don't worry, we'll tackle these in bitesize chunks, with plenty of examples and instructions for applying them to your own site.
Let's start with the roots of the tree, it's performance and visibility - or its "core web vitals".
The Roots: Core Web Vitals
TECHNICAL SEO

"Core web vitals" is the technical term for three key measurables on your website that Google takes notice of.
Think of them like the structural foundations of your site.
These impact your site's loading time, visual stability and interactivity, which in turn, affect user experience.
These measurables are LCP, FID and CLS.
You can still rank with poor core web vitals, if other elements of your website are great. But for the best results, don't leave these out.
After all, you know how frustrating it is when you have to wait for webpages to load.
To set up your website analytics for measuring your core web vitals, and the other elements of SEO that this guide will explore, follow our steps below.
We'll also explore those three measurables above and what you can do to improve them.
Disclaimer: These will be different based on your hosting platform.
What you do for a WordPress site won't look the same as for Squarespace.
But there are some tools that you can set up to help you diagnose what might be compromising your core web vitals, regardless of platform. And these also help you measure the impacts of the other steps we go through in this guide.
These instructions are the most technical in our guide, but they are invaluable in providing you with actionable insights and performance data for ongoing SEO efforts.
We're going to set up and link Google search console and Google analytics accounts for your site.
Head to the Google Search Console, create a login, and add your site.
Source: Backlinko.
You'll need to copy your website's URL into the Domain section.
Now, you'll need to verify your site. You can do this in a few different ways, so we'll pick one here. Select HTML tag, and add that code to your website's homepage code.


Make sure you are on your homepage. Once you find your code via the steps below, add the HTML tag to your page's head section of code.

For PC users:

Chrome: CTRL + U, or open your menu (the three straight lines) and navigate to Tools > View Source.
Internet Explorer: CTRL + U, or right click and select View Source.
Firefox: CTRL + U, or navigate to Firefox > Web Developer > Page Source.
Opera: CTRL + U, or right click and select View Source.

For Mac users:

Safari: Option+Command+U, or right click and Show Page Source.
Chrome: Option+Command+U, or navigate to View > Developer > View Source, or right click to View Page Source.
Firefox: Command+U, or right click and select Page Source, or head to Tools > Web Developer > Page Source.

Next you want to tell Google which country's traffic you are targeting, in order to get the most specific and relevant performance data.

To do that, head to Search Traffic > International Targeting. Open the Country tab, and check the Target Users In box. Choose your country from the drop-down menu.

Now you want Google to tell you which keywords your site is ranking for, as well as where your traffic is coming from. This involves linking your search console profile to Google Analytics.
Once into Google Analytics, head to Admin > Property Settings > Adjust Search Console. Click Add, find your website, check the box, and select Save.
Now that your search console and analytics profiles are linked, you should start to see the following metrics:


| Impressions | Clicks | Click-through rate (CTR) | Position by country | Keywords |
| --- | --- | --- | --- | --- |
| The number of views a piece of content or ad generated. | The number of clicks a piece of content or ad generated. | The rate at which your impressions turned into clicks. | Where are you ranking highest in global search results? | The keywords and phrases bringing people to your site. |

We'll talk more about these metrics later. Right now, we want to check on your current core web vitals state. Back in the search console, select Core Web Vitals.
Source: Backlinko.


You'll see charts showing your site's current performance. "Poor URLs" should be your greatest concern.

The console will tell you the issue that needs fixing. For example, below, it is a "CLS issue", which impacts the visual stability of those pages:

Source: Backlinko.
You'll need to work your way through the improvements that Google suggests in its console. It may be a time-consuming process, but this is the best way to improve your core web vitals.
The Trunk: User Experience
ON-PAGE SEO

Search Engine Optimization is all about helping Google recognize how great your site is at delivering answers to search queries in a seamless way.
If someone searches for "US ecommerce specialist accountants for Shopify", and that's you, then you want to rank ahead of your competitors.
But you need to prove yourself to your visitors and by extension, to Google. And its algorithms have evolved enough to look for signals of great UX (user experience) on your site.
So, what are these signals? And how can you optimize for them?
That's what this section is all about.
The Branches: Content
ON-PAGE SEO

What exactly is content?
Content is the substance of your website.
It is everything on the pages, from forms to blogs and service breakdowns. It can also be videos, audio, GIFs, infographics, concept visuals, graphs, charts and more.
It also happens to mean "satisfied", or "pleased", so think about that when you strategize the types of content on your site. Will it have that impact on your visitors?
Your pages will require different types of content, and they each need a unique approach.
That's what this section is about.
The Leaves: Off-Site Credibility
OFF-PAGE SEO

Credibility and authority are gained online through backlinks.
Backlinks are when another website links (back) to yours.
If another site likes yours enough to recommend you, then that's a good sign to Google.
It's a vote of confidence, and that's why it takes off-page SEO into account.
You can work on this just as much as the content on your own website.
Keep It Growing
No matter how much or how little of this you may come to implement in your own website, remember this: SEO is never "complete".
Search engines change as user behavior changes which is constant, so optimizing for them is too.
Once you have your measuring tools in place, you can keep an eye on which areas of your website are particularly impactful and which are not.
There are plenty of ways to add value to your visitors and keep them coming back.
If you want more ideas for how to do this, and you haven't already checked it out, head over to our accountants' guide to attracting new clients.
In this resource, we dig deeper into marketing for accountants, how to find new leads and how to figure out what they want from you.
So once your new SEO strategy starts to bring in new leads, you'll be ready for them, and you'll know what to do to convert them to loyal, long-term customers.
Good luck!
Did you get here from the Ecommerce Accounting Hub? Go back to it here.