eBay Accounting: The 5 Setup Steps
The possibilities are almost endless when selling on eBay.
Not just the platform of auctions anymore, eBay sellers are trading everything from electronics to collectibles, cars, fashion and exercise equipment - to name but a few.
It's an exciting world for a budding entrepreneur, but it's important to start with the most consequential aspect of your new business first: its accounts.
The infrastructure for managing the lifeblood of your eBay business has to come first, and for many eBay sellers, accounting is completely new and a little bit daunting.
This guide brings you five easy steps to get your eBay accounting off to a strong start. Plus, we'll provide plenty of other resources to delve deeper and the next steps towards the software and tools to help you thrive.
In the first part of our eBay business accounting series:
Table of Contents
Learn how to manage your eBay accounting the right way
Accounting for eBay sales comes with a unique set of challanges and opportunities. Discover the key challenges sellers face, the taxes and fees, and a free setup checklist.
Download our free guide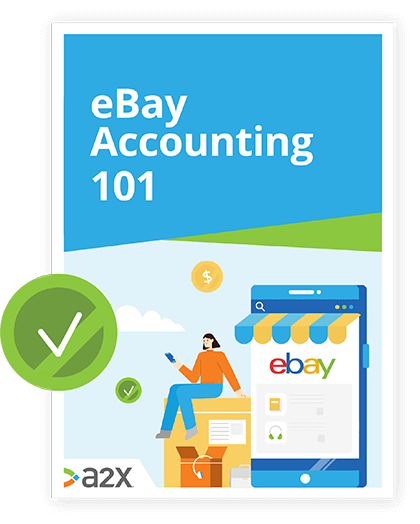 Let's delve in.
Plan to Make Your Business Official and Secure
Business plans are a compass. They don't have to be static, but they force you to think about what you want for your business and what's required to get you there.
So the first step is all about laying foundations with your eBay business plan.
Once you have this, you'll need to protect your business (and yourself) by registering it.
Registering your business
Most eBay sellers elect to register as either a sole proprietor or as a limited liability company (LLC).
The one you choose will affect the way you need to operate your business and meet your legal requirements, so consider these carefully. Check out this guide for help.
Many states will require you to register, and oftentimes you can't get a business bank account without registering, so it's safest and most sensible to do this right at the start.
Armed with a business plan and official registration, you have your foundation.
eBay Accounting on the Cloud
Separate your personal and business finances right away. The latter should be managed with eBay bookkeeping software and be kept totally distinct from your personal expenses.
You may be tempted to start your eBay business accounting with spreadsheets - and we get it, they're relatively easy, and they're free.
They're not, however, scalable, secure, efficient, instant or reliable. Plus, because they're dependent on manual data entry, they're fraught with the risk of human error.
Cloud accounting software solves all of these issues. Not only that, but with apps and integrations to optimize and automate just about any aspect of your bookkeeping, you can continually build on your accounting stack for increased efficiency as you grow.
We'll explore the best accounting software for eBay in the next part of our series.
Staying on Top of Your eBay Bookkeeping
Accounting for eBay sellers is an ongoing process.
Not just a question of ticking boxes for the taxman at the end of the financial year, you need a more intimate relationship with your books.
This step is crucial, and it's about consistency: make a regular habit of checking in on your books. Get to know them so that you can begin to anticipate peaks and troughs, and achieve greater stability over time.
The more in touch you are with your accounts, the sooner you can leap on any issues before they compound.
Plus, the better informed you are, the better decisions you can make with your accountant if/when you work with one.
Optimizing Bookkeeping for eBay Sellers
Cash flow for ecommerce is something else.
A particular challenge for ecommerce sellers is staying on top of such a huge number of transactions and the income and expense lines within them.
Integrating eBay with accounting software allows immediate data transfer, instant records, and secure information storage. Whilst the software displays your bank deposits from eBay, what it doesn't do is tell you everything you need to know about where the amounts came from.
You need to know that detail in order to keep the costs minimal and your margins as high as possible. This is the problem that A2X solves: it automates this otherwise manual process.
Using A2X to connect your eBay store with QuickBooks or Xero will optimize your stack and get you accurate, reliable numbers from the start. You'll know exactly what went into (and came out of) your bank deposits each time, so no unexpected mistakes or increased fees go unnoticed.
Plus, your accounts will be organized via the industry-standard accrual method, which is required by law of larger companies because it is a better measure of financial health.
You can try it for free today.
Getting Help with Accounting for eBay
Fortunately, there is a wealth of resources available online for eBay sellers to learn about their accounting.
Free guides and blogs are available via our ecommerce accounting hub, and on our blog.
There is, however, another level of value in seeking the help of a professional. Specialist ecommerce accountants can lend their skills and industry expertise to your unique business circumstances, helping you manage your business in the most efficient and economical way.
Beyond number crunching, ecommerce accountants can help you navigate the unique complexities of the industry and make smart decisions for the future of your business.
They can also assist you with strategy so that you save money at every available opportunity and get the best out of your business.
Find a specialist that's right for your business via our directory of trusted partners here.
Next in the Series…
Next up in our eBay accounting hub series, we take a deeper dive into the complexities, challenges, and solutions of eBay accounting.
We talk about the key terms you'll come across and what they mean for you, the software options out there and which to pick, plus how to overcome the hurdles you might face with your eBay accounts.
Other eBay Resources
Learn how to manage your eBay accounting the right way
Accounting for eBay sales comes with a unique set of challanges and opportunities. Discover the key challenges sellers face, the taxes and fees, and a free setup checklist.
Download our free guide