The Ultimate New Bookkeeping Client Onboarding Checklist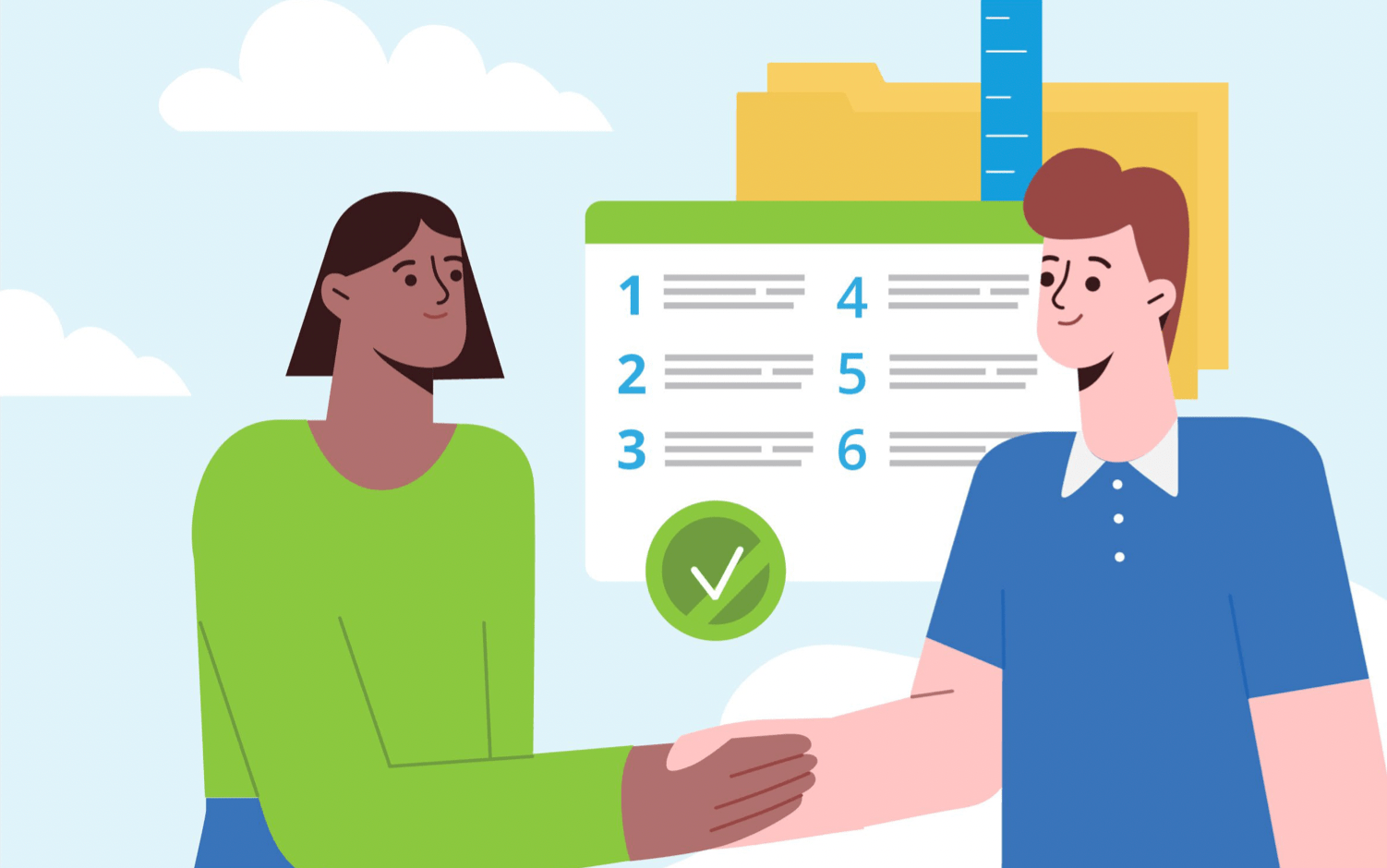 Getting new clients is always a moment to celebrate, but for many practices, the effort stops once the sale is made. Sadly, it's too common for the onboarding process to be a last-minute thought.
Real experts know that a comprehensive and professional onboarding will provide a strong foundation and set everyone up for a successful working relationship. Better yet, it can be fantastic for brand building and an opportunity to gain feedback that could improve your practice.
An onboarding process varies from practice to practice, depending on the size, services offered, and the type of customers your firm works with. The good news isthat by using a resource such as our new bookkeeping client checklist, you can complete the steps that work for you and ignore the ones that don't.
Read our new bookkeeping client checklist guide below, or download the entire list, including links to a worksheet you can copy.
➡️ Download the whole checklist and worksheet here
Table of Contents
Improve your onboarding process for ecommerce clients
Learn how ecommerce accounting leaders improve the client experience through onboarding. Download our free checklist for key actions to take during pre-onboarding, onboarding, and post-onboarding.
Download now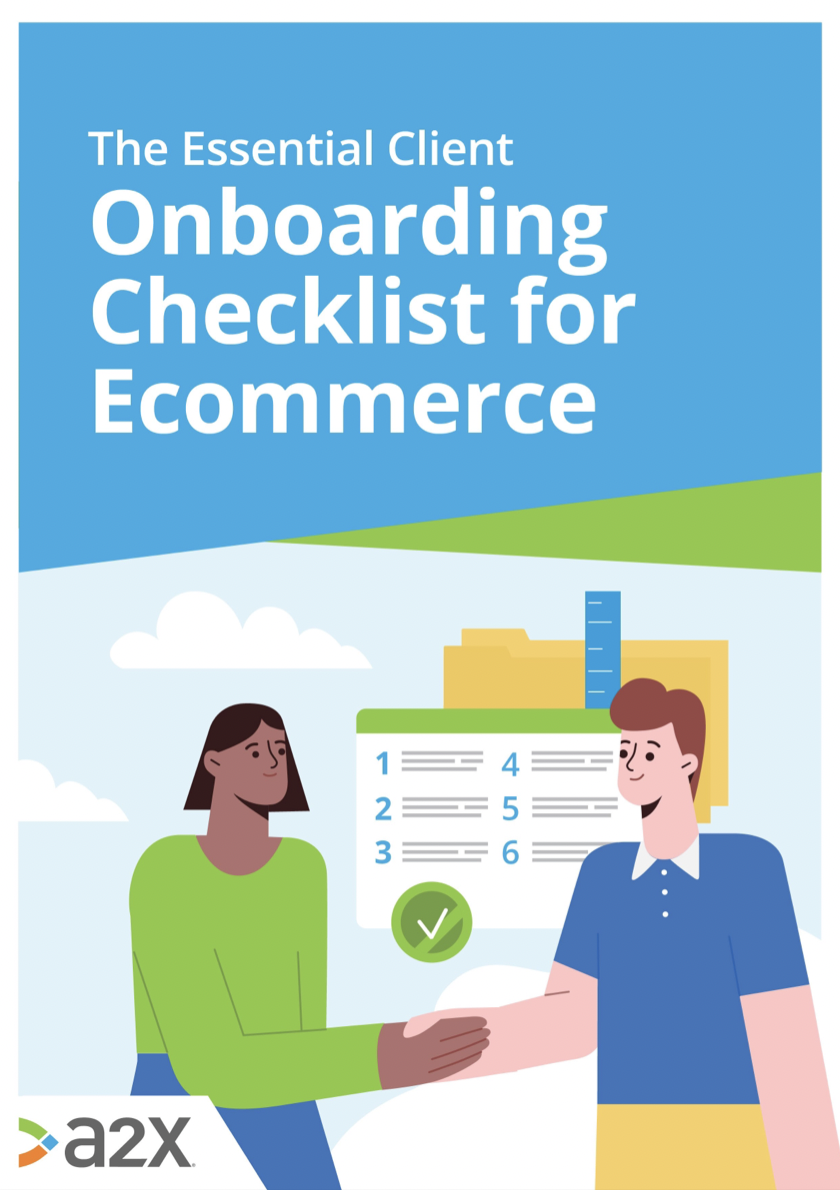 Why an onboarding process helps both you and your clients
Before we get into the nitty-gritty, let's consider why having a new bookkeeping client checklist or other onboarding procedure is helpful.
An onboarding process helps bookkeepers and clients by providing a structured and organized approach to introducing the bookkeeper to the client, their business, and their financial systems and processes. This can help clients feel more comfortable and confident as they begin working with the bookkeeper and help the bookkeeper ensure that they are correctly set up and trained to handle the client's financial affairs effectively.
For clients, an onboarding process provides a clear understanding of what is expected of them and a sense of what resources and support are available to them as they begin working with the bookkeeper. It can also help them get up to speed quickly to start contributing and achieving their financial goals as soon as possible.
For bookkeepers, an onboarding process can help ensure that clients are properly trained and oriented, improving their work quality and effectiveness. It can also help bookkeepers establish clear expectations and guidelines for how clients should interact with them, which can help build trust and improve communication. In addition, an onboarding process can help bookkeepers identify potential issues or challenges that clients may face, and provide an opportunity to address them early on, which can help ensure a smooth and successful working relationship.
To summarize, a good onboarding process:
Sets clear and consistent expectations
Increases customer satisfaction
Makes it easier to find the correct information
Simplifies a bookkeeper's job
Reduces scope creep
Avoids surprises for clients or bookkeepers
Reduces churn
Pre-onboarding
This part of the process comes before the main onboarding process; it's an opportunity to be clear about your services and get the contract signed.
Before signing the contract
Ensure your client understands your document signing process, particularly if you use document signing systems to streamline the process. Make sure they know how it works, how secure it is, and what will happen with the signed document afterward.
Next, give them a little information on the onboarding process to come. Your onboarding might be a little intimidating, but put it in context: this could start a years-long relationship. Giving them an overview of the stages of onboarding is also helpful.
At this stage, the client may intend to sign with you, but it's not official until the contract is signed. You can use this pre-onboarding period to remind them how your firm will help solve their issue or tell them a little more about the wider team working on their project.
At Signing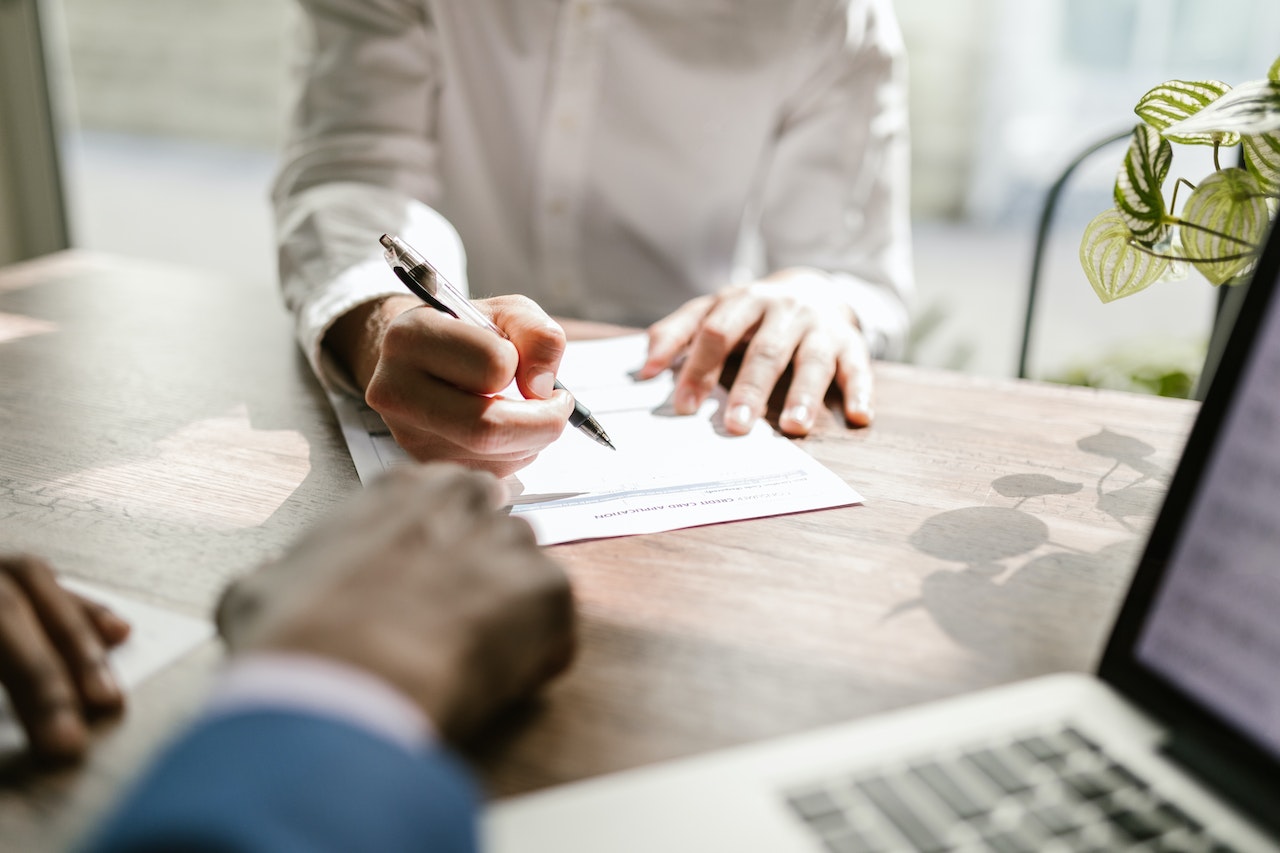 Now is the time to share contracts and documents to be signed. This is a great time to set expectations around what will happen next in the onboarding process. This helps your new client stay in the loop, enhancing the customer experience and reducing churn.
Again, remind your client that by signing the contract, you and your practice are about to solve their bookkeeping woes so they can focus on other tasks. Hopefully, by this point, your new client is excited to get started but if not, find out any concerns they have so you can address these.
Onboarding
As you would imagine, this is where the real work happens. Because this phase has many steps, we've split it into sections. Depending on how your firm operates, you may be able to skip several steps, particularly if you're a small practice.
Initiate welcome email sequence
With documents signed, you're now in business! Be sure to add your new customer to your CRM system and start them on whichever email flow is appropriate, e.g., a welcome flow. If you're entrusting this task to an assistant, be sure to double check they have been added to the correct flow.
➡️ See the bonus section of our onboarding guide for a comprehensive look at what a welcome email sequence should entail.
Internal setup processes - stage 1
Now is the time to inform the broader team about the new client—during a morning stand up or via email or a Slack message are easy ways to do this. This keeps them in sync with upcoming priorities, and sharing wins like new customers are great for building camaraderie.
Depending on your practice, you can assign an internal team to the client, such as an onboarding specialist and bookkeeper. This allows them to plan workflows and see upcoming projects.
If you don't have one or didn't already add your client to your CRM system, this is an excellent time to send a welcome email. This email aims to ensure they feel welcomed and get them to book their first onboarding meeting. You can give them options for meeting times or let them choose via a tool such as Calendly.
Set up your client's file structure in your file storage system, e.g., Google Drive. Setting all customers up with the same file structure makes it a breeze for colleagues to work across multiple clients. Make it easy on yourself by creating a template that can be copied each time you need a new file structure. Ideally, keep a signed copy of your client's contract in this file, or if you're using an online tool such as Ignition, it will be saved automatically.
You'll need various logins and tool access to work on your client's books, send out questionnaires to gain access or get login information. This will save having to go to them each time you need to access a tool on their behalf or need new information.
➡️ See the bonus section of our onboarding guide for a comprehensive list of what questions you should ask in the onboarding questionnaire.
At this stage, send the first invoice or process their credit card, depending on the agreed payment method. You could also set up a recurring sales receipt or invoice automation if you provide them with ongoing services.
Now it's time to create a new account in your workflow or practice management software and assign jobs and due dates. Many of these tools have pre-designed templates that can be useful for onboarding.
While doing that, establish the best communication channel with your client so conversations remain in one place. Popular channels include Slack, Teams, and email.
Be sure to follow your client's business on social media using your business profile to show your investment in their success. At the same time, add them to your practice's newsletter if you haven't already. You could also add their start date, birthday, or company anniversary to your calendar as a recurring event. These small touches generate goodwill and turn their experience with you into an excellent one.
First payment
By this point, you should have received your payment from your client from the first invoice but if you haven't, make sure you get paid before moving on to any more work. Establishing good boundaries like this ensures that your working relationship runs smoothly and the customer will know they must promptly pay invoices.
Internal setup processes - stage 2
Prep for your first client meeting by reviewing the answers received in the new client questionnaire and agreement. Jot down a list of questions and note any applications or software you might need them to grant access to during the meeting.
Before the client meeting, meet with the internal team to discuss expectations, timelines, and the split of duties. This is a good time to speak about any concerns with reaching deadlines or carrying out duties smoothly.
Set up any necessary software as much as possible ahead of the meeting. This will help you see what you still need access to and reduce work for the client later.
Finally, review all your notes and prepare questions for the client to answer in the meeting. Send the client an agenda ahead of time, so they're also adequately prepped.
➡️ See the bonus section of our onboarding guide for a list of what questions you should ask during this part of the onboarding process.
Onboarding meeting 1
As the meeting gets underway, take charge and welcome everyone and introduce your clients to anyone who might work on their books or who they might communicate with, including assistants or receptionists.
Next, get your meeting off to a good start by setting expectations and running through the agenda. Doing this ensures everyone's on the same page and allows others to add anything missing to the plan.
Review the newly signed agreement and scope of work. Remember to highlight that any scope creep or requests for additional services will come with a rate increase. This is particularly important for bookkeepers working on a fixed retainer or clients paying an hourly rate who might be surprised by extra costs.
At this point, get any missing information you need for tool access or walk them through the new client questionnaire if they haven't already completed it.
➡️ See the bonus section of our onboarding guide for a list of standard questions to ask in your first onboarding meeting and the types of apps you might need access to.
During this meeting, discuss communication methods and solidify everyone's preferred method. Set boundaries so you or your bookkeepers aren't being contacted across multiple platforms or channels. Additionally, set expectations around response times. Let them know your days and hours of operation so clients know when they can reasonably expect responses from your office.
You should request a copy of any previous tax returns or trial balance, and be sure to add this to your files for future reference. This may need to come from the client's previous bookkeeper or current accountant.
Depending on your location, you may also need official authorization to represent and act on behalf of your new client. For example, in Canada, you must get the ' Represent a Client' authorization signed.
Finally, as the meeting wraps up, you'll want to discuss the next steps in the onboarding process, including any remaining setup and configuration tasks, how new tools work, and any training that needs to be scheduled. With everyone informed and aware of what's to come, there should be no surprises, and the client should feel reassured.
Internal setup processes - stage 3
Follow up the meeting with a summary of what has been set up, any outstanding to-do items, and your next steps. This will remind them of any responsibilities and mean you have something to refer back to.
At this stage, you'll want to finish up any app or tool setup and ensure everyone has the necessary access. Additionally, ensure any documents giving you and your practice authority to act on behalf of your client have been signed and filed, if required.
If your client also works with an accountant and there's a likelihood that you'll be working together to prepare tax returns or other documents, take the time to send an email or message introducing yourself and your practice.
As you get things set up, you should complete a health check of your client's records. Doing this will give you a picture of where things currently sit and whether or not extra work is required.
Next, verify any access you've been granted to government accounts and ensure your information aligns with the records on file. You'll also want to keep an eye on any deadlines for filings and check nothing is overdue.
After this point in the setup process, it's time to schedule another meeting. In the invite, include a high-level agenda for your client. For your records, put together a more detailed write-up of your findings and any lingering questions or concerns you need to address in the upcoming meeting.
Onboarding meeting 2
Start the meeting with a temperature check to see how the client feels about the onboarding, if it's met their expectation, and if they have any questions. After this, begin the review of your findings. Here it would be best if you discussed any issues with accounts that you found and what's needed to fix the problems. You could offer additional services, such as account clean-ups now.
Then move into software setup and basic training. Don't delve too far into this; in-depth training can be covered in a dedicated meeting, but get a feel for whether they're comfortable using tech and if they already have experience with your tools.
If you use a messaging tool such as Slack or Teams and your client has yet to join, it is a good time to set them up and show them the basics.
Next, give the client a tour of your file-sharing system, e.g., Google Drive. Be sure they have all the proper permissions to use it and edit files as needed. Get the names and email addresses of other employees who might need access to the system.
With that done, you can show your client your working systems and methods, including any relevant tools, practice management, and any naming conventions they might see when working with you.
During this stage, it's a great idea to go over the dos and don'ts of bookkeeping with your client if they need to become more familiar with the process or could use a refresher. This not only helps them but will save you extra work and time. Covering things like not mixing personal and business bank accounts, what is and isn't a business expense, and how to record receipts and paperwork.
If you'll be doing payroll for this client, this is when you'll need the relevant documentation. Request tax forms, timesheets, direct deposit forms, and whatever else is necessary. Complete a quick audit and make sure everything is consistent with what you've been told so far and make a note of anomalies.
Revisit timelines and due dates with your client to make sure they're realistic after the latest meeting and your initial findings. Here you can mention if you need to add additional work and factor that into the timelines.
Finally, recap the meeting, mention any upcoming work and tasks that need to be completed, and make a note for your team. After the meeting, send a follow-up email with notes and the next steps.
Internal setup processes - stage 4
With initial onboarding complete, now is an excellent time to send out any welcome gifts or info packages to delight your new customer and show your commitment to their business with a personal touch. The welcome package could include practical information, such as contact info for critical people, fun content like merchandise, a handwritten letter, or a custom welcome video.
While welcoming your client, announce the new relationship on social media. This will give them exposure and build your profile and brand ( great for marketing!)
Lastly, if you still need to set up or gain access to apps or tools, now is the time to do it before the final stage of the internal setup process.
➡️ See the bonus section of our onboarding guide for a list of things including tools, reports, files, that you should gain access to and review prior to a bookkeeper starting their work.
Prepare training and processes for handover
This section may not be relevant if you're handling a client's bookkeeping yourself.
Now is the time to prepare to hand the client over to the relevant bookkeeper or team member. This includes reviewing generic processes applicable to the project and saving links to their fworkflow jobs for the right person to utilize.
As you're doing this, check if this project requires custom processes and save them to their welcome pack.
By this point, you'll know how familiar and comfortable the client is with bookkeeping and how much involvement they want in the process. If there are processes they will continue to look after, e.g., coding receipts, send this documentation to them.
With a good picture of what your client needs to know, build a training plan that will cover important apps and activities they need to learn. Start with what will need the most attention and build from there. Book a few training sessions so you have adequate time to cover everything and don't need to cram everything in one session.
Handover to bookkeeper
If you're handing this client over to someone else in your practice, do this now. Make sure you have a handover meeting between yourself and the bookkeeper to discuss details and anything unique to this project.
Your bookkeeper should familiarize themselves with the client and the tasks so they can hit the ground running.
Post-onboarding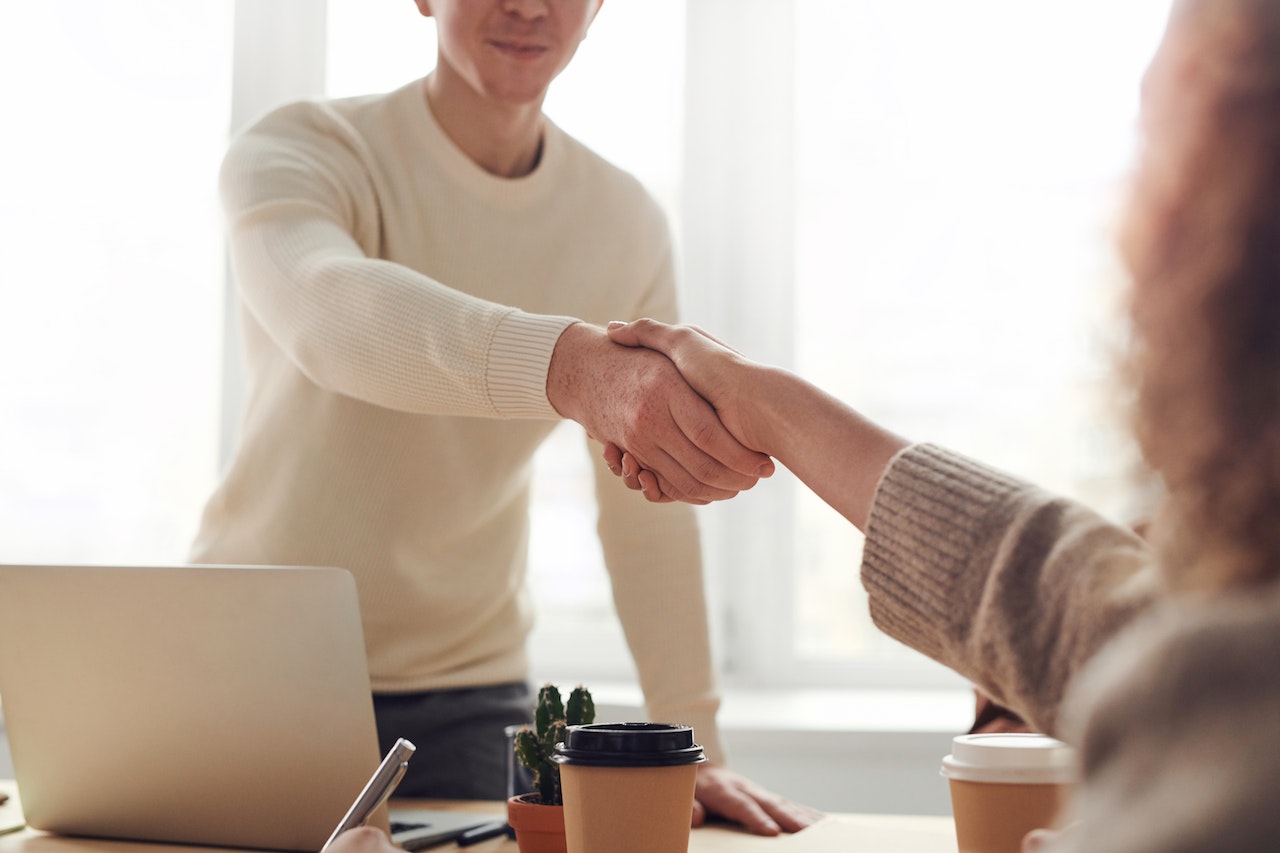 Your new client has been officially onboarded, congratulations! Now their assigned bookkeeper will work on their projects and the client has been made aware of who to contact, what is being done, and any obligations they have to complete.
At this point there are some small tasks you could complete to put a bow on the whole process.
Onboarding wrap-up
With everyone up to speed, all that's left to do is book a final meeting to wrap up your involvement and build trust with the client with a smooth transition to their bookkeeper.
In this meeting, mention the responsibilities of each person on the team, the relevant contact details for the client to use if something goes wrong, any next steps, and leave time for questions or concerns.
After the meeting, send an onboarding wrap-up letter that mentions the onboarding process has been completed and the ongoing services have now begun, so there's no room for confusion.
You could also send a final onboarding gift, like a branded mug or pen.
Final steps
From here on, your client will receive their ongoing service. With onboarding finished, now is a great time to solicit feedback with a survey on how they found the process.
➡️ See the bonus section of our onboarding guide for a list of questions to include in a client survey that will get you useful, actionable feedback.
After you get the survey back, review it with relevant team members, including any onboarding specialists and others involved in the process. If they suggest ways to improve your processes, make the changes and make a point to review how these changes are going in the future.
Now that your client has onboarded, start them on any email campaigns they should be involved in, for example, monthly task reminder emails, tips and tricks, education, etc.
Conclusion
This onboarding process might seem lengthy and more complex than necessary, but even if you don't already have a formal onboarding process, you're probably already completing most of these steps.
Having a formalized process like this means that every new customer to your firm receives the same treatment. It's also great for bookkeepers as they'll receive a client who has been fully briefed, with documents and files saved and tool access already granted.
The good thing about an onboarding process is that it can change and grow over time, especially if you notice recurring questions or concerns that new clients should already be aware of. This new bookkeeping client checklist has been designed so that you can edit it to make it your own, keeping as much or as little as you need for your practice.
Next in the Series…
Next up, we discuss ten ways you can grow your Amazon client base and bring on more ecommerce clients to your practice ➡️ Read now.
Improve your onboarding process for ecommerce clients
Learn how ecommerce accounting leaders improve the client experience through onboarding. Download our free checklist for key actions to take during pre-onboarding, onboarding, and post-onboarding.
Download now