How to Build the Best Ecommerce Technology Stack for Your Business in 2023
Undoubtedly, a well-designed and implemented ecommerce technology stack can help a business pull ahead of its competition – from the automation of administrative tasks, access to higher quality business and financial data, and so much more. But knowing exactly when and what to invest in is more of a complex task—especially in 2023, when there are multiple products for every possible use case.
This guide will take you through crucial considerations when deciding to build a tech stack for your ecommerce business.
Table of Contents
Save hours on your ecommerce accounting
A2X connects your sales channels and accounting software for fast and accurate monthly bookkeeping.
Try A2X today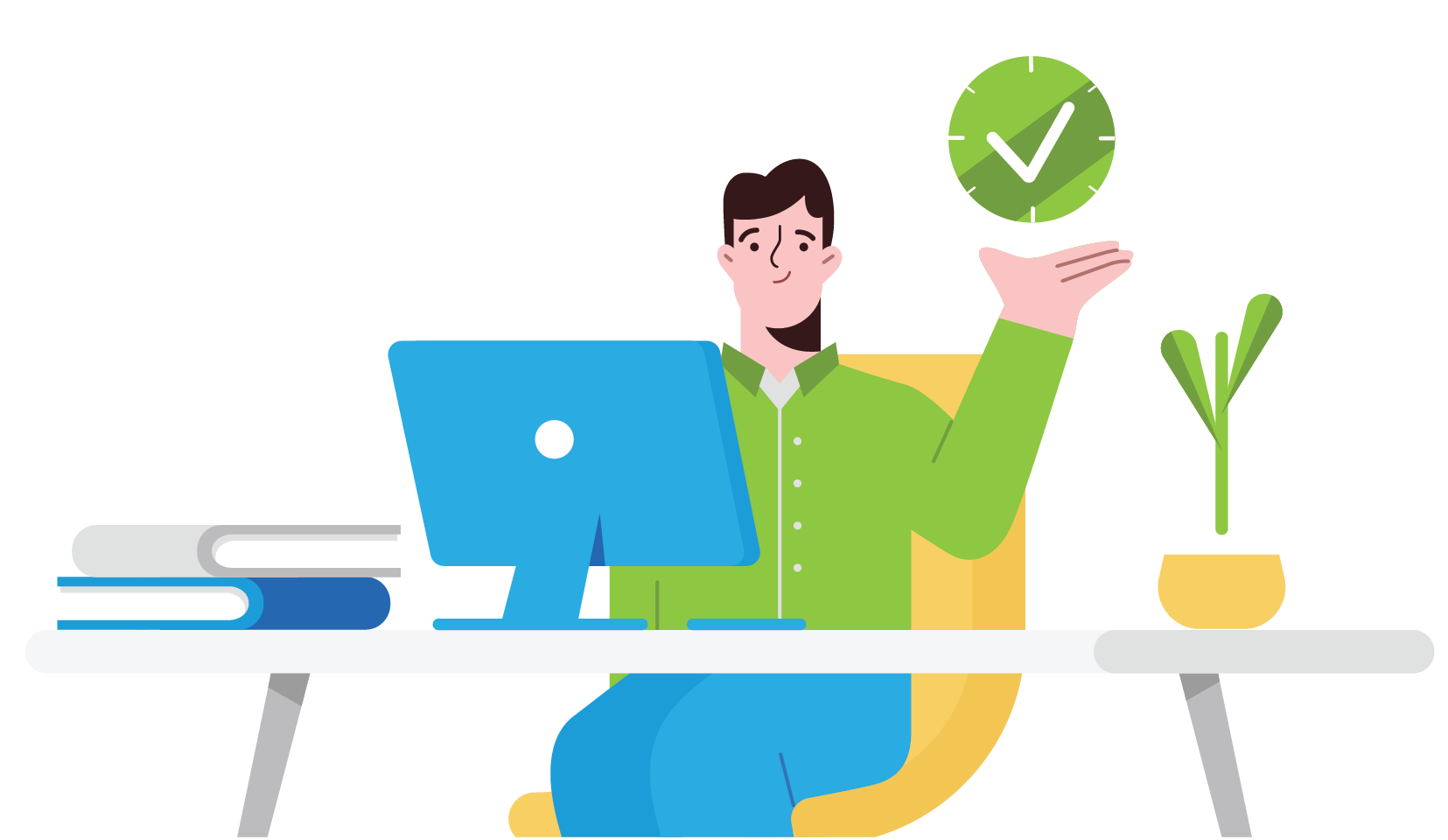 What is an ecommerce technology stack?
The term "technology stack" refers to the collection of software products, tools, apps, and platforms a company uses to power its operations.
A good ecommerce technology stack for online sellers should help owners manage tasks crucial to running their business. It can cover everything from sales and marketing, shipping and fulfillment, and finances and accounting. In return, owners get optimized workflows, automated processes, and crucial insights.
A well-implemented tech stack can make the difference between a successful online store and one that struggles to keep up with things such as order volume, customer satisfaction, financial performance, or competition.
7 things to remember when building a tech stack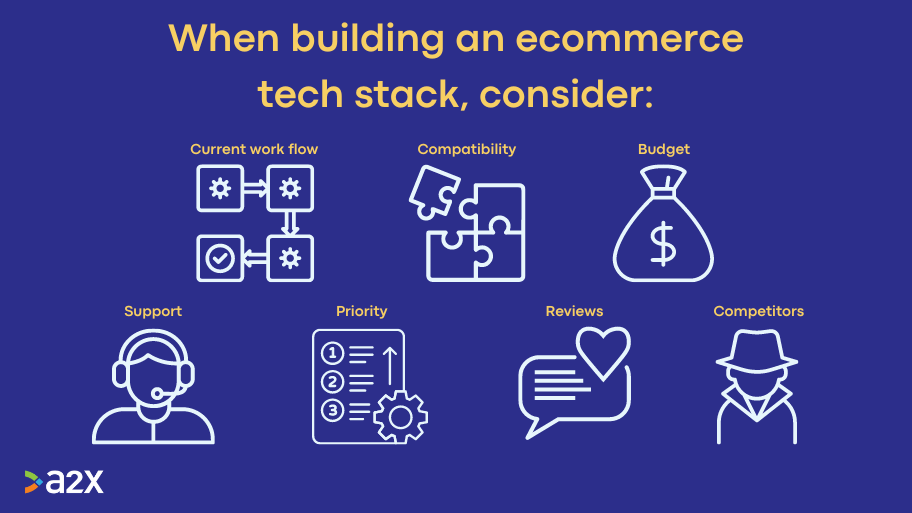 It can be easy to get caught up in catchy marketing and buzz but if you want to build a robust tech stack, it's crucial to properly vet the tools you add to it. Here's a checklist of things to look out for when you're planning and building out your ecommerce technology stack.
1. Map your current workflow
By building a map of your current workflow—from marketing to sales, checkout to shipping, accounting to reporting, and everything in between—you'll understand how every app in your tech stack needs to interact with one another. You'll also identify gaps in your process or areas that are unnecessarily administrative or time consuming and could benefit from the addition of new software.
2. Invest in compatible tools
Some apps, programs, and tools won't work well together, and this could cause problems. For example, giving an app permission to change data might result in inaccurate reporting issues later. 
A2X Customer Success Manager Jana Kohut explains that this is a problem they often see with Shopify businesses. "The accounting data being pushed through from a third-party app is often incomplete, which then causes issues with the Finance Summary report in Shopify. It is absolutely crucial to be aware of the issues some of these apps can cause."
You can avoid issues like this by first building your foundation of must-have tools and establishing what information should absolutely not be altered or changed. For example, sales data that is crucial to accurate financials. Then, slowly add new things to your stack over time. This approach lets you see if a new app makes any unwanted changes to your current processes or reporting. 
Alternatively, customer success and support teams have a wealth of information and will be able to let you know of other software that causes issues for their product.
3. Budget the cost of each tool (and your ROI)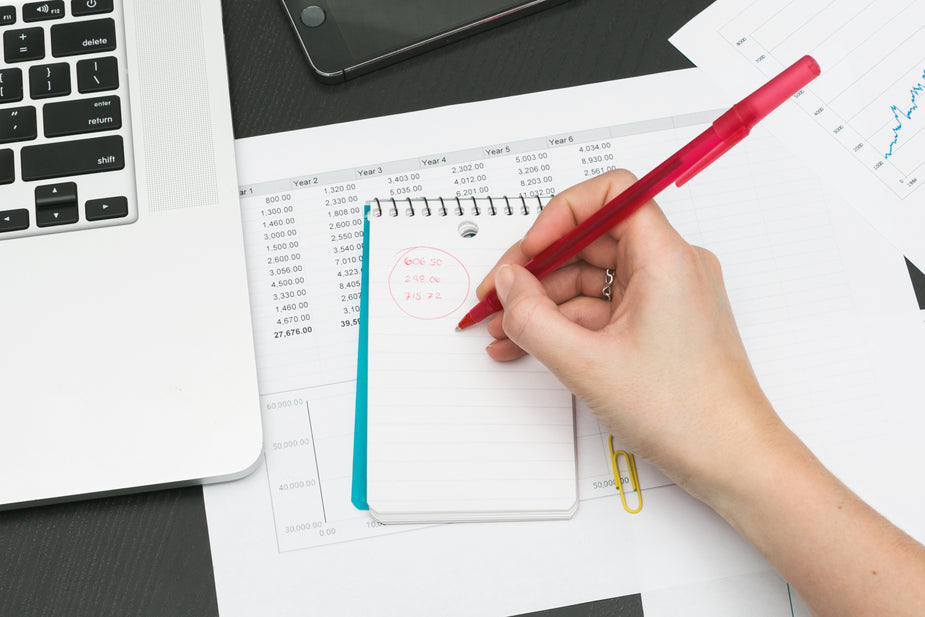 Your ecommerce tech stack won't come for free, so you'll need to decide your budget and expectations regarding return on investment.
For automation apps, compare the time a product saves you against the cost of an employee performing the task. And consider what else that employee could do if the tool freed up their time. For example, A2X's automation completes hours of repetitive work in minutes. It doesn't just free up time; it also eliminates any chance of human error and frees up accountants and bookkeepers to spend time on higher-level tasks.
For other products, assess how much money it will save the business. For example, companies selling overseas can quickly see how much platform-set foreign exchange fees cost them. Financial suites like Airwallex help businesses save on high exchange fees set by sales channels and offer other advantages, such as paying suppliers in their local currency. 
If you're unsure if an app will save time or money, or help generate money, then use any free trials offered. That way, you can test it and make a well-informed decision at the end of the trial period.
In the long term, you should also audit your tech stack yearly to see which are regularly used and which should be downgraded or canceled.
4. Consider learning curve and available support
The tools you'll be adding to your ecommerce technology stack will require varying levels of training to get the most out of them. Therefore access to quality support and education is key.
While planning, research if the company has a dedicated education center and blog to help users quickly onboard and troubleshoot issues. Then, check how easy it is to contact the support team by phone, email, or chatbot. For example, Airwallex's support page offers comprehensive support, including an email option, listing all local customer support helplines with hours of operation and the addresses of office locations.
You could also research whether they provide opportunities for users to upskill through webinars, courses, or email flows.
5. Prioritize what's needed and when
It can be tempting to add a clever new app to your stack as you come across them but to get the most out of each product, consider the priority of when to introduce them. 
This could be as simple as not needing a CRM tool if you're still building your email subscribers list. Or, for larger companies, have teams think about their tech stack when completing yearly departmental planning. Then leads can measure their requests against the overall plan for the company to prioritize the areas where they invest in the tech stack.
6. What do others say?

There are multiple options for every area of ecommerce, and between the buzzwords and branding, it can be challenging to work out the right choice for your situation. When in doubt, going with a solution with a proven track record and positive customer reviews to back it up will almost always be the best choice. Reliability and accuracy will win over bells and whistles any day.
7. What are your competitors using?
You probably already check on your competitors for other aspects of business, so why not do the same for your ecommerce technology stack? After all, it's always good to know what peers in your industry think. 
Although it's unlikely you'll find a comprehensive list of your competitors' tools, it's possible to get  a tiny peek at their on-page tech stack with the help of clever extensions like Wappalyzer or Built With. Alternatively, if your competitors are big enough, apps might include them in a "trusted by" section on the website or feature them in a case study.
8 areas to build a tech stack around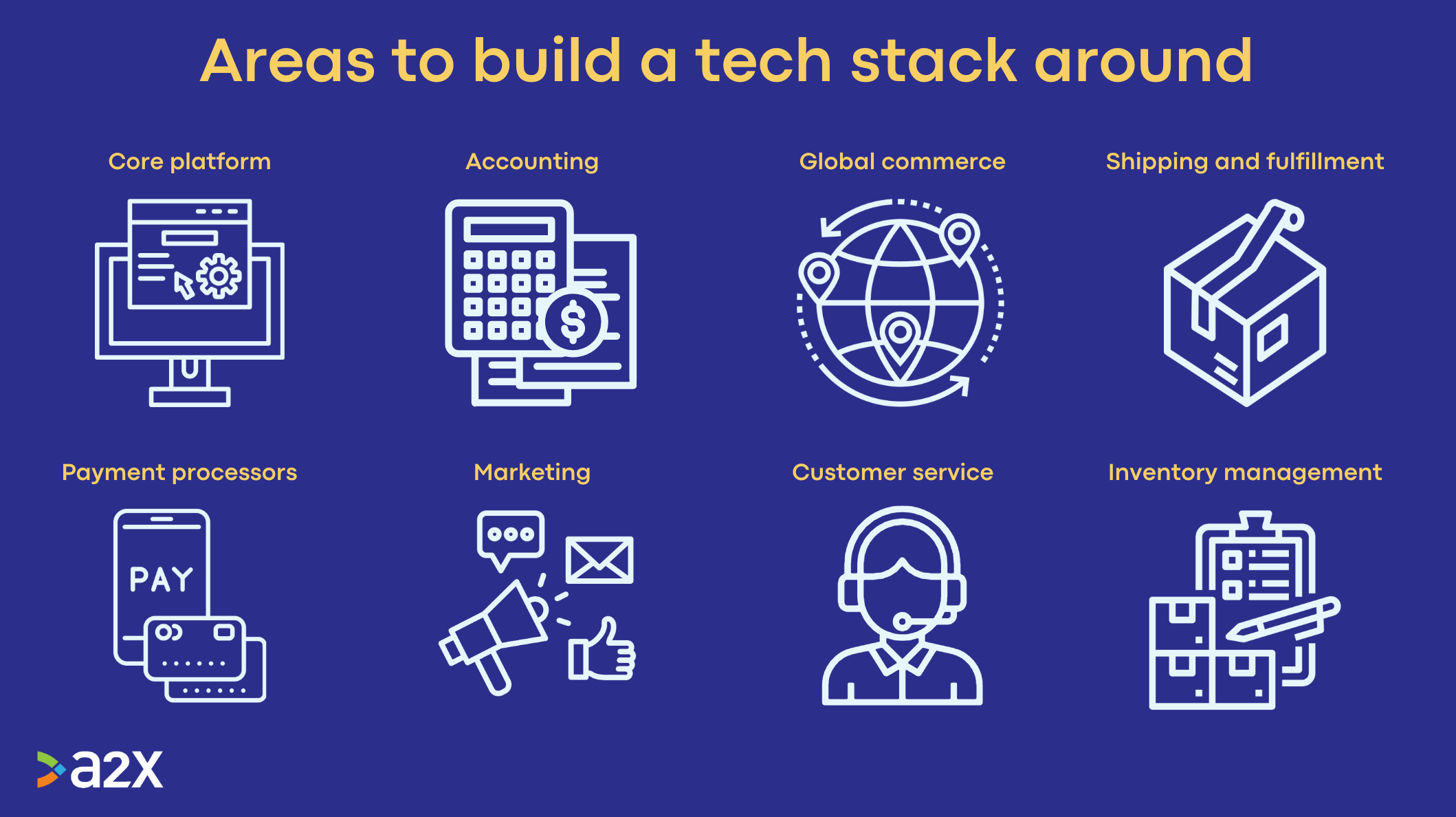 There are many areas of an ecommerce business that a well-rounded tech stack can help with. To get your stack started, here's a list of some of the main sectors to build a tech stack around.
1. Core ecommerce platforms
Every ecommerce business needs core platforms to build their store on. Yours will depend on your company's specific needs. For example, whether you're selling physical or digital goods, or if you plan to build your own website or use the reach of a marketplace. Many sellers will also be multi-channel retailers, selling products on two or more channels.
Popular ecommerce platforms:
Popular ecommerce marketplaces:
Your mix of channels will impact what you can add to your ecommerce technology stack, so bear this in mind.
2. Accounting tech stack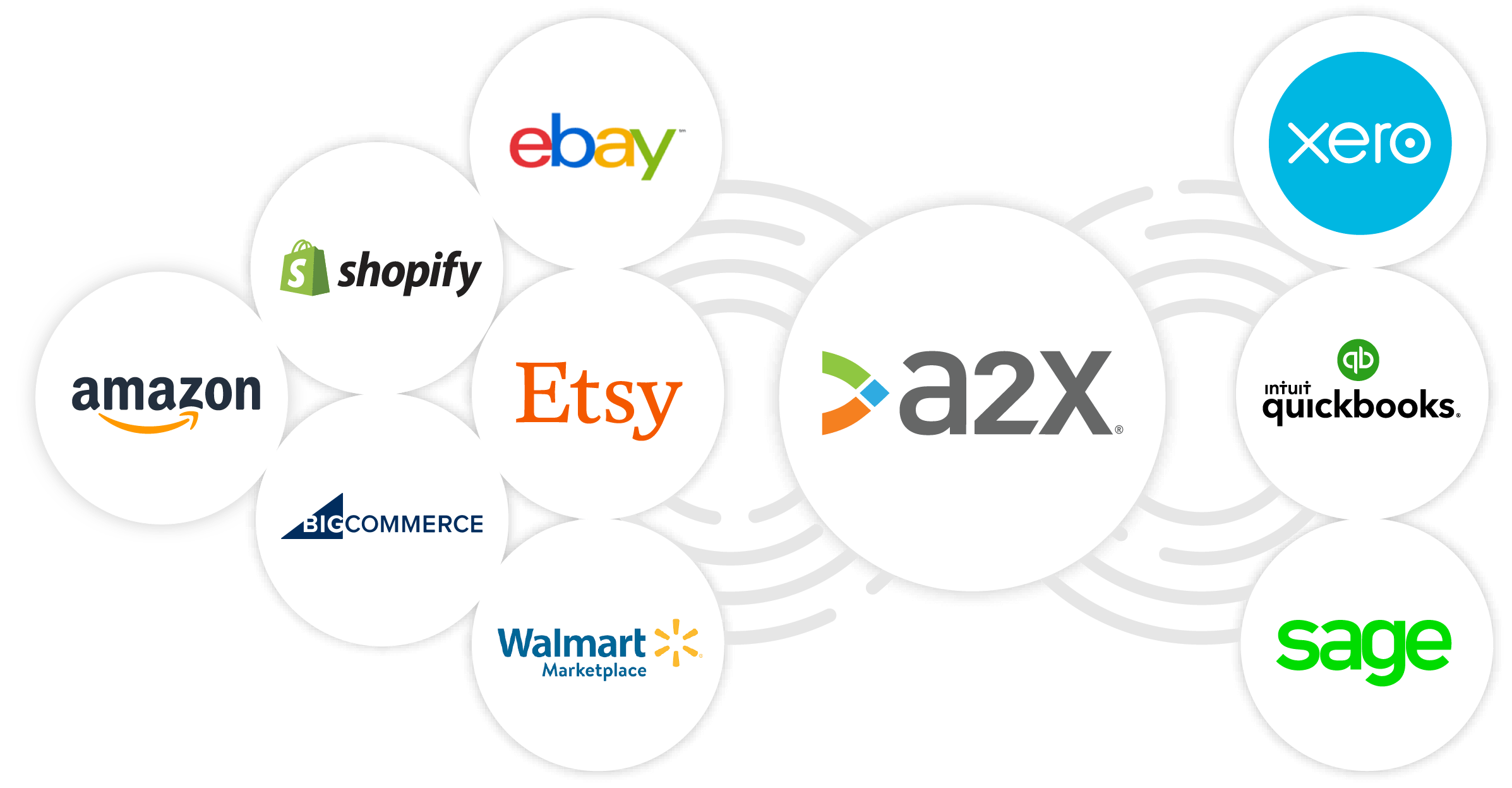 It can be easy to neglect, but if you have money coming in and going out of your business—and ideally, you do—then you absolutely need an accounting tech stack to manage the complexities of ecommerce accounting and tax correctly. So, what is an accounting tech stack? The tools free you up from dealing with nightmarish, time-consuming, and error-prone spreadsheets.
Ecommerce accounting and bookkeeping could be performed by a business owner, dedicated in-house staff, or outsourced to a specialist ecommerce accountant. Regardless of who is in charge of your books, if they don't have an accounting tech stack, they're making life harder than it needs to be. Good accounting products will include cloud accounting software and automation to turn raw, unorganized data from your ecommerce platform into useful financial reports. 
Popular accounting tools and apps:
3. International ecommerce
When a business expands to sell internationally, they open themselves up to a whole new market of customers. Still, it also comes with the difficulties of managing multiple currencies and possibly international suppliers. Ecommerce platforms tend to set high exchange rates, which take a sizable chunk of a business's revenue. Additionally, it's also tricky to set up bank accounts outside of a business's home location, which can complicate relationships with local suppliers.
Airwallex helps businesses navigate these issues by opening foreign currency accounts. The accounts allow them to collect payments in a chosen currency, hold funds, and exchange the money for the business's home currency at market-leading exchange rates. You can also set up cards to pay suppliers in their local currency directly from the Airwallex currency account, so no earnings are lost due to fluctuating exchange rates, nor are there long wait times associated with processing international payments.
4. Inventory management tech stack
Poor inventory management can have ripple effects across a business, including accounting, fulfillment and shipping, and customer service. Having good visibility on stock and its whereabouts is crucial, especially for companies with stock in multiple locations—and it's an issue that even multi-million dollar retailers struggle with. 
Good inventory management systems track stock levels and locations (if you have multiple fulfillment locations), meaning you're better able to manage stock ordering and replenishment. Once a company grows, especially when it has numerous SKUs, a good inventory management system is paramount.
Popular inventory management products:
5. Customer service tech stack
Good customer service is the quickest way to earn repeat customers, brand loyalty, and brand evangelism. Neglect this area at your peril because nothing travels faster than bad news, including negative reviews.
With a good customer service tech stack, you can receive and efficiently manage customer interactions and keep buyers informed at all stages of their buying process. Some solutions might even involve outsourcing support to a third party.
Popular customer service tools:
6. Payment processors
A comprehensive payment tech stack means customers can pay precisely how and when they want, and also in a way that processes and verifies their order simultaneously. A good payment gateway also ensures the business receives payouts promptly.
Your payment processor should be accurate and a smooth experience for the customer. It could also have built-in fraud detection and offer financing options. It may also work across multiple sales channels and even for omnichannel retailers, a.k.a those selling online and in person.
Popular payment gateways:
7. Marketing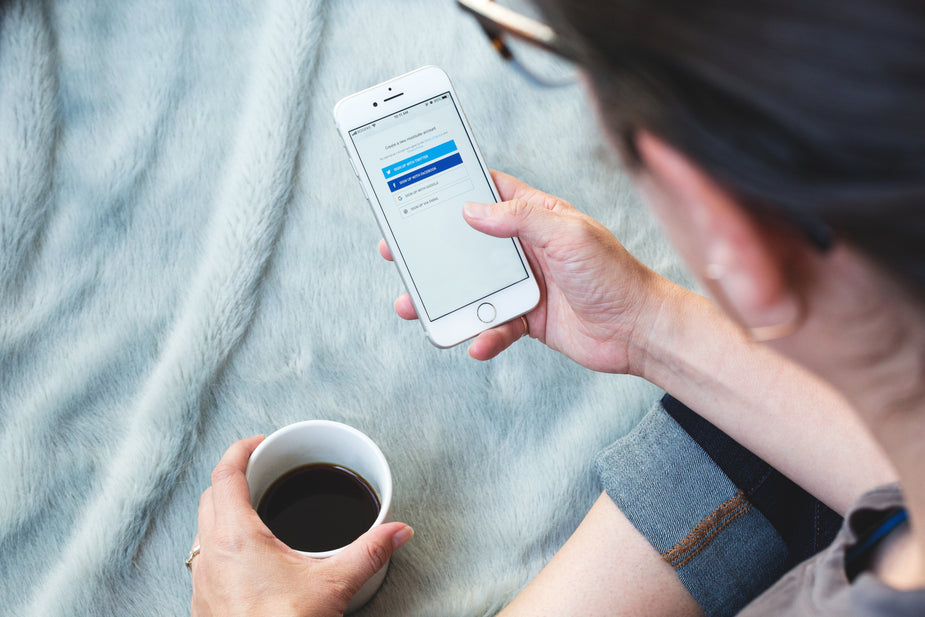 Great products aren't going to sell themselves but an equally great marketing ecommerce tech stack will help. Marketing covers a big area, so there are a ton of different options available depending on the areas you want to automate and focus on. 
Popular marketing tools:
Email and SMS
Influencers and affiliates

Shopify Collabs
UpPromote
Referral Candy

SEO and content

Wordpress
Contentful
Ahrefs
Google Search Console and Analytics

Social media
8. Fulfillment and shipping tech stack
With a good fulfillment and shipping tech stack your business can streamline and speed up the entire picking, packing, shipping, and delivery process. And with giants like Amazon promising same-day or two-day delivery, even if you're selling on other platforms you need to ensure your business can provide a similar offer. 
A fulfillment and shipping tech stack will vary depending on business needs. If a business handles shipping themselves, they'll need a product that enables them to get the best shipping rates. However, if a business outsources this branch of the business, they'll need an end-to-end fulfillment option that integrates with their store and warehouses to hold inventory, then pick, pack and ship orders. 
Popular fulfillment and shipping solutions:
ShipStation
Shopify Shipping
ShipBob
With these areas covered—plus any that are particularly specific to your business—you'll find yourself with an ecommerce technology stack that is ready to save you and your team time and money—and help you generate it.
Start automating your accounting and expand your ecommerce accounting tech stack with a free 30-day trial of A2X now.
Also on the blog
Save hours on your ecommerce accounting
A2X connects your sales channels and accounting software for fast and accurate monthly bookkeeping.
Try A2X today