The Development Stages of Your Ecommerce Tech Stack
This blog is based on a guest post from our friends at  Clearinity.
Businesses, like people, evolve over time.
Just ask any entrepreneur, and they'll tell you that years 1-3 may look nothing like years 5-8! The clientele are different. The revenue is different. How daily work gets done might be similar, but the systems that help are usually very different.
Clearinity noticed that the best business builders will tell you that they have a plan for their business.
This plan usually centers on revenue targets, marketing demographics, or product development. However, ecommerce businesses rely on technology so much that they should really have a technology development plan too - and that's where Clearinity shines.
This blog is part of the A2X Ecommerce Accounting Hub, fundamentals series. Here, we discuss how the tech stack supporting your ecommerce business should grow as you do, and what these growth stages might look like.
We'll go on the journey of an example business, and recommend various tech solutions that the seller could use at each stage.
Table of Contents
Learn how to set up your ecommerce accounting foundations like a pro
Accounting for ecommerce sales presents a unique set of challenges. Discover the key concepts, software, terminoloy and knowledge you need to simplify your business.
Download our free guide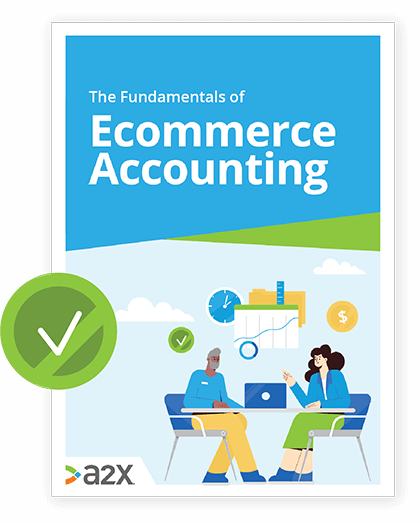 Of course not all businesses will follow this exact journey, but there will be similarities along the way. Use this as a guide rather than a roadmap for your business.
The Development Stages of Your Business and Tech Stack
Laura sells baby bundles via a Shopify store.
We will follow Laura's journey and the technology she applies to her store at its various growth stages.
Stage 1: The core
At the beginning of her business journey she uses the following:
Sales channel: A Shopify store.
Accounting: Excel spreadsheets.
Inventory: Shelves in her home with simple checklists to keep track.
Within her first year, Laura sees some success and begins to look at how she can run her business more efficiently.
Stage 2: The extended core
Laura spends a lot of time on fulfilment, and is worried that her accounts are outgrowing spreadsheets. As a result, she has added the following to her stack:
Accounting software: Integrating software with her Shopify store, Laura is able to automate her finances. This also opens the gate to more apps and automation.
Automated fulfilment: An app like Shipstation helps her track orders as they come in and are shipped out.
After about a year, Laura's business is beginning to make reliable six-figure sales. This isn't a hobby anymore, she has a fully-fledged business on her hands.
To keep this consistent, Laura needs to add onto her stack again.
Stage 3: Automating relationships
Laura needs to make sure all her customers feel valued, connected to her brand and catered to. But she's getting too big to manage this herself.
CRM software: Services like Insightly can help business owners get visibility over their customers' journeys from start to finish. What are their interactions with your brand like? Is there room for improvement?
Just this change could help Laura drastically increase her customer satisfaction levels and sales, by extension.
Stage 4: Expansion across channels
Laura recognizes that to build brand resilience, awareness and ultimately sales, she needs to diversify. Adding more sales channels will help her do just this.
Additional sales channels: Laura chooses to start selling on Amazon as well as Shopify. Later, she adds Etsy into the mix.
Laura has also invested in more inventory storage space to ensure she can keep up with orders. She now has staff managing this for her, choosing not to outsource this until now.
Stage 5: Outsourcing to level-up
Laura's company has crossed the $1,000,000 per year gross sales mark!
She has decided to make some more drastic changes now to keep the momentum going for her business.
Outsourcing fulfilment: Laura has decided to bring on a third-party logistics (3PL) company to manage her inventory. As she now sells on Amazon as well as Shopify, she has opted for FBA.
Outsourcing accounting: Laura has economic nexus with multiple locations now so her sales tax obligations have grown significantly. Managing this herself has become a huge task, so this along with multichannel accounting as warranted getting professional help. She chose a specialist ecommerce accountant to ensure she gets the very best expertise available.
Better CRM: Laura upgraded her CRM software to allow for multichannel integration and to ensure that her customers are taken care of no matter how they shop with her.
NB: If you can get an accountant earlier in your business journey, this can be incredibly helpful. This is just one example of when working with one has become a necessity.
Laura's business is finally exiting the early growth stages. It's time to look at bringing everything together in her mid-sized company.
Stage 6: Centralizing operations
This is where Clearinity comes in.
Cloud-based inventory management: Clearinity help Laura match the needs of her business to tech solutions like Netsuite, Skubana, or StitchLabs for larger businesses, or DEAR Systems, ShipHero, or Cin7 for smaller. These can consolidate a number of processes and help save Laura's growing team a lot of time!
With all this time back, Laura's business can start articulating its policies, supply chains, plans for additional product lines and perhaps even explore manufacturing their own from scratch.
Stage 7: Enterprise resource planning
Laura's business is grossing around $50m revenue each year and now, her software needs to be consolidated across the board. Enter: ERP software like Oracle or SAP.
It is possible, however, to design your own custom, strategic integrations which automate much of the work in the same way without needing a full-on ERP solution. It will save you money, people on the payroll unnecessarily and ensure the business remains resilient and growing.
Laura's story is a single representation of hundreds of different ways that ecommerce companies solve technology problems today.
Despite different approaches and strategies, all healthy, growing, and successful ecommerce companies follow similar themes:
Plan for the future.
Save for a rainy day.
Hire help every step of the way (especially for projects).
Know your business.
All of these themes are built on healthy tools and even healthier relationships.
Scale Your Business with A2X
Getting your business finances in order should be top priority for all ecommerce sellers. The only way to strategize growth successfully is to understand your cash flow. Without which, your business will inevitably collapse.
A2X sits between your accounting software (e.g. Xero, QuickBooks or Sage) and your ecommerce platform/s (Shopify, Amazon, Walmart, eBay, Etsy). It intercepts the individual orders being sent from one to the other and extracts the important details that you need as a seller and would otherwise be lost. It then organizes them into journal summaries, separates transactions by month and neatly delivers this information to your accounting software.
What does this mean for your business development plans? Solid, accurate data, organized for you in an accessible way.
Without A2X you would need to manually separate transactions into months to gauge business performance. You would need to reverse engineer your bank deposits to find out how much you paid in fees, collected in sales tax, gained in reimbursements or spent in shipping.
By getting your finances in order and recording the right transactions at the right time, A2X helps you to ensure that you don't pay too much tax as well.
A2X streamlines your accounting and grows with you, so that you can scale your business with confidence.
Next in the Series…
If you have been with us from the beginning of our ecommerce fundamentals series, part of the A2X Ecommerce Accounting Hub, then you're at the penultimate step!
So far, we've covered the key components of ecommerce accounting, how it's unique, bookkeeping and cash flow management methods, this tech development plan, and next, we'll discuss hiring accountants.
What are the signs that you should hire a specialist, and how can they benefit your business? All that and more, next. ➡️   Read now.
Learn how to set up your ecommerce accounting foundations like a pro
Accounting for ecommerce sales presents a unique set of challenges. Discover the key concepts, software, terminoloy and knowledge you need to simplify your business.
Download our free guide