Finding Specialist Accountants for Ecommerce to Suit Your Business
Running an ecommerce business requires you to wear many hats but sometimes it's easier to use an accountant rather than do it yourself. Accounting can be difficult and having an online business makes it even more challenging, which is why finding specialist accountants for ecommerce is crucial.
But what makes a good accountant and do they need to be particularly knowledgeable about ecommerce to help you? What exactly will they help you with and when is the best time to start using them? Not to mention, do you need an ecommerce accountant near you or could someone in another state—or even country—be a better choice? 
We've covered all these topics and more in this comprehensive guide. 
If you're ready to find an ecommerce accountant or bookkeeper right now, check out the A2X Directory.
Table of Contents
Find an ecommerce accountant
The A2X Directory is a global network of expert ecommerce accountants ready to help businesses like yours.
Take me there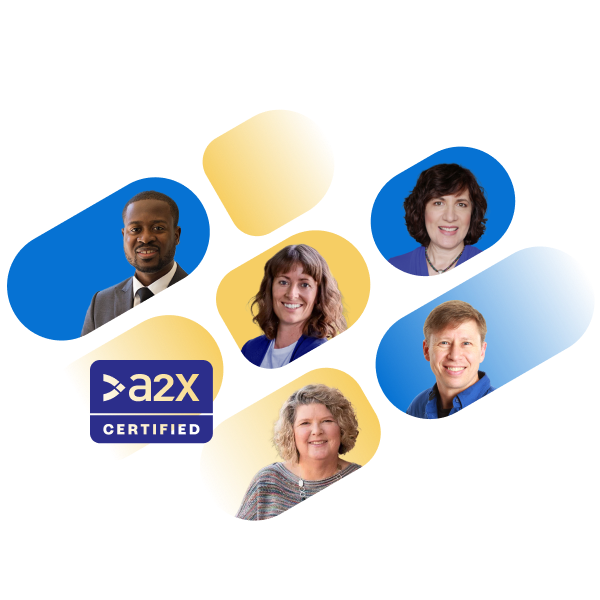 Why use specialized accountants for ecommerce?
When it comes to handling your finances as an ecommerce business owner, you really have three options:
Self-manage your books
Use a traditional accountant
Use a specialist ecommerce accountant
In order to understand why using a specialist ecommerce accountant is the best choice, let's take a look at all three options and weigh the pros and cons of each:
1. Self-manage your books
If your business is small or just starting out and relatively uncomplicated, it's completely fine to self-manage your finances. Not only is it cost-effective, but doing your finances will help you understand your books properly and give you a good line of sight across all areas of the business.
That said, once your business starts to scale, other things will need your time and expertise, which is when you should consider hiring an accountant. 
2. Use a traditional accountant
Hiring traditional accountants for ecommerce might seem like a sensible decision but you need to make sure they understand the ins and outs of an ecommerce business. Ecommerce business owners have more considerations than someone with a brick-and-mortar store, due to all sales going through a sales channel, such as Amazon or Shopify, before revenue hits their bank account.
If you're considering an accountant who has had very few ecommerce clients—and indicates they aren't particularly interested in learning the complexities of ecommerce—they probably won't be able to give you the best support and advice. That includes when it comes to minimizing your tax burden and making decisions to help your business scale or take on investment. While they might have the best intentions, their lack of expertise will ultimately cost you.
In this video, ecommerce seller Jules explains that choosing traditional accountants was ultimately a bad (and costly) decision for her dog treat and accessories business, Sweet As Pup:
3. Use a specialist ecommerce accountant
Because of the complexities mentioned above, ecommerce sellers will have the easiest time using an accountant familiar with and dedicated to ecommerce clients. 
When you hire an accountant, you're doing so because they want to save time and gain assurance that their finances are in the best hands possible. You don't want to be introducing an accountant to Shopify or Amazon for the first time and having to explain the ins and outs of sales channel fees and transaction types. Not to mention the complexities of having multiple sales tax obligations.
Using accountants for ecommerce means you already have a shorthand—they understand your business model and can immediately start digging into your books to get what they need.
Ready to find an ecommerce accountant? The A2X Directory is a global network of expert accountants ready to help you ➡️ Go to the AX2 Directory.
When should you start using ecommerce accountants?
When it comes to deciding when to hire an accountant for your business, several factors come into play. However, if your business is still relatively small, your primary consideration is likely whether you are generating sufficient revenue to justify the investment.
Typically, once your business begins to generate enough income to become your full-time endeavor—turning over between $20,000-$50,000 per month—it can be a good time to explore hiring an ecommerce accountant. However, if you earn less than this, ecommerce accounting practices can still help you—many have courses available to teach smaller businesses how to do their bookkeeping correctly. These may also be able to help you with filing your end-of-year taxes.
Aside from revenue, there are other reasons that might make you consider hiring an accountant, including:
Needing help with organizing your financial records
Managing your sales tax obligations
Struggling with accounting software
Contemplating expansion or bringing on investors
In any of these situations, hiring an accountant could be a worthwhile investment.
Do I need an ecommerce CPA or accountant—and what's the difference?
Although CPA and accountant are often used interchangeably, there is a difference between the two. While a CPA is always an accountant, an accountant is not always a CPA. 
A certified public accountant (CPA) is a licensed accountant who has passed the Uniform CPA Exam and fulfilled additional state-specific requirements. They can provide a wide range of accounting services, including tax planning and preparation, auditing, and financial analysis. CPAs can also represent their clients before the IRS in case of an audit. CPAs must also continue their education throughout their career, meaning they stay up-to-date on changing accounting standards and regulations.
An accountant generally has a degree in accounting or a related field and can perform a range of financial tasks, such as bookkeeping, financial statement preparation, and tax compliance. While they may not have the same level of expertise as a CPA, they can still be a valuable asset to your ecommerce business.
A CPA will typically cost more than an accountant, and large ecommerce businesses who need specialized services should consider hiring an ecommerce CPA. However, for smaller businesses with smaller budgets, an accountant should be able to handle your needs.
What does an ecommerce accountant do for my business?
You could be mistaken for thinking an accountant is only needed when it comes to filing taxes but in reality they can help with much more. Here are a few of the things an ecommerce accountant could help your business with:
Choosing your legal formation
Understanding business expenses and deductibles
Tax preparation and filing
Sales tax compliance
Tax advisory
Navigating a tax audit
Managing payroll
Bookkeeping
Multi-channel accounting
Preparing your business for sale or investment
Providing expert support and advice for ecommerce business owners
Finding the best ecommerce accountant means finding an ally that is there to help you achieve the goals set for your ecommerce business. Because they have access to your financial information, they can steer you in the right direction and help you find solutions that you otherwise wouldn't have considered or known about.
What to look for when finding an accountant for ecommerce
Now that you know a little more about why you should find an accountant with ecommerce knowledge and what they can help you with, it's important to know the kind of things that make someone the best ecommerce accountants for you, and other considerations you should take into account.
Experience and qualifications
Starting with an obvious one but your accountant should have experience working in the ecommerce niche, understand the lifecycle stages of an ecommerce business and have the right qualifications. If an accountant indicates they believe ecommerce accounting is much the same as accounting for a brick-and-mortar business, they lack the expertise to properly help you.
Uses cloud-based software and apps
If you're running an ecommerce business, you should want to work with an accountant who is just as comfortable in an online environment and uses cloud-based software and apps. Confidence in using technology to assist with accounting means your accountant is likely using apps such as A2X to automate the manual, time-consuming parts of accounting. This means they can use that saved time to analyze your business and offer you more solutions rather than just providing the bare minimum.
Focussed on growth
Similar to the above, if you're spending money on an accountant, you should be working with someone who is excited to work with your business and is eager to grow it with you. This means helping you understand profitability of your business and working to optimize and automate back-office workflows so that you can make better financial decisions for your company,
Knowledge of international sales tax
If you're selling internationally or plan to be, you should go with an accountant who understands your international tax obligations, knows the tax-filing dates, and is confident in filing tax returns on your behalf. Ask about their experience with VAT in the EU and UK, sales tax in the US and Canada, and GST in Australia and New Zealand.
How they charge
While it used to be the norm for accountants to charge by the hour, these days many specialist accountants offer a set monthly price for their services. If one type of payment format suits you better than the other, be sure to factor this in when you enquire with an accountant.
Where they're based
In this digital age, proximity isn't always the most important thing. So, if you're starting your search for an accountant with "ecommerce accountant near me," you might want to reconsider your approach. The accountant most qualified to help your business might be on the other side of the country, or if you sell internationally, you may need the help of an accountant based overseas. Rather than just looking at local firms, search for accountants highly recommended by others in the industry, and look at reviews and ratings. Using things like the A2X Directory, an index of expert ecommerce accountants and bookkeepers, will make this easier.
Find an ecommerce accountant
The A2X Directory is a global network of expert ecommerce accountants ready to help businesses like yours.
Take me there