The Ultimate Guide to Shopify Accounting and Bookkeeping for Ecommerce Success
Shopify is one of the most popular ecommerce platforms in the world, with over two million users, including brands like Allbirds, Gymshark, and Kylie Cosmetics. If you have a Shopify store, it's crucial to understand how you can set your store up for financial success, including with your Shopify accounting. 
Anyone can launch a Shopify store, but achieving success demands a blend of talent, creativity, passion, and effective financial management. Successful businesses are built on solid financial foundations, with cash flow as the lifeblood supporting every aspect of the operation. Properly managing and monitoring cash flow is crucial to prevent severe, cumulative problems in the future.
In this all-inclusive guide to Shopify accounting, we talk about laying the groundwork for success and the unique challenges of ecommerce accounting. Then, we explore specific software and app options to help you make accounting for Shopify stores as straightforward as possible.
Table of Contents
Integrate Shopify and your accounting software for accurate accounting
A2X auto-categorizes your Shopify sales, fees, taxes, and more into accurate summaries that make reconciliation in your general ledger a breeze.
Try A2X today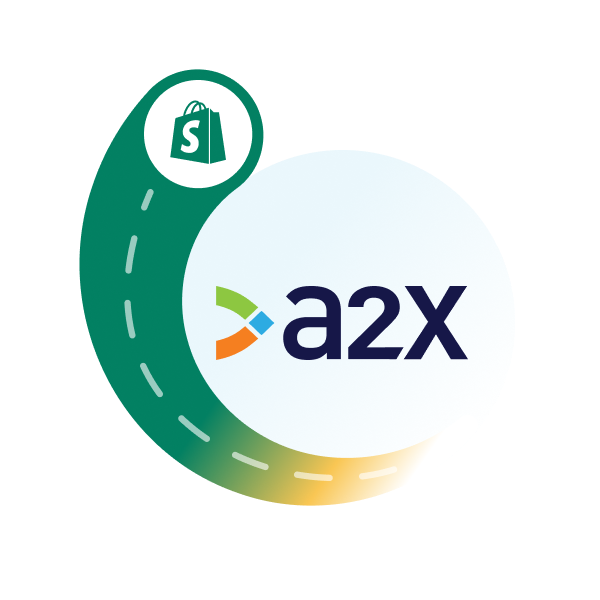 Start your Shopify store the right way
Launching a new store is thrilling, and setting aside time and energy to think about accounting and finances might not seem like the most exciting prospect. However, there are a few things you can do in the early days of your brand that will set you in good stead as you grow.
Choose the proper business structure: Are you a sole proprietor, a partnership, or a company? Spend time investigating what business structure is right for you—it will dictate your financial obligations later.
Set up a separate business account: Don't make the mistake of using your personal bank account for your store. You will regret it. Create a separate business account for expenses to come from and Shopify payouts to go into. You could even use Shopify Balance to do this.
Set up Shopify-compatible accounting software: As we'll discuss further in this article, cloud accounting software and other automation apps will make doing your finances much faster and easier.
Understand your sales tax obligations: One of the trickiest parts of being an ecommerce store owner is staying on top of your sales tax responsibilities. In the early days, you should read up on revenue thresholds that push you into the "tax eligible" category and what you must do when that happens.
Make time for your books: Set aside a regular block to complete your bookkeeping for Shopify, and other financial tasks. As your business grows, analyze your financial statements and make them the center of all business decisions.
Speak with ecommerce accounting professionals: If you're totally lost and are prepared to pay for an ongoing service or a one-off consult, finding an expert Shopify accountant can help.
Understanding the unique aspects of ecommerce accounting
Managing business finances can be challenging, particularly for those new to the industry. Accurate accounting is essential for maintaining low expenses, high margins, and keeping tax authorities satisfied. Without these three aspects under control, your business may struggle to prosper.
Ecommerce businesses encounter additional, unique challenges due to the nature of online sales. Factors such as catering to a global customer base, dealing with multiple currencies and time zones, navigating taxes, and managing fulfillment can further complicate the process. Here's a primer on why ecommerce accounting is different from accounting for brick-and-mortar retail stores.
Inventory management: Ecommerce businesses often rely on dropshipping or third-party fulfillment, meaning stock is often not held on-site. This can make tracking hard and necessitates using different inventory management and accounting practices compared to physical stores that keep inventory on hand.
Sales tax: You have to account for varying sales tax rates across different jurisdictions, whereas brick-and-mortar stores usually collect a single sales tax rate based on their location.
Digital expenses: There are unique digital expenses for ecommerce stores, such as web hosting, online advertising, and payment processing fees, which are uncommon for brick-and-mortar stores.
International transactions: Ecommerce businesses often deal with international customers, leading to considerations like foreign exchange rates and cross-border tax regulations.
Lump sum payouts comprising multiple sales: A Shopify payout usually contains revenue from multiple sales, not just one. And when you receive it, your payment gateway, e.g., Shopify Payments, has already taken its fee. It can be hard to categorize all these transitions without care and attention and make your books reconcile perfectly with your payout amount.
Ecommerce and Shopify accounting fundamentals
Now that we've discussed the challenges related to Shopify accounting let's take a step back and review the basics of accounting as a discipline. Understanding these fundamentals will help you appreciate why specific tools exist for Shopify merchants and how they can benefit your business.
What is the difference between accounting and bookkeeping?
Although these terms may sometimes appear interchangeable, they represent distinct concepts.
Bookkeeping is an accounting practice focused on recording and organizing financial information. It deals with the finer details. For Shopify merchants, bookkeeping tasks include reconciling accounts, maintaining balance sheets, and categorizing transactions.
Accounting, on the other hand, offers a broader perspective by working with these records to draw conclusions about a business's health. For Shopify merchants, accounting tasks may involve tax planning, report generation and filing, forecasting, auditing, and preparing a business for sale.
Accurate and comprehensive Shopify bookkeeping is crucial for efficient accounting tasks and driving growth.In the following sections, we'll explore tools to help you achieve this goal.
The best Shopify accounting software
Cloud accounting software is a fantastic tool for Shopify merchants, offering improved accuracy, efficiency, and security compared to traditional spreadsheets. These tools keep your books up-to-date, streamline transactions, and provide robust data protection.
Some key benefits of using cloud accounting software for Shopify merchants include real-time records, enhanced security with encryption technology, quick overviews of cash flow and bank deposits, easy access from anywhere, customizable access levels for others viewing your books, and the ability to add apps and integrations for optimization. 
Here are our top picks for accounting software that caters particularly well to the unique needs of Shopify ecommerce businesses.
QuickBooks Online
QuickBooks is a top-rated accounting software option offering a wide range of features and room for expansion as a company grows. 
As a business owner, QuickBooks has everything you need in your bookkeeping for Shopify, and new users will be able to handle it. Features include a straightforward dashboard, reconciliation, CRM, estimates and invoicing, a client portal, and advanced customizable reporting.
QuickBooks integrates with Shopify easily, meaning you can be up and running fast. It offers a free 30-day trial and a variety of monthly plans starting from $15 per month all the way through to more enterprise-level options for bigger brands that need to connect more sales channels and multiple users.
Xero
Xero, another award-winning accounting software provider, is an excellent choice for ecommerce merchants, especially thanks to its scalable plans. It's particularly popular among merchants in Australia, New Zealand, and the UK, with a growing user base in the US. 
Features include all the basics ecommerce merchants need, support for around 160 currencies with automatic conversions, and updated rates, making it easier to expand your business. It's great for use on-the-go business thanks to its mobile app, and all plans include Hubdoc, which extracts the critical data of bills and receipts from a simple photo.
Xero is another product that integrates well with Shopify, so users don't have to worry about incompatibility issues. Plans start from $13 per month, though they have frequent deals for new users, and you can also try Xero free for 30 days.
Sage
Sage, a leading software provider in the UK and available worldwide, offers a suite of apps and integrations to enhance your financial management. 
Using Sage gives you customization options and works well with the Microsoft Office suite. It can handle many tasks, including expense management, invoicing, and inventory tracking. You'll get comprehensive service, extensive customization options, and excellent customer support by choosing Sage. 
Sage also integrates with Shopify, making things simple to set up. A month-long free trial is available, and after that, Sage plans start from $25 per month, though introductory deals may be available. While it is more expensive than the other options, this plan does include support for unlimited users, which could work well for larger new businesses.
Choosing Your Shopify Accounting Software
Consider your business's current and future needs to decide between QuickBooks, Xero, and Sage. Are you planning to expand across other channels, foreign marketplaces, or new product lines or suppliers? 
By understanding your business's direction, you can determine which features will support your growth and choose the software provider that best suits your goals. And, if you need more clarification, why not make the most of the free trials to get a feel for what you do or don't like? 
Choosing your accounting software will help you plan for other operational areas to automate through apps and integrations, as Shopify offers many options.
Accounting for Shopify: apps and integrations
Shopify offers a wide array of customization options, apps, and integrations that cater to the diverse needs of ecommerce entrepreneurs, including many on their app store. While there are many possibilities, we'll focus specifically on accounting for Shopify in this section.
Remember, many software options may offer multiple features, including some of the functionalities mentioned below. It's always best to plan out your requirements and compare solutions to get the most value for your money.
Connector apps for ecommerce-optimized books
Ecommerce accounting requires specialized solutions, and A2X is specifically designed to automate your books for ecommerce purposes and can take time spent on Shopify bookkeeping down to minutes.
A2X provides accurate and automated calculations neatly organized in your accounting system. The app syncs with your Shopify payouts, making it easy to reconcile your accounts. Plus, it breaks down your sales data by month, so you can easily track your performance. It integrates Shopify with QuickBooks, Xero, and Sage and offers a free trial.
Tax Apps for Compliance as You Grow
Tax apps, like TaxJar, integrate with your accounting software for Shopify to help you manage growing tax obligations within the US and overseas. These apps assist in setting aside the correct sales tax amounts and can sometimes automate the entire filing process. By using tax apps, you can ensure compliance and streamline your financial management.
Outsourced Fulfillment Apps and Integrations
There are plenty of options to help you outsource shipping while integrating with your store and automating product distribution. Two of the most extensive fulfillment networks available include Shopify Fulfillment Network (only available to US and Canadian merchants) and Amazon's Multi-Channel Fulfillment Network, which Shopify merchants can use even if they're not selling on Amazon and is a good option for multi-channel sellers.
Inventory management apps for ultimate visibility
Inventory management is essential for ecommerce merchants, and apps can help keep it under control and tracked across multiple channels. 
Some merchants mistakenly think that inventory should be tracked within their accounting software because inventory is an expense. In reality, you need a purpose-built inventory management tool that produces reports that lets you dig into product performance and drive growth and track where it's being held and when and how much you need to reorder.
Tools like Cin7 or ShipBob could be helpful here but consider what you need, including any plans for multi-channel selling, when choosing software.
Other Shopify Accounting Tools
Let's look at other resources that can be useful for Shopify merchants to help with their accounting and beyond. Many of these could be good to consult regularly or at least until you get a good handle on your costs. 
Margin Calculator
For ecommerce and accounting novices seeking guidance on product pricing, Shopify offers a margin calculator to support informed decisions and ensure profitability. This tool is quite simplified and only requires you to know the Cost of Goods Sold (COGS) to input one value, but it will help put instant numbers to your ideas. 
CPM Calculator
If you're spending money on advertising, knowing the spend is worth it is crucial. Shopify also has a straightforward CPM calculator for evaluating advertising expenses. Since customer attribution is considered COGS, it must be accounted for to preserve profit margins from being consumed by marketing costs.
Discount Calculator
To assist you in planning sales or special promotions, use a discount calculator to figure out how many sales you need to make to break even on the discounted sales price. Discounting is a popular way to entice customers, but it only works if the volume of sales increases with the discounts; otherwise, you're just eroding your margins.
Shopify POS Reconciliation
Shopify caters to online merchants and bridges the gap between ecommerce and brick-and-mortar retail stores through its POS system. This enables physical stores to maintain a single accounting center encompassing all business aspects.
Next in the Accounting with Shopify Series
For the next part of our Shopify Accounting series, we ask: Where do you start regarding taxes? Sales tax isn't the only thing Shopify merchants need to worry about when it comes to the IRS, and our next blog explores precisely this. ➡️ Read now.
Other Shopify Resources
Integrate Shopify and your accounting software for accurate accounting
A2X auto-categorizes your Shopify sales, fees, taxes, and more into accurate summaries that make reconciliation in your general ledger a breeze.
Try A2X today