eBay Global Shipping Program: Everything You Need To Know
The eBay Global Shipping Program makes selling overseas a breeze.
By taking care of packages on the behalf of sellers and sending them across the world, eBay opens up its entire global marketplace for trade.
What's in it for sellers? Millions more customers without the hassle of customs and imports paperwork. And for buyers? Access to more products with transparent shipping fees and processes.
So, how does it work exactly? In this guide, you'll find everything you need to know about eBay's Global Shipping Program and how to get started.
In this eBay Global Shipping guide:
Table of Contents
Learn how to manage your eBay accounting the right way
Accounting for eBay sales comes with a unique set of challanges and opportunities. Discover the key challenges sellers face, the taxes and fees, and a free setup checklist.
Download our free guide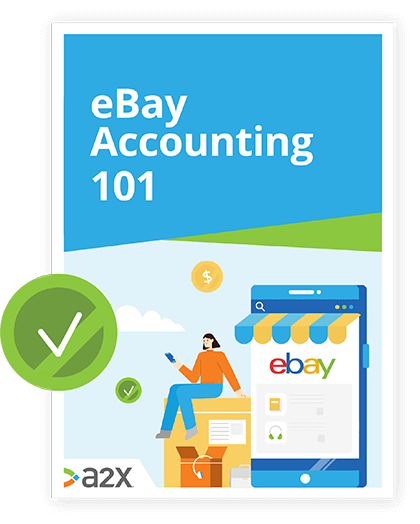 What is the eBay Global Shipping Program?
There are 182 million eBay users worldwide.
The eBay Global Shipping Program connects them, opening trade up to an international marketplace by handling the requirements of customs and imports on behalf of its sellers.
By taking out the hassle of sending items overseas, eBay's buyers and sellers can have access to a wider network, with protection from the platform in case of roadblocks.
Learn more about the program in this video released by eBay in 2013:
Who is Eligible for the Global Shipping Program?
Sellers who meet the following criteria are eligible to enrol for eBay Global Shipping:
A seller rating of Above Standard or higher.
The item is physically located in the US.
The item itself must not be restricted, hazardous or prohibited by the platform - see eBay's User Agreement and International Trading Policy for more details.
Non-Managed Payment users must accept PayPal as a payment method.
Your buyer's address cannot be a P.O. Box apart from in these countries (see Getting Started section).
The package must be within specified dimensions (also under Getting Started section).
The sale price of the item must not exceed specified prices (see same section). If an auction item's final sale price exceeds these limits, you will need to find alternate international shipping and handle this yourself.
Sellers who do not meet this criteria can still send packages overseas, but need to manage this themselves.
How to Use the eBay Global Shipping Program
Getting started with the Global Shipping Program (GSP) is pretty simple. If you prefer instructions via video, check out this one from eBay. Otherwise, scroll down and we'll sum up the steps.
Adding GSP to all your existing listings:
Head to the eBay Global Shipping Program webpage and click "Start Shipping Globally".
Click "Start Now" on the following page.
You will be asked if you want to use the GSP on your already-active listings. Check the box and click "Continue".
Adding GSP to new listings:
Switch to the Advanced Tool when listing.
Scroll down your listing to the International Shipping section, and Add Shipping Details.
Check the Use Global Shipping Program box. This will immediately make your item visible to international buyers.
Adding GSP to one existing listing:
Navigate to My eBay and Selling.
Select the listing, open it and click "Revise Your Item".
Scroll down to How You'll Ship It, International Shipping, and check the box: "Send your package to the US shipping center and the rest will be taken care of for you." Your item will be made visible to global customers immediately.
**Note: You can also add the GSP option to multiple listings at once. Skip to 2 minutes in the video above to see how.*
eBay Global Shipping Program Countries
You can ship to the following countries with the Global Shipping Program:
| Antigua & Barbuda | Aruba | Australia | Austria |
| --- | --- | --- | --- |
| Bahamas | Bahrain | Barbados | Bangladesh |
| Belgium | Belize | Bermuda | Bolivia |
| Brazil | Brunei Darussalam | Bulgaria | Cambodia |
| Canada | Cayman Islands | Chile | China |
| Colombia | Costa Rica | Croatia | Cyprus |
| Czech Republic | Denmark | Dominica | Dominican Republic |
| Ecuador | Egypt | El Salvador | Estonia |
| Finland | France | French Guiana | Germany |
| Gibraltar | Greece | Grenada | Guadeloupe (FR) |
| Guatemala | Guernsey | Honduras | Hong Kong |
| Hungary | Iceland | Indonesia | Ireland |
| Israel | Italy | Jamaica | Japan |
| Jersey | Jordan | Kuwait | Latvia |
| Liechtenstein | Lithuania | Luxembourg | Macau |
| Malaysia | Maldives | Malta | Martinique (FR) |
| Mexico | Monaco | Montserrat | Netherlands |
| New Zealand | Nicaragua | Norway | Oman |
| Pakistan | Panama | Paraguay | Peru |
| Philippines | Poland | Portugal | Qatar |
| Reunion (FR) | Romania | Russia | Saint Kitts & Nevis |
| Saint Lucia | Saudi Arabia | Singapore | Slovakia |
| Slovenia | South Africa | South Korea | Spain |
| Sri Lanka | Sweden | Switzerland | Taiwan |
| Thailand | Trinidad & Tobago | Turks & Caicos | Ukraine |
| UAE | UK | Uruguay | Vietnam |
Don't fancy shipping to all of these countries?
That's ok, you don't have to. You can also offer shipping to some countries via GSP, and shipping to others another way at the same time.
To do this, follow these steps:
Go to Manage Shipping Preferences.
Beside Global Shipping Program, select "Edit".
Check the box that says "Customize international shipping for some locations".
Remember, if an item or country is not eligible for GSP, you may still be able to ship it internationally yourself.
Make sure they meet the terms set out in eBay's User Agreement and International Trading Policy beforehand.
eBay Global Shipping Program sending and tracking
As a seller, all you need to do is send your GSP items to eBay's dedicated center. Everything is processed there for you.
There are however, some things you need to do to ensure the smoothest experience.
As an eBay seller, you should:
Send items to eBay's center via tracked postage.
Display the reference number on the package which was created automatically by eBay, during the shipping label creation step. This is separate to the tracking number and ensures your parcel is processed correctly by the center.
Once a tracking number is uploaded, this is converted to a Global Tracking Number, which you and your buyer can use to view its progress. Don't share the other numbers with your buyers, to avoid any confusion.
If you did not use an automatic eBay shipping label, make sure the GSP reference number is still displayed clearly alongside your own label. Can't find the reference number? Go to the Order Details page and you should find it by the name and address of your buyer.
Things that eBay sellers should be aware of:
If you request signature confirmation when you send your item to the center, it will be signed for there - not by the buyer.
The eBay ShipCover insurance is only available for the journey of the package to the centre, not beyond, but the GSP covers this stage.
Undeliverable items may be returned to you.
If there were problems with GSP shipping that were not within your control, any negative buyer feedback will not affect your seller rating.
eBay Global Shipping Program returns
How do returns work when you use the eBay Global Shipping Program?
In short, the GSP does not handle any of the returns process for you. This is something that you as the seller are solely responsible for.
You need to abide by the rules of the country your buyer is located in when it comes to offering returns.
If you have no returns policy but your buyer is based in the UK, for example, you are liable to uphold the UK's Consumer Contracts Regulations which allow a return within 14 days, regardless of where the seller is located or their own policy.
So, understanding the requirements of the countries with which you trade, even via the GSP, is critical.
You have a few options when it comes to international returns:
Write off the cost: Depending on the value of the item, it might prove cheapest and quickest to refund the buyer without having them send it back.
Arrange a courier: You can book a courier and all the necessary packaging yourself, send it to the buyer and they can return the item with minimal hassle. This way, you can ensure your item is sent back securely.
Third-party returns handler: You could outsource this aspect of your eBay fulfilment. If returns are a regular occurrence in your business and taking up too much time (and money), this might be worth looking into. Search for supplier options here.
For more return options, information, and the differences between eBay and Amazon when it comes to returns, check out this helpful article.
eBay Global Shipping Program problems
If a package is lost or broken after it was received by the Global Shipping Program center, both you and your buyer should be covered by the eBay Money Back Guarantee and/or PayPal Purchase Protection Program.
If the item is deemed undeliverable, eBay reserves the right to dispose of the item.
See the eBay Global Shipping Program terms and conditions for more information.
eBay international shipping tips
For the smoothest and most positive shipping experience for you and your buyers, eBay suggests the following as best practice:
If you have a different return policy for international items, make sure you add this to your listings. How to create a smart eBay return policy (and why you should early on).
Offer free domestic shipping to get your selling rating up and benefit from these unique rewards. The eBay Top Rated Seller Program benefits and protections.
Don't ship until your buyer has paid.
Once you receive payment, ship quickly, and ideally group orders if you can. If you can offer and realistically fulfil same business day or 1 business day handling time, then get the item to the shipping center within 4 business days of the customers' payment clearing, you'll receive 5 stars automatically for shipping time.
Include the weight and dimensions of items on the listing, along with the country of manufacture for that item if you know it. This will help keep customs processing time to a minimum.
Now that we know the ins and outs of how the program works, what does this all set you back as a seller?
What Does the eBay Global Shipping Program Cost?
For sellers, it doesn't cost any extra.
There is no specific fee for the eBay Global Shipping Program.
Listing charges do however, still apply:
Non-Managed Payments sellers: eBay selling fees + PayPal fees + PayPal transaction fees for cross-border selling apply.
Managed Payments sellers: Managed Payments fees + an international fee apply.
How does the cost to buyers work?
On your listing, buyers will see an estimated shipping cost which is made up of some or all of the below, depending on the transaction:
Buyers: Domestic shipping cost (which you will receive with the sale price) + cost to ship the item to their location + customs and import fees + any taxes applicable.
Buyers will see this estimated amount on the listing, and the final amount at checkout.
eBay shipping calculator
Remember, the GSP doesn't cost you any extra as a seller - you only need to take the domestic shipping into account when planning for your costs.
With shipping being such a critical component of ecommerce, it is a good strategy to estimate your eBay shipping fees as early in the game as possible - ideally, before you even invest in inventory.
You want to ensure your products will be profitable. Before committing to them, map out your margins and what costs may go into a sale:
Cost price of the item
Packaging
Shipping costs
Customs/duties (if you don't go with GSP)
Credit card or payment provider fees
Profit margin
The sum of these should equal the price tag of your item.
A great way to estimate your eBay fees on shipping is to use a calculator. You can use eBay's shipping calculator when you are creating a listing.
Or, if you want to estimate ahead of time as mentioned above, try the calculators of couriers themselves:
The domestic carriers will be useful when estimating your shipping to the GSP center, and the international carriers may be useful if you are handling international shipping to those countries yourself.
eBay Global Shipping Program Review: Pros & Cons
So if sellers can manage international shipping themselves, and would have to when it comes to returns anyway, is the Global Shipping Program worth using?
The pros
You save time: Having a third-party fulfilment supplier manage part of your shipping for you saves you a lot of time and potential stress.
It's easy to add to listings: Adding the Global Shipping Program option to your listings, whether existing or new, is incredibly simple.
Everything is calculated for you: Buyers will get shipping estimates calculated automatically at checkout - you don't have to worry about any of that process.
Once the GSP center receives your item, your job is done: Once the GSP has your parcel, it takes care of the rest.
If the item is lost or broken, you're protected: In most cases, any negative feedback you might get will be removed and your item insured.
You have access to a global marketplace with minimal admin: Sell overseas without having to manage customs and imports fees and/or paperwork. Your items might sell far better to customers in another country.
The cons
It can be expensive for buyers: eBay ships everything the same class for ease with USPS Priority International Mail. This will not be the most cost-effective for all items, so buyers may be put off when ordering lower-value items and paying a premium shipping fee.
Customs fees are fixed: eBay GSP doesn't charge customs fees specific or relevant to the country of destination. Instead, to streamline things, it charges a fixed fee - even if this isn't actually required. This issue has been discussed on blogs and forums online with buyers claiming they purposely avoid sellers using GSP because of the higher shipping costs.
Returns are still your responsibility: Whether you use the GSP or not, any return shipping must be managed by you.
Packages may be opened and even destroyed: Items may be opened and inspected at the GSP center, which poses the risk that they may not be repacked as well as they were originally. If unboxing is important in your customer experience, this might be off-putting. Moreover, if an item is deemed ineligible to deliver, it may be destroyed or liquidated at eBay's discretion.
Is the eBay Global Shipping Program Worth It?
As with any optional program, it all depends on your business needs and goals.
If you sell small, lightweight items of low value, your buyers will probably be put off buying from you through the GSP. The cost of the program may significantly outweigh the price of the item.
If, however, you sell higher-value items and lots of them, the GSP could suit you well. You would save a lot of time and hassle, and your items would be covered in transit.
Do some cost comparisons, think about how your shipping strategy could scale, and you might find the answer is a more obvious one.
Never Lose Track of Your Profit Margins with A2X
Whether you choose to sell with the eBay Global Shipping Program or not, shipping costs will be a part of your business - and it is crucial to stay on top of any cost to your business.
eBay settlements don't give you much information. One bank deposit could be composed of any number of line items: fees, costs, returns, reimbursements, tax - without going over each transaction manually, you won't know where your money has come from or where it's going.
If you don't know your costs versus income, you can't figure out profit margins. And if your items aren't profitable, you're not onto a winning model.
A2X was designed specifically to solve this problem for ecommerce sellers.
By integrating A2X with eBay and your accounting software, you add one step that will eliminate so many others. A2X captures the transactional data that sellers need, separates line items out within a deposit and ensures that you understand exactly what is happening in your bank accounts without manually figuring it out.
A2X makes accounting and reconciliation for ecommerce sellers simple, accurate and quick.
Try A2X for eBay & QuickBooks or Xero today, absolutely free.
Also on the Blog
Learn how to manage your eBay accounting the right way
Accounting for eBay sales comes with a unique set of challanges and opportunities. Discover the key challenges sellers face, the taxes and fees, and a free setup checklist.
Download our free guide