A2X's Fool-Proof Guide to Making Money with Amazon FBA
Let's be frank, most people don't start an Amazon FBA business to simply break even.
It doesn't matter whether it's a hobby, your side hustle, or full-time income, you want your Amazon FBA business to be making you money. And it can.
Selling on Amazon FBA in 2023 is still worth it, there is plenty of money to be made if you go about it the right way.
With that in mind, there is no secret recipe, no guaranteed fast-track to the top of the Amazon golden hill of success. Building an Amazon FBA business that turns a profit is possible and is influenced by several factors, and there are things you can do that will put you in the best position to grow your business.
We'll give you a hint: it all starts with the product you choose to sell.
This guide will show you how to research growing niches and trendy products. Once you've decided on which product to sell, it'll take you through the tools you need to set up your back-office for success right from the start.
In this guide to making money on Amazon:
Table of Contents
The best advice and insights for selling on Amazon this year
There's a lot to know when it comes to selling on Amazon. In this guide, you'll find expert tips and advice to make sure you start strong and stand out from the crowd.
Download our free guide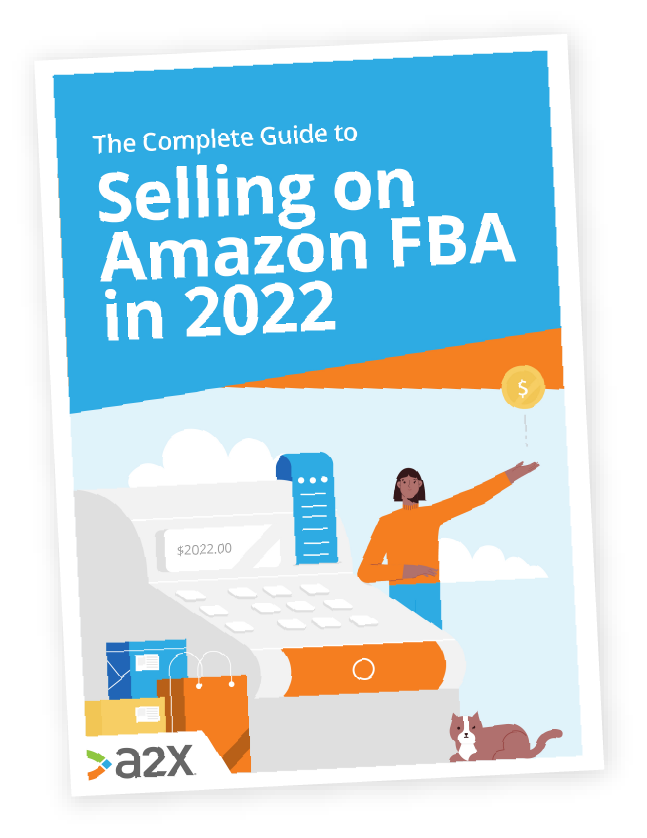 Amazon FBA Explained
There is no limit to the amount of money you could stand to make through Amazon FBA. With a household brand name and extensive warehouse network, joining the program brings with it world class resources for a profitable ecommerce business.
FBA stands for Fulfillment By Amazon. It's a great way for new ecommerce entrepreneurs to get started because you don't have to worry about storing your inventory.
Amazon will not only store your inventory in one of their Amazon FBA warehouses, they'll pick, pack and ship your products directly to your customers on your behalf.
Figuring out what to sell on Amazon
You've read the news articles, stories and case studies of how self-made millionaires have got rich and built empires by selling their products on Amazon.
Underneath all the glitz and glamour of business fame, every single one of those people has followed the simplest, yet most important, rule in business.
They found or created a product that was in demand, and targeted the audience that needed it most. In order to do this, they will have researched the market to figure out their best approach.
Researching products on Amazon
Before getting started on where to source your products to sell through Amazon FBA, you need to r esearch and decide on what type of product to sell.
Start by using the plethora of information readily available to you on the platform itself.
Research which categories and products are best sellers: Use Amazon's best-seller ranking. The higher the ranking, the more popular, fast-growing and profitable the product. Electronic Accessories & Gadgets, Clothing & Accessories, and Home & Kitchen products regularly top trending product lists.
Check the total number of product reviews: This will give you a fair idea of how much competition is in the market.
The types of products that sell well on Amazon FBA will vary year on year. By doing the following research, you can ensure that your findings are relevant for the time and agile.
Using Google Trends
Next, you could undertake keyword research using Google Trends to determine how many people are searching for what you want to sell.
Using a search-based product like Google Trends will not only show you what people are interested in, but also when they're interested. Knowing any trends your product is likely to follow, you can predict and act when it'll be most valuable to you.
Inspiration from Instagram
Another great source of product research is Instagram. Think of Instagram as another search engine, and hashtags as keywords.
Hashtags are Instagram's way of categorizing posts, helping advertisers to reach target audiences, and customers to find what they're looking for, including niche products.
Do a quick search of hashtags relevant to the product you're considering, to see what kind of popularity and following it has on Instagram. This will also tell you whether Instagram is a good channel to start advertising your products on.
Go niche
With so many others making money on Amazon, what is a viable business option for new entrepreneurs? Two words: Go niche.
When people are on the hunt for a niche product, they're much further along the purchasing process, meaning they're more likely to make an immediate purchase. You can also take advantage of niche keywords and hashtags – without having to compete against other merchants.
Take advantage of your location
Amazon operates 10 online marketplaces globally, allowing you to quickly grow and expand your business internationally. However, there are some limitations depending on your original country of seller registration, Amazon FBA warehouse locations, and whether your product is appropriate to be sold in other markets.
Take advantage of your location and consider selling a product that isn't yet available in your area. Customers are far more likely to purchase a product from a locally-based seller to reduce shipping costs.
Listen to your gut
When you've done as much product research as you can, go with your gut instinct. There's more work to be done once you've decided which product to sell (like product sourcing and setting up shop), but usually, the only thing stopping you from getting started is you.
Potential barriers to getting started
Restricted products
Amazon is an opportunity for anyone to become an ecommerce seller, but there are certain restricted items which are prohibited from being sold on Amazon. There are also certain categories of products which require pre-approval before you're able to list them for sale.
Plus, when it comes to Amazon FBA, it's important to know what products are suitable for the fulfilment process.
Sourcing your product to sell through Amazon FBA
If you want to start an Amazon FBA business with minimal investment, you could consider arbitrage. It's a risky strategy and there are rules at play, but it requires little money to get started.
There are several ways to source your products to sell on Amazon.
Retail arbitrage: Buy products from a retail store at a price that's lower than the lowest available price and resell it on Amazon. It's a time-intensive, laborious method fraught with risk, neither the platforms nor customers like it but it does take little investment. Just be careful if you go this route.
Online arbitrage: Buy products from another online store at a price that's lower than the lowest available price and resell it on Amazon. Again, it's a method that requires a lot of work but requires less monetary investment.
Wholesaling: Buying in bulk can open doors to discounted products you can then sell on Amazon. Easier than retail arbitrage, this can be lucrative, but it's competitive.
Private-label your product
Also known as creating your own brand products, private-label products are a great way to get one-up on the competition. It involves a bit of work to get going, but ultimately, you have full control of your product, it's less time-consuming, and can be more profitable.
Once you've done your product research, source the product through a manufacturer. Then you'll need to load new Amazon product listings through Amazon Seller Central, and once your product has been produced and delivered to your Amazon FBA warehouse, you can start promoting and selling your product.
Individual vs. professional sellers
To sell your products through Amazon Seller Central, you can choose to register as an individual or a professional seller. Individual sellers usually sell a small number of products per month.
Professional sellers usually sell private-label or wholesale products. Both are required to pay sales tax.
A back-office setup for success
Now that you have a product to sell, the next step is to focus on listing your products and preparing to market them.  
Talk to any Amazon ecommerce seller who has used Amazon FBA to quickly scale their business, and they'll tell you the secret is using tools that help automate manual and time-consuming back-office processes.
Cloud-based accounting software
When you start your Amazon FBA business, it can be tempting to 'just get by' using spreadsheets and manual bookkeeping. It's a completely viable way of managing your business finances when you start out – but setting your business up properly from the start will save you time and energy in the long run.
Cloud-based accounting software will change your life for the better, especially as you start to grow.
Xero, QuickBooks and Sage are highly compatible pieces of online accounting software, designed to make managing the financial health of your business easier. The catch – it can be tricky to get your latest Amazon transaction data into them in a usable way.
Amazon makes it notoriously hard to pull sales data and reporting from its system, and that's where A2X can act as an information bridge.
If in doubt, get help from the experts
While there are lots of accountants who are familiar with Xero, Sage and QuickBooks, not as many are equipped with the skills and knowledge to work with Amazon FBA sellers.
There's a huge benefit in using an ecommerce specialist accountant that is also an A2X expert. They are highly experienced in ecommerce accounting and understand the complexities involved with selling through Amazon FBA.
Work better with A2X for Amazon
A2X integrates and organizes your Amazon settlement data with QuickBooks, Xero, or Sage. Think of it as a long-lost friend you never knew you needed – an extension to your accounting software.
A2X saves Amazon FBA sellers a lot of time (and number-induced headaches!) by automatically importing a summary of your latest transactions. Your bank deposits are broken down and calculated for you, so that when it comes to tax time, forecasting, reconciliation or producing statements, most of the work is already done.
By automating and streamlining this process, A2X provides usable data. You'll have better visibility of your revenue and expenses, which will allow you to predict when to expect future growth. You'll have the information you need to make better, faster decisions about your business.
Start your free trial of A2X for Amazon & QuickBooks or Xero today.
In summary: it's all in the research
There's no pulling the wool over your eyes – competition to sell products on Amazon is high. On the flip side, some would say that's just the nature of business.
The best things to sell through Amazon FBA depend on a multitude of factors including consumer behavior at the time, profitability of products, fees involved and more.
If you take the steps to make a well-informed decision about which product to sell, source good quality items, and put tools in place to help you automate any time-consuming, manual processes, there's no reason why your business can't be a success.
You've set yourself up for success right from the start – now all that's left is to make yourself some money.
Also on the blog
The best advice and insights for selling on Amazon this year
There's a lot to know when it comes to selling on Amazon. In this guide, you'll find expert tips and advice to make sure you start strong and stand out from the crowd.
Download our free guide