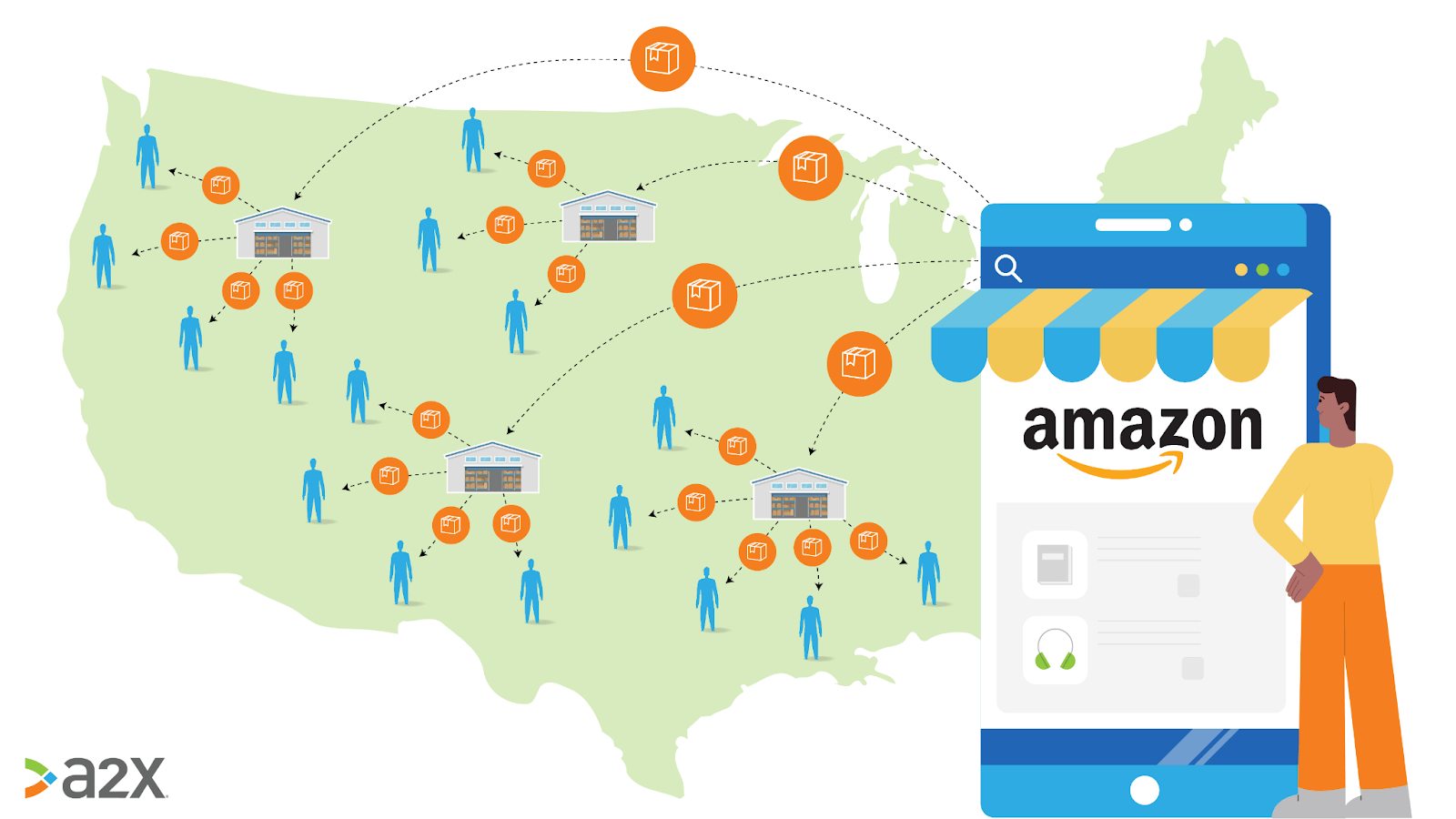 Everything You Need To Know About Amazon's FBA Service
Today's consumers are all about instant gratification, and that certainly translates to online shopping orders.
In fact, 80% of shoppers want a same-day delivery option, 56% of 18-34 year olds expect it, and around 61% are prepared to pay more for it.
Enter: Amazon FBA.
With a reputation for innovation and hitting the nail on the head when it comes to solving customer pain points in a timely (and perhaps even anticipatory) manner, Amazon delivers yet again. And this time, it's literal: they're actually delivering your products to your customers.
Despite being a real asset to Amazon and a potential gem for any ecommerce seller keen to use it, signing up for Amazon FBA involves some challenges.
From complex fee structures to packaging requirements, sales tax implications, and the weighing up of alternatives, if you are considering FBA or already using it and want to understand it better, you're in the right place.
In this guide on everything you need to know about running an Amazon FBA business:
Table of Contents
The best advice and insights for selling on Amazon this year
There's a lot to know when it comes to selling on Amazon. In this guide, you'll find expert tips and advice to make sure you start strong and stand out from the crowd.
Download our free guide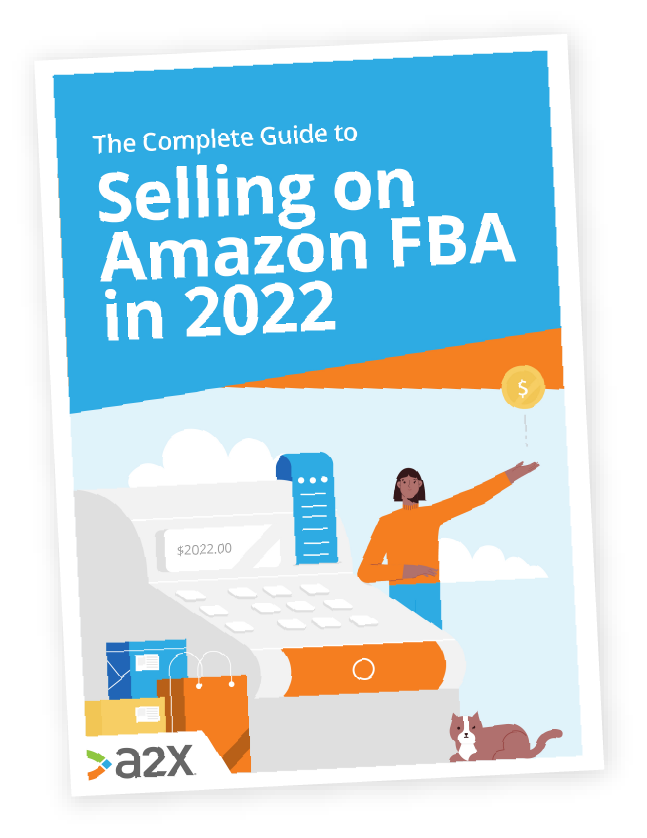 Getting fulfilment right for your business is crucial.
So, settle in.
Today's Customer Expectations for Ecommerce Shipping
As our global commerce network reaches further afield and expands across more product categories than ever, so does our insatiable appetite for instant gratification.
But buying more things from further away and wanting them to arrive sooner poses a unique challenge for ecommerce sellers. Amazon FBA helps them overcome this, and proves that with the right infrastructure, meeting these demands is possible.
And it's not the only platform to be onto this either.
Walmart Marketplace gives its sellers access to its huge physical American brand footprint via Walmart Fulfilment Services (WFS), and Shopify Fulfilment Network is hot on Amazon's coat-tails too. But neither of these alternatives as yet offer automated fulfilment to sellers not belonging to their own ecosystems.
Amazon FBA, on the other hand, does.
And looking at the statistics, quick fulfilment is a deal-breaker for a significant portion of the market:
Not offering quick shipping options could cost you a significant customer base. For this reason, if you're on the fence about FBA even after reading this blog, consider your alternatives carefully.
Will they be enough to meet your customers' expectations?
What is Fulfilment by Amazon (FBA)?
Fulfilment by Amazon is a service that allows third-party sellers (you) to pay Amazon to handle your inventory and orders.
You send your stock to Amazon who distributes it to Amazon warehouses across the US.
When an order comes through your store, Amazon FBA automation will send the order out to your customer and handle any queries, complaints, or returns.
You can focus on growing your business knowing that experts are handling your fulfilment for you.
Check it out:
Who Can Use Amazon FBA? (Hint: Not Just Amazon Sellers!)
Newsflash: Amazon FBA is not restricted to Amazon sellers alone.
All you need is an Amazon seller account to use the service - no listings required.
Amazon Multi-Channel Fulfilment (MCF) gives non-Amazon sellers access to its expert fulfilment network. It also offers international delivery of books, music, video, and DVDs.
Orders can be created through their quick order form, bulk upload, or via an API with providers like Shopify, Woocommerce, ShipStation, and ChannelAdvisor.
MCF fulfilment fees work a little differently from FBA. Costs depend on shipping speed, size of units, and the number of units (the more you have, the lower the fee). Find the full MCF fee breakdowns here with examples of items and sizes.
Speaking of fees, Amazon FBA has rather a few.
Let's explore the main ones, and how they're categorized.
How Much Is Fulfilment by Amazon?
There is no upfront cost to use Fulfilment by Amazon. The service makes its cut in fees based on what you sell and how.
Fulfilment by Amazon rates vary based on factors like item category, weight, and the platform you use to sell (as mentioned above, you could use it via MCF for non-Amazon sales).
If you use FBA for Amazon sales, then you'll be dealing with two key fee types: fulfilment and storage.
There are different fees within these categories which are determined by what the items are, what they weigh, and their dimensions.
There is another family of fees called unplanned service fees, but we'll leave those to our dedicated FBA fees blog.
FBA fees (non-apparel)
"New" fees are active from June 1, 2021. There are usually annual fee increases or decreases, so make sure you check in with the page source linked below the tables.
| Size tier | Shipping weight | Previous fulfilment fee per unit | NEW fulfilment fee per unit |
| --- | --- | --- | --- |
| Small Standard | 6oz or less | $2.50 | $2.70 |
| | 6-12 oz | $2.63 | $2.84 |
| | 12-16 oz | $4.90 | $3.32 |
| Large Standard | 6 oz or less | $3.31 | $3.47 |
| | 6-12 oz | $3.48 | $3.64 |
| | 12-16 oz | $4.90 | $4.25 |
| | 1-1.75 lb | $4.90 | $4.95 |
| | 1.75-2 lb | $5.42 | $4.95 |
| | 2-2.75 lb | $5.42 | $5.68 |
| | 2.75-3 lb | $5.80 | $5.68 |
| | 3-3.75 lb | $5.80 | $5.68 |
| | 3.75-4 lb | $6.18 | $5.98 |
| | 4-4.75 lb | $6.18 | $6.28 |
| | 4.75-5 lb | $6.56 | $6.28 |
| | 5-5.75 lb | $6.56 | $6.58 |
| | 5.75-6 lb | $6.94 | $6.58 |
| | 6-6.75 lb | $6.94 | $6.88 |
| | 6.75-7 lb | $7.32 | $6.88 |
| Small Oversize | 70 lb or less | $8.26 + 38c/lb above the first 2 lb | $8.66 + 38c above the first lb |
| Medium Oversize | 150 lb or less | $11.37 + 39c/lb above the first 2 lb | $11.37 + 39c above the first lb |
| Large Oversize | 150 lb or less | $75.78 + 79c/lb above the first 90 lb | $76.57 + 79c above the first 90 lb |
| Special Oversize | Over 150 lb | $137.32 + 91c/lb above the first 90 lb | $138.11 + 79c above the first 90 lb |
Source: Amazon.com.
NB: There may be additional stipulations on the types of items that qualify for these exact fees. Please see the Amazon page linked above for the most up-to-date information.
FBA fees (apparel)
| Size tier | Shipping weight | Previous fulfilment fee per unit | NEW fulfilment fee per unit |
| --- | --- | --- | --- |
| Small Standard | 6oz or less | $2.92 | $3.00 |
| | 6-12 oz | $3.11 | $3.14 |
| | 12-16 oz | $5.35 | $3.62 |
| Large Standard | 6 oz or less | $3.70 | $3.87 |
| | 6-12 oz | $3.81 | $4.04 |
| | 12-16 oz | $5.35 | $4.65 |
| | 1-1.75 lb | $5.35 | $5.35 |
| | 1.75-2 lb | $5.95 | $5.35 |
| | 2-2.75 lb | $5.95 | $6.08 |
| | 2.75-3 lb | $6.33 | $6.08 |
| | 3-3.75 lb | $6.33 | $6.38 |
| | 3.75-4 lb | $6.71 | $6.38 |
| | 4-4.75 lb | $6.71 | $6.68 |
| | 4.75-5 lb | $7.09 | $6.68 |
| | 5-5.75 lb | $7.09 | $6.98 |
| | 5.75-6 lb | $7.47 | $6.98 |
| | 6-6.75 lb | $7.47 | $7.28 |
| | 6.75-7 lb | $7.85 | $7.28 |
Calculating the cost of FBA shipping
The weights used to determine shipping costs above depend on your Amazon FBA box dimensions.
For standard size and special oversize packages, the shipping weight is calculated like so:
Unit weight + packaging weight = shipping weight (rounded to the nearest pound).
For large standard-sized items (over 1lb), small oversize, medium oversize, and large oversize items, shipping weight is calculated like so:
*Packaging weight + unit weight OR dimensional weight (whichever is higher) = shipping weight.**
*Dimensional weight = unit volume (length x width x height) x 139.
The shipping weight is then used to calculate the fees as listed above.
Other types of FBA fees
Aside from the base fees by unit sold, Amazon FBA charges for things like late storage, inventory removal, returns processing, and more.
You can find a complete list of them with explanations for what they are here.
How Does Amazon FBA Work?
It's pretty simple. Amazon FBA works like this:
You select the "Fulfilment by Amazon" option when you create your product listings.
You send your products to an Amazon fulfilment center in the US.
All FBA items are listed as "Fulfilled by Amazon" and eligible items are given a Prime badge.
Amazon picks, packs, and ships orders directly to your customers for you.
Amazon provides customer service in local languages and deals with your returns.
What's the catch? The fees. Tracking them is not the most straightforward but with a smart accounting stack, you'll be able to keep track easily.
(We'll discuss that later).
Is Fulfilment by Amazon available outside the US?
Yes.
Fulfilment by Amazon covers the following countries, but only from within them:
Canada
UK
Germany
France
Italy
Spain
Japan
If you wish to sell into these countries internationally and store inventory within them, you'll first need to import your inventory, then send it to Amazon fulfilment centers. Amazon FBA in the US will not do this for you.
(This doesn't include if a customer happens to purchase something from you from outside the US. Amazon FBA will fulfill this at no extra cost to you as the seller).
To reach further across the globe, Amazon offers its Global Selling program. You need to register to use this and may still need to import inventory yourself before utilizing fulfilment centers and services.
Head's up: As you spread your inventory, you will spread your tax obligations. If you store inventory in another state or country, you are likely to be tax eligible there. Find out more about sales tax for Amazon here, and VAT for Amazon sellers in Europe here.
What about the Fulfilment by Amazon returns process?
Amazon FBA handles your customer returns for you.
If a customer wishes to return an item, the decision will be determined by Amazon's returns policy. Usually, they need to do this within 30 days.
Once the item is sent back to Amazon, its condition is evaluated by the FBA team. If it's deemed sellable, it will be returned to your inventory. If not, Amazon will deem which party is responsible (you or the customer), and act accordingly.
In some cases, a refund may be issued. It's possible that the customer receives a refund without having to return their item, depending on what it is and the reason for the return.
If an item has been deemed defective, you need to submit a removal order within 30 days to have it taken from your inventory. You can also request that it be disposed of, which may incur additional fees. See more about removing inventory here.
In regards to fees, Amazon will credit your account for all or part of the referral fee you paid for an item that has been returned, and sometimes the variable closing fee, too, if applied. You do not receive FBA fees back for returned items. See more about returns processing fees and when they apply.
Fulfilment by Amazon Packaging Requirements
FBA has strict regulations about how you package your items to arrive at Amazon warehouses.
This is to protect you and Amazon against damaging, losing, or mixing up products once they arrive.
We go over Amazon FBA packaging requirements in greater detail in our blog, How to Pack Your Products for Amazon FBA, so check that out for more information. Here, we'll skim over the main details.
General packaging requirements of Amazon FBA
These are the non-specific requirements for all items sent to FBA warehouses:
Each unit or type of product sent must have unique FNSKUs.
Each unit must have an exterior barcode that can be easily scanned, and corresponding numbers that can be easily read.
You can use either manufacturer barcodes or Amazon barcodes.
Any existing barcodes visible on your boxes must be covered or made unscannable to avoid any incorrect scans.
Each unit must be contained securely in one package. If they are not, they must be bagged or secured with tape.
Units must not consist of multiple pieces that need assembling by Amazon.
Footwear should not be exposed in any way. All material must be covered.
Polybags should have suffocation warnings on them.
Certain categories of items are subject to additional rules around boxes and labeling which you can find in our dedicated blog, or on Amazon's pages here.
You can also source packaging from Amazon directly which meets its requirements.
This video further explains the Amazon FBA packaging expectations for sellers:
Amazon FBA Pros and Cons
Now that you have some idea as to the cost and process of Amazon FBA, let's dig a little deeper into its advantages and disadvantages.
Are there any Fulfilment by Amazon problems that sellers need to be aware of?
| FBA Pros | FBA Cons |
| --- | --- |
| Easy and minimal set-up: Just select the option when you list items and send them to the fulfilment centers. | The fees can be confusing: There are a number of fees you can be charged which aren't always easy to interpret on statements. |
| Automated process: Once your inventory is at the center, you don't need to lift a finger to fulfil your customer orders. | You have less control over unboxing and customer experience: You are out of the picture, which can be a blessing or a curse. |
| Returns are handled for you: Have your returns dealt with by the experts with the standard Amazon returns policy. | It's not the cheapest: At least, not for new sellers getting started and counting their cents. |
| Customer service is taken care of: You don't need to liaise with customers about the fulfilment process. | You might get more returns: Amazon's policy is pretty open, which could lead to more returns than you would otherwise get. |
| You don't need to buy warehouse space or staff: Save money and hassle. | You'll get charged for inventory that is squatting: Long-term storage fees come out when your items aren't selling, so you need to stay alert with moving your stock. |
| Your items are eligible for Amazon's famous shipping options: Quick and free shipping are huge selling points for today's customers, especially those shopping on Amazon. | Strict preparation requirements: FBA needs you to adhere to some rules when it comes to packaging and how you send your products to the center. Find out more about this here. |
| Your fulfilment is handled by experts: You don't need to train others or learn the ropes, you can leverage an existing world-class network. | Your sales tax obligations expand: By storing your inventory elsewhere, you qualify for economic nexus in that state and need to collect and remit tax there. This applies to overseas orders too. See more about sales tax here and VAT overseas here. |
| Save huge amounts of time you can spend elsewhere: Crack on with growing your business knowing you have efficient, scalable fulfilment covered. | Amazon fees won't wait: Fees will be taken from you before you are paid anything, so you need to keep a tight check on your cash flow to ensure you don't sink. |
| International networks: Once you get stock into other countries with Amazon fulfilment centers, you can leverage those too. | |
| You can use it for your other channels: It's not just for Amazon products, if you sell elsewhere, you can use FBA too. | |
There are plenty of pros and cons to Amazon FBA. The best solution for you will depend on your priorities and what will most benefit your business.
Is Amazon FBA Worth It? FBA vs. FBM
Let's have a look at the numbers to see whether Amazon FBA is worth it compared to Fulfilment by Merchant (AKA, managing everything yourself).
Percentages of sellers using each method:
Source: Jungle Scout.
More FBM sellers make over $25,000/month in revenue, on average (33% vs. 26%).
But more FBA sellers have profit margins over 20% (37% vs. 32%).
More FBM sellers get set up within 6 weeks than FBA sellers (51% vs 34%).
More FBM sellers make a profit in less than 3 months than FBA sellers (28% vs 20%).
More FBM sellers get set up with less capital than FBA sellers.
More FBM sellers have larger inventories and feature in more categories than FBA sellers.
More FBM sellers are concerned about competition, however, than FBA sellers (39% vs 32%).
So what do those statistics tell us? That FBM is still a significant model of choice for Amazon sellers, and that in most cases, sellers are able to make money sooner that way.
But while that may be true, FBA sellers tend to have higher profit margins and worry less about their competition.
FBM may be best for
Businesses wanting more control over customers and customer experience.
Businesses selling oversized or heavy inventory.
Businesses with slow inventory turnover.
Businesses that have the logistics to support fulfilment.
Businesses prepared to take on the costs of self-fulfilment.
FBA may be best for
Businesses that are happy to hand over customer service to Amazon representatives.
Businesses with quick turnover.
Businesses without the means to fulfil their orders.
Businesses that would need to pay more to fulfil their own orders.
Businesses that sell small and light products.
You can, of course, use a combination of both to suit different items in your inventory, and around 34% of Amazon sellers do.
Amazon FBA Alternatives
Here are a couple of the other top fulfilment options for ecommerce sellers compared to FBA:
Amazon FBA vs. Dropshipping
A great way to get into ecommerce sales and avoid dealing with inventory altogether is dropshipping. It's a common business model and consists of partnering with a supplier who will deal with the fulfilment for you.
As a customer order comes through, your supplier is notified automatically and fulfils the order for you. See more about starting an Amazon dropshipping business here.
Amazon FBA vs. Shopify Fulfilment Network (competitor comparison)
The Shopify fulfilment service version of FBA gives its sellers an automated solution with greater brand control. Rather than sending products to Amazon and either having its branding all over your items or paying for neutral packaging, the Shopify Fulfilment Network gives its sellers full ownership all the way through.​​​​
It appears, although is unclear, that sellers need to be selling through Shopify to use its fulfilment services. So Amazon sellers may not have the option to use SFN. Shopify fulfilment by Amazon, however, is possible through Multi-Channel Fulfilment.
Save Time and Money on FBA Fees with A2X for Amazon
Regardless of how you fulfil your online orders, costs will be inevitable. And with FBA? The fees are a particular challenge to navigate for many sellers.
According to Catching Clouds founder Patti Scharf, ecommerce sellers find that their FBA fees increase over time, so for those that aren't keeping track, this could mean unforeseen margin reductions and issues with cash flow.
Whilst integrating Amazon with your accounting software enables automatic transfer of data, neither will clearly list every line item that is associated with the payouts you receive. If you want to know how much you paid in which fees, you'll need to figure that out yourself.
Not to mention any sales tax you've collected, returns and reimbursements, and all the other business costs you need to consider.
Imagine doing that for a thriving ecommerce business with thousands of orders.
A2X integrates with Amazon and your accounting software to calculate this for you. Your bank deposits are summarized in journals that tell you exactly what went into them, with settlements split by month and books organized via the accrual method for useful, actionable information.
Everything you need to review and forecast your cash flow. It's accurate accounting without the fuss.
Try A2X for Amazon today for free.
Fulfilment by Amazon Program: FAQs
Get all the answers to your burning FBA FAQs right here at a glance.
What is Fulfilment by Amazon (FBA)?
FBA is Amazon's automated fulfilment network open to both Amazon and non-Amazon ecommerce sellers. Consisting of a sophisticated network across the US and overseas, Amazon FBA gives sellers access to its famous quick shipping options, expert fulfilment centers, and customer service agents.
All sellers need to do is send their items to Amazon fulfilment centers, and FBA does the rest.
Who can use Amazon FBA?
Amazon and non-Amazon sellers can use FBA. Non-Amazon sellers will be subject to a different fee structure and higher costs than Amazon sellers.
Can you use Fulfilment by Amazon for Shopify?
Yes, you can. Shopify fulfilment through Amazon is made possible by the Multi-Channel Fulfilment program, which can be integrated directly with Shopify.
Can you use Fulfilment by Amazon for eBay?
Yes, you can use FBA for eBay. eBay sellers still need an Amazon seller account, but they don't have to list anything on Amazon for sale. They need to upload orders and manage fulfilment via the Multi-Channel Fulfilment program to leverage the FBA network.
Can you use Fulfilment by Amazon for Etsy?
Yes, Etsy sellers can use FBA. Sellers need to sign up with and use the Multi-Channel Fulfilment program to access the expert FBA service if they don't also sell on Amazon.
One downside that Etsy sellers, in particular, should be aware of, however, is that they relinquish control over the customer experience side of fulfilment. Unboxing for Etsy sellers may be a more important touchpoint than for other sellers, so they should consider this when thinking about outsourcing their fulfilment.
Does Amazon FBA Canada exist?
Yes, it does. Amazon sellers in Canada can leverage the warehouses based in Alberta, British Columbia, and Ontario. Read up more about this and how using Amazon FBA Canada will affect your taxes here in our guide.
Can you use an FBA excel spreadsheet for bookkeeping?
Yes. You can use any means to manage your bookkeeping but if you want a process that minimizes the room for errors, takes less time to manage, and gives you accurate, reliable data then spreadsheets are not your best bet. Accounting software is secure, automatic, and accurate.
Add A2X into the mix and you'll have industry-standard books you can rely on.
How do you do FBA bookkeeping?
The best way to do FBA bookkeeping is to integrate accounting software with your Amazon account. This will enable automatic transfer of data and instant reports on your finances. By adding A2X into the mix, you'll also get books organized via the accrual method and journal summaries of exactly what has gone into your bank deposits. Easy!
How do you put up your Amazon FBA business for sale?
Selling your Amazon FBA business is quite a journey. To help you with all the necessary preparations and steps, we have a comprehensive, dedicated guide right here.
What is an Amazon FBA ghost listing?
These are item listings that are not visible in Amazon Seller Central. They might be the result of a listing originally being posted as "fulfilled by merchant", and later changed to FBA. You will see two listings that are identical, but one has the "fulfilled by Amazon" label and one does not. The one without is the ghost listing.
Also on the blog
The best advice and insights for selling on Amazon this year
There's a lot to know when it comes to selling on Amazon. In this guide, you'll find expert tips and advice to make sure you start strong and stand out from the crowd.
Download our free guide