How To Create An Amazon Affiliate Store [Ultimate Guide]
If you're interested in earning commission through Amazon affiliate links, then this guide is for you.
81% of brands now rely on affiliate marketing to promote their business.
And 40% of US merchants report that affiliate programs are their top customer acquisition channel.
So where better to begin (or continue) your affiliate marketing journey than with the ecommerce monolith that is Amazon.com.
But you have to be approved to do it, and there is more than one way to get paid to send people to Amazon.
Here, we'll explore what they are and how you can get that approval.
In this blog on Amazon affiliate marketing:
Table of Contents
The best advice and insights for selling on Amazon this year
There's a lot to know when it comes to selling on Amazon. In this guide, you'll find expert tips and advice to make sure you start strong and stand out from the crowd.
Download our free guide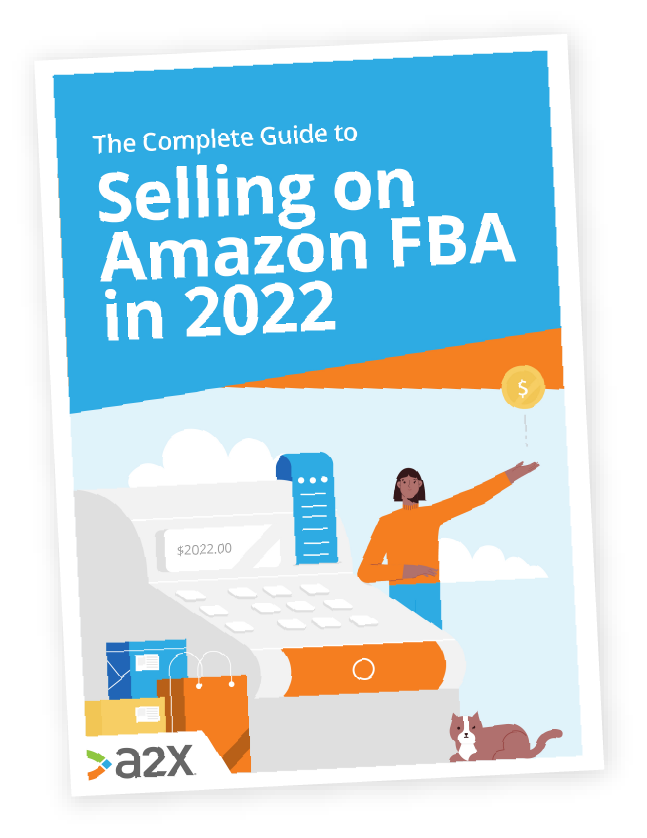 What is the Amazon Associates Program?
Amazon Associates is a platform for anyone interested in affiliate marketing to make money from their website by linking out to products or offers listed on Amazon.com.
You'll earn a commission each time someone clicks on your affiliate link and completes a path - this might be to purchase or sign up to a database.
Amazon is the largest retailer in the world, making it an excellent choice for brands, creators and businesses seeking to earn some passive income through affiliate marketing.
Having an Amazon affiliate store is just one way to earn commission sending people to Amazon products. Here, we'll explore two others as well.
Types of links can you monetize as an Amazon affiliate
There are a number of different types of links you can include on your website that will earn you a commission through the Amazon Associates program.
These include:
Qualifying products: Products from categories that Amazon has given a commission rate and are not a part of what they have deemed " excluded products".
Bounty events: Services and programs that offer fixed-rate commissions to affiliates that are able to drive actions such as sign-ups.
Bonus events: Special fixed-rate ($3) promotions in which you get customers to purchase a product from Amazon Fresh or the Pet Food & Supplies category for the very first time.
Prime Video channel subscriptions: Video channel subscriptions to a variety of different media channels hosted by Prime Video.
Prime Video channel paid memberships: Subscriptions to special paid sports channels hosted on Prime Video (NBA League Pass and PGA Tour Live).
Trade-in events: Promotions that result in customers selling their used goods to Amazon, resulting in a (4%) commission per sale for you.
Each type of affiliate link listed above comes with its own set of guidelines, rules, and limitations you'll need to know about.
How much do Amazon affiliates earn?
Amazon affiliate earnings vary based on what and how much you're selling.
There are different commission rates depending on the types of links you include on your website. The specific products, processes, and services within the link categories we mentioned above may also affect how much you'll earn.
For example, the below table shows that the Amazon affiliate commission rate for any purchases made through one of their links in the Luxury Beauty category is a fixed 10%.
Source: Amazon Associates.
On the other hand, purchases of products listed under Televisions made through one of your links will only earn a 2% commission.
NB: Some products, programs, and services do not earn Amazon affiliates any commission.
If the commission rate posted by Amazon is 0%, or the item you are linking to does not qualify for the Amazon Associates program, you will only be giving Amazon a free plug.
Video game products that are part of the Trade-In Program are a good example of this:
Source: Amazon Associates.
For a complete breakdown of the different commission rates for every product category, event, and channel subscription, we recommend you refer to the Amazon Associates Program Commission Income report.
Next, let's take a look at setting yourself up as an Amazon affiliate.
Becoming An Amazon Affiliate: How To Apply
The steps to become an Amazon affiliate member start with submitting a completed Associates Program application via Seller Central.
A member of the Amazon staff will review your application and, if approved, you'll become an official member.
Amazon affiliate requirements
Amazon claims that they look for "associates who are a value-add for Amazon customers".
In other words, they're after people that will bring new traffic to Amazon's website through the influence of their personal brand, website, or creative content.
During the review process, they will be checking that all the sites you've provided meet their customer experience bar and contain great, original content.
Make sure you have at least a dozen posts on your website.
Signing up for Amazon Associates
The Amazon affiliate sign-up process is fairly straightforward.
First, go to their sign-up page and click on the button that says Sign up.
Complete your application and submit it for review.
After you sign up, the Amazon Associates team will check your application only after you've driven at least three qualified sales within the first 180 days.
Some tips for getting your application approved:
Use your own website and keep it updated with recent content.
If using a mobile app, make sure it complies with Amazon's Mobile Application Policy.
Remove any unapproved usage of Amazon-trademarked materials from your site before submitting.
Be sure to check that your website is not one Amazon has listed as " unsuitable sites".
Make sure you're using the special Associates-tagged links when promoting Amazon products on your site.
Follow these guidelines and speak to Amazon if there are any issues with getting your application approved.
Now, we'll cover how to sell Amazon affiliate products through your website.
After Approval: How To Set Yourself Up
If you've been approved to become an Amazon Associate, your first step will be converting your pre-existing website into an Amazon affiliate store (or adding affiliate links to a site).
There are several steps to this, which we'll explore in-depth below.
Step 1) Setting up your Amazon Associates account
To create your account, first go to the Amazon Associates page and click Sign up.
Next, enter your name, address, and other account information in the appropriate boxes:
Source: JungleScout.
After that, you'll be asked where you will be promoting your products (Youtube, Instagram, etc.).
Then you'll be taken to the Profile section. Here is where you enter information about your personal brand or website that you'll be affiliating with Amazon.
Lastly, you will be given the option to either enter your payment and tax information now or choose to do it later.
Once that's done, it's time to start selling/promoting products.
Step 2) Deciding how you'd like to sell
There are three main methods for selling products as an Amazon affiliate:
Indirect selling: Promoting Amazon products through related content.
Direct selling: Creating an ecommerce store away from Amazon, with links to it.
Amazon Influencer: Using your social media following to sell Amazon goods.
You could also use a combination of these three.
Indirect selling
One technique that is used by many successful Amazon affiliate marketers is linking out to Amazon products through blog posts, videos, and other consumable content.
There are several ways you could use blog posts and videos to sell Amazon products:
By reviewing a specific product.
By ranking or comparing similar products from a chosen category.
By recommending a specific product.
By making an essential checklist containing multiple products.
By making subtle mentions (with links) of Amazon products within content that is about something else.
If, for example, you have a website about outdoor experiences, you might promote Amazon products through blogs with titles like: "10 Best Hiking Boots For 2021", "The Ultimate Camping Checklist", or "[Product Name] Review: Should You Buy?"
Any of these would allow ample opportunity for you to post relevant affiliate links that are both useful to your audience and agreeable with the general theme of your website.
GearLab makes "Best _____ of 2021" lists loaded with Amazon affiliate links to profit from sales and help their audience choose the right products:
Direct selling
Alternatively (or as well), you could create an entire dedicated shop on your website just for selling Amazon affiliate products.
This method works a bit like dropshipping, which is another way for you to make passive income online.
Start by picking up an Amazon affiliate website template from an online marketplace such as Theme Forest, or create one yourself using whatever tools and knowledge you have at your disposal.
Source: Amazon affiliate store examples from Theme Forest.
Selling Amazon products on your site might sound like a bad idea if it's your first time hearing about this. After all, Amazon.com is clearly the biggest seller of Amazon products making them a pretty intimidating competitor.
But you should think of them more like a business partner than a competitor, for two reasons:
You can draw your own audience through content and SEO.
Your store doesn't have to be solely Amazon products – you can mix in a bunch of other affiliate listings and even sell some of your own stock.
Additionally, you don't have to convert your entire website into an online store for the sake of affiliate marketing. It's up to you.
Your shop need only be a single tab in your header, allowing you to continue creating and publishing whatever content inspired you to start your own website in the first place.
The important thing is that you keep your site updated regularly and test which products are resulting in paychecks from Amazon.
Keep what works, cull what doesn't, and research new products to find replacements.
Amazon Influencers: Another type of affiliation
If you're interested in becoming an Amazon Associate, you may also be interested in the affiliate program's social media version: Amazon Influencers.
Amazon accepts Amazon Influencer applications from influential users across three of the main social media channels:
Youtube
Facebook
Instagram
If you've amassed a reasonable audience ( at least a few thousand) on any of these platforms, joining the Amazon Influencer Program may be a realistic option for you.
The difference between Amazon Associates and Amazon Influencers
According to Amazon, if you're a brand or media company you should join the Associates Program.
If you're a content creator who provides recommendations to an audience via Youtube, Facebook, and Instagram you should join the Influencer program instead.
The commission rates for Influencers and Associates are the same.
Besides the medium you use for promoting affiliate links, the main difference is that Amazon Influencers can create a "storefront" within the Amazon website.
This store is a personalized page for publishing live streams, shoppable photos, and videos.
Some members may even qualify to be featured across the Amazon site, making it a great way to grow your audience and make more money through affiliate links.
Now that you're set up and making money as an Amazon Associates member, let's discuss how crucial it is to ensure you account for this accurately.
Are Your Links Paying Off?
Are you selling on Amazon? If so, you'll know that accounting for its deposits correctly is far from simple.
Amazon settlement statements don't give you all the information you need to figure this out, but A2X does.
For each Amazon bank deposit, A2X automatically calculates every income and expense line that corresponds with it and batches these in neat journal summaries.
Your accounting software is neat and tidy, but the details are available whenever you need them.
Plus, A2X splits settlements that span months and organizes books via the accrual method, so you can glance over your business' month-month performance and plan accordingly.
Start your free trial of A2X for Amazon & QuickBooks or Xero today.
Also on the blog
The best advice and insights for selling on Amazon this year
There's a lot to know when it comes to selling on Amazon. In this guide, you'll find expert tips and advice to make sure you start strong and stand out from the crowd.
Download our free guide