How To Sell On Amazon in 2023 [The Ultimate Guide]
In 2020, it became official: Amazon is worth $1 trillion.
Sharing its name with one of the most biodiverse forests on the planet, Amazon's seemingly infinite footprint and product offering are similarly expansive.
And Amazon.com is the tip of the iceberg.
From music streaming to healthcare, gaming, entertainment, cloud computing, and more, Amazon is so much more than an ecommerce platform - though it still holds the top spot for that, too.
As a new seller wanting a piece of that trillion-dollar pie, getting started can feel a little daunting.
How much capital do you need to compete with the big leagues? Is there a way to start up for free? Is there a secret to success when selling things on Amazon?
This isn't your typical how to sell on Amazon for beginners guide. We'll cover all the how-tos but also the greater Amazon ecosystem, your place in it, and how to make the best of the options available to you.
In this comprehensive guide on how to sell on Amazon FBA in 2022:
Table of Contents
The best advice and insights for selling on Amazon this year
There's a lot to know when it comes to selling on Amazon. In this guide, you'll find expert tips and advice to make sure you start strong and stand out from the crowd.
Download our free guide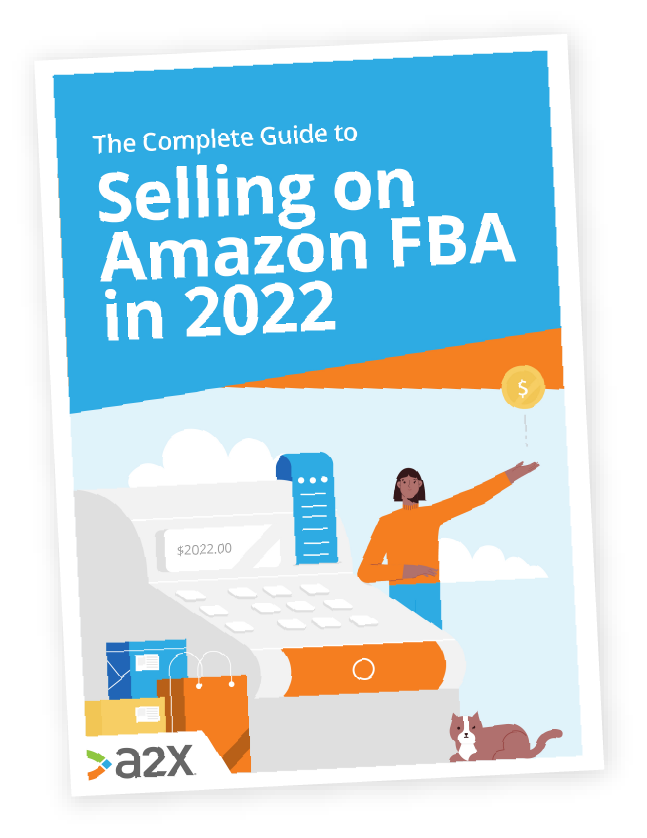 Ready to take on Amazon this year?
Let's do it.
Welcome to Ecommerce in 2023
Ecommerce was born around 40 years ago.
In the 1980s, CompuServe introduced email and the internet in its earliest form, followed by the invention of electronic shopping by Michael Aldrich in 1979.
Connecting a modified TV to a computer, and processing transactions via a telephone line, this data-sharing technology opened the door to the expansive innovation and technological developments upon which ecommerce was founded.
By the time Amazon and eBay launched in the mid-90s, we already had an online bookstore, tech parts store, and the Netscape Navigator web browser. With the introduction of PayPal and Google AdWords, sellers could reach more customers in a secure way, and the sky suddenly became the limit.
From product ranges to payment providers, fulfilment networks, and selling platforms themselves, everything about ecommerce has exploded since.
The choice is endless, the technology is expansive, and the impact is far-reaching.
Before we can dive into how to sell on Amazon this year, we need a bit of context.
Where has ecommerce expansion brought us, where does Amazon fit in, and what do new sellers need to keep in mind when starting a business today?
The impacts of ecommerce expansion
When the world went into lockdown for COVID-19, we relied on ecommerce more than ever.
With the ability to stay put and order just about anything we could need from anywhere in the world, around 150 million new ecommerce shoppers emerged.
"At the height of the COVID-19 pandemic, 10 years of ecommerce growth happened in just 90 days."
And with more sellers flocking to online retail than ever before, markets are getting saturated and businesses are expanding across multiple channels.
Accessibility just went from everywhere to all-consuming. Amazon isn't the only channel for sellers to explore in this changing landscape.
The market share of mobile ecommerce sales sits at 72.9%. That's a large majority.
Three out of four customers attribute this to how fast shopping from their phones is, and with more than 150 million Amazon app users, getting your products onto the platform doesn't limit you to desktop searchers.
Just make sure you optimize your listings for mobile.
Find out more about this in our Amazon SEO blog.
Transformed digital marketing
With new ways to shop, the approach we take to reach our buyers has had to change. For marketers, the world has opened up drastically.
In order to make promoters of customers, storytelling has had to be woven into branding, influenced by and evolving based on feedback and reactions.
It's a two-way street now, and this kind of inclusion of customer values and testimonials must be at the core of your business's 'why'.
With increased reliance on ecommerce and technology as a whole, people still want people. So creating a personalized, personable retail experience is the industry's new M.O.
Make sure to consider this in your own Amazon business plan.
The rise of voice commerce
Above we mentioned new ways of shopping. Voice commerce is one of these new ways, making retail even quicker and more efficient.
"The number of voice-assistant users has increased from 46% to 52% during the Coronavirus outbreak."
Alexa by Amazon would probably be the most famous example of voice recognition technology. And though you may know it as the device, Alexa is in fact the AI technology behind it, which is open to other businesses to harness and build upon.
Here are some quick tips for optimizing your store for voice searches:
Voice searches are often questions, so think about what questions might lead a customer to you, and how you can include answers in your product descriptions.
Use Google Analytics to find out what keywords you do rank for, and if they sound conversational, this could be a hint that customers are finding you via voice commands.
Find more optimization tips on our Amazon SEO blog.
Development of AR and VR in retail
Personalization and efficiency come together in a sweet embrace with augmented and virtual reality.
No more do buyers need to risk purchasing blindly. They can now 'place' items in their homes, clothes on their bodies, or paint on walls - all digitally.
"Without the restraints of physical inventory or set up, the experience of picking up and evaluating products in a retail setting, or discovering a product while passing by an artistic window display, can be actualized wherever your customers are."
Interestingly, 71% of consumers say they would shop more often with AR, but only 1% of retailers currently use it.
It seems there's still time to be an early adopter of this promising technology, but the window will close before you know it.
It seems that at present, Amazon has VR capabilities for certain products via its app. These are typically furniture and home decor items.
Should you expand onto other platforms, like Shopify, it might be easier to integrate this technology.
Joining the ranks of ecommerce sellers today
As an industry founded and totally reliant on technology, ecommerce evolves just as fast.
But Amazon has been at the forefront pretty much since it launched, so if you're going to start somewhere, it seems like a safe bet.
Or does it?
Let's look in more detail at the platform itself, how it impacts the experience of sellers, and why it remains top dog in the online space. This will help determine the best way to go about selling on Amazon today, and how to start strong.
Why Sell on Amazon?
In the last decade, Amazon's market cap has grown 2,830%.
Source: Statista.
Expanding into and acquiring numerous entities, with Amazon Web Services bringing in around half the company's profits, the Amazon ecosystem is now worth more than America's next 9 largest retailers combined:
Source: Visual Capitalist.
So with all this money floating around, is it actually profitable for third-party sellers like you to make money on Amazon?
Yes, of course it is! There is plenty of money to be made on Amazon.com. How much you make depends on how you approach it.
And that's what this guide is all about.
Reasons to sell on Amazon
It's the largest retailer in the world, with an established brand name and reputation.
Startup costs can be minimal (even free!).
Amazon Prime is a popular membership program that helps customers keep coming back.
It's possible to make money quite quickly and with relatively little setup.
Amazon FBA can handle your fulfilment and customer service for you.
Amazon MCF allows you to expand into other channels and still benefit from Amazon fulfilment.
The main reasons sellers quit Amazon
According to JungleScout, the main reasons Amazon sellers quit are:
FBA is too expensive.
It's too time-consuming or not profitable quickly enough.
There's too much to learn about selling.
Now that you know what can motivate an Amazon seller to give up, it's time to start learning all the best practices, tips, and tricks so that those reasons above don't put out your fire too.
The Amazon Ecosystem: FBA, Prime & More
Source: Amazon.
There are so many ways to make money on Amazon.
So when it comes to figuring out how to sell, you need to know your options.
Here, we'll introduce you to the various members of the Amazon.com family, whether sellers can use them, and the advantages and disadvantages of doing so.
Whilst some may not suit your journey now, they might later on.
Fulfilment by Amazon (FBA) and Multi-Channel Fulfilment (MCF)
FBA and MCF are two fulfilment programs by Amazon. Both allow sellers to outsource any or all of their fulfilment to the Amazon network and customer services team.
FBA is for Amazon sellers. MCF is for non-Amazon sellers.
The pros for sellers: An expert team with a far-reaching fulfilment network is handling your shipping for you. Customers get access to super-fast shipping times and any returns or complaints are handled by the Amazon customer service team.
The cons for sellers: Estimating and tracking the fees involved can be a challenge. You also need to pay to get the items to fulfilment centers, so understanding the costs involved and their impact on your profit margins is essential to ensure outsourcing to Amazon is still profitable.
Check out our dedicated FBA blog here for more information on both.
Amazon Prime
Amazon Prime is a membership program that offers buyers a variety of perks. More than 112 million customers in the US are Prime members.
Prime perks cover quick shipping options, access to TV and music streaming, discounts at Amazon-owned Whole Foods, visa card rewards, and more.
Having the Prime badge on your listings as a seller allows you to leverage that extensive membership base, and using FBA will automatically qualify you. It is undeniably one of the best ways to sell on Amazon, and if you don't outsource your fulfilment to FBA, you can still opt for Seller-Fulfilled Prime (SFP).
The pros for sellers: FBA automatically qualifies you. SFP allows you to fulfil orders yourself and still earn the Prime badge. Having that badge opens up your items to buyers looking to maximize their membership. Find out more about maximizing FBA and SFP together here.
The cons for sellers: SFP is a tightly regulated program and you need to prove yourself. There is a waiting list to join, and a trial period - the length of which is not specified. Your Prime badge is applied to your listings after that period, and after you have met certain criteria.
Check out our dedicated Amazon Prime guide here.
Amazon Associates
Amazon Associates is the platform's affiliate program. If you're wondering how to make money on Amazon without selling on the platform, this could be it.
If you're a content creator or blogger keen to make some cash sending readers to Amazon products, you'll need to sign up with an Amazon account here. By joining the Amazon Associates program, you can sell Amazon products on your own website via affiliate links.
Check out our dedicated guide to becoming an Amazon Associate here.
Amazon Vendors
Some sellers might be more interested in how to sell to Amazon directly, as a supplier. Amazon vendors have to start life as sellers on the platform first, earning a reputation and learning the systems before Amazon will consider them as a supplier.
The pros for sellers: You can sell through Amazon without dealing with customers - just the platform itself.
The cons for sellers: You need to earn a reputation as a seller first and be invited by Amazon. You then need to meet its requirements and are subject to its own rates. You can negotiate, but Amazon will ultimately have control.
Check out our dedicated guide to becoming an Amazon Vendor here.
Amazon Web Services (AWS)
Amazon Web Services is a cloud software service that powers some of the largest digital brands in the world, including Netflix, Facebook, LinkedIn, BBC, and ESPN.
If you are interested in designing your own software, app or cloud service as another way to make money on Amazon, then AWS could facilitate this.
Learn more about what it is and how it works here.
What type of Amazon seller are you?
How you sell on Amazon will depend on what route you want to take.
This flowchart asks a few simple questions that will help you figure out how you can start selling on Amazon this year, based on your business goals:
Preparing to Sell on Amazon
Hopefully, at this point, you have some idea of the route you want to take to sell on Amazon.
In this section, we'll be preparing you for selling on Amazon, from the key components of ecommerce businesses to research, start-up costs, and your Amazon business plan.
Start-up costs and business models
You can start selling on Amazon for free, so if you do have a little capital to invest up-front, that puts you a few steps ahead of the game.
Anything helps propel you - and this stage in your journey is when you decide how you'll use what capital you might have.
According to a JungleScout survey, the top 6 Amazon business models are:
Private label (67%)
This is the process of rebranding or renaming a product that has already been produced under another. Amazon Basics and Amazon Essentials are examples of these.
Cost to start: 61% of sellers spend $2,500+ to get going.
Sales: 56% of sellers make $5,000+ per month in sales.
Profit: 35% of sellers see a profit within 6 months.
Time commitment: 58% of sellers spend 20hrs or less per week on their business.
Top categories for this model: Home & Kitchen, Sports & Outdoors, Health, Household & Baby, Beauty & Personal Care, Kitchen & Dining.
Top challenges for this model: Listing optimization, product supply, inventory management, advertising, and getting customer reviews.
The key first steps for this business model are finding your niche, your product, and your manufacturer.
Private labeling is a more expensive way to get started, but in general, sellers can make decent margins with less time spent on their business.
Wholesale (26%)
This involves purchasing items in bulk at a below retail price, to sell on as individual units.
Cost to start: 47% of sellers spent less than $2,500 to get going.
Sales: 61% make $5,000+ per month in sales.
Profit: 58% of sellers have profit margins of less than 20%.
Time commitment: Almost half spend more than 20hrs per week on their business, and almost 20% spend more than 40hrs.
Top categories for this model: Home & Kitchen, Toys & Games, Sports & Outdoors, Beauty & Personal Care, Health, Household & Baby.
Top challenges for this model: Managing expenses and revenue, listing optimization, and finding a supplier.
Finding a supplier for your products will be a key indicator of what you can sell and how much.
Retail arbitrage (19%)
The process of finding discount or bulk products in a traditional, physical store to resell for a profit online.
Cost to start: 49% of sellers spend less than $1,000 to get started.
Sales: 62% of sellers make less than $5,000 per month in sales, and a quarter less than $500.
Profit: Almost half of sellers make a profit margin of less than 20%, and it took a similar number about 6 months to make any profit at all.
Time commitment: 60% of sellers spend 20hrs or less a week on their business, and 25% less than 4hrs.
Top categories for this model: Home & Kitchen, Toys & Games, Books, Beauty & Personal Care, Grocery & Gourmet Food.
Top challenges for this model: Monitoring expenses and revenue, finding a supplier, and listing optimization.
All you need to do to start a retail arbitrage business on Amazon is to buy products in brick-and-mortar stores and list them on the platform.
It's quick and cheap, but not typically the most profitable option.
Online arbitrage (17%)
Similar to retail arbitrage, but rather than shopping for products in stores on the street, shopping for them online.
Cost to start: 58% of sellers spent less than $2,500 and 29% less than $500.
Sales: 55% earn less than $5,000 per month in sales, 16% earn between $1,000-$5,000.
Profit: 54% see margins of 16%+.
Time commitment: 56% spend 20hrs or less per week on their business.
Top categories for this model: Home & Kitchen, Toys & Games, Beauty & Personal Care, Books, Health, Household & Baby.
Top challenges for this model: Monitoring expenses and revenue, finding a supplier and listing optimization.
Similar to retail arbitrage, all you need to get started with online arbitrage is to buy from other marketplaces like Walmart, eBay or Ali Baba, and list on Amazon.
Warning: You need to operate carefully when using the arbitrage model. If your customers or indeed, Amazon itself, spots you ripping either off, you could be kicked off the platform. See how to operate an arbitrage business successfully here.
Dropshipping (9%)
Dropshipping is a great way to sell on Amazon without inventory. You play the middle-(wo)man, and list items for sale that are fulfilled by another supplier.
Cost to start: 50% spent less than $2,500 getting set up, and 17% less than $500.
Sales: 39% earn $5,000 or less per month in sales.
Profit: 48% make profit margins between 11-25%.
Time commitment: 54% spend more than 20hrs per week on their business, and one in four spend over 40hrs. They also took longer to get going, with 10% taking over a year.
Top categories for this model: Home & Kitchen, Sports & Outdoor, Kitchen & Dining, Tools & Home Improvement, Garden & Outdoor.
Top challenges for this model: Listing optimization, managing the money, getting customer reviews.
A relatively inexpensive way to start selling on Amazon, dropshipping can take longer to start and demand more hours from you than you might expect.
Handmade (6%)
Amazon Handmade is an area of the platform dedicated to sellers that create their own original products by hand.
Cost to start: 53% of sellers started with less than $2,500.
Sales: 50% make less than $5,000 per month, and 30% less than $1,000.
Profit: 52% make margins between 11-25%, but 40% of sellers took 3-12 months to see any profit.
Time commitment: 37% spend 20hrs+ per week, and 20% more than 40hrs.
Top challenges for this model: Finding/making products to sell, listing optimization, and SEO.
Find out more about how to sell on Amazon Handmade in our comparison guide.
Product and market research
Whatever your business model, the products you choose to sell should be based on shrewd research. You need demand for your supply - and you need a niche.
Niches present pockets of untapped opportunity. With such saturated competition online and on Amazon, you need to find the lucrative gaps.
Niches also help you get your entrepreneurial feet wet before diving into a larger, more competitive category.
Ways to find a niche for products to sell on Amazon:
Search Google
Google your broad topic or category, and look for the following:
People also ask questions
Snippets
Products listed
Having a look around and opening up the questions/answers and listings, you should be able to gauge what people are searching for around this topic and what is selling well. This is the top level of your research, so you'll want to dig deeper to find your niche.
Explore some of the products mentioned or listed and check out what competitors are out there. You can see how they are performing using tools like SimilarWeb.
Look for organic traffic of around 100,000-300,000 per month for a viable, non-saturated market.
You can also search Google Trends to see how categories are performing over time and in certain locations.
Search social media
Another way to find out what people are talking about and looking for is via social media.
Instagram & Facebook: Search hashtags and see what's trending. You want to open popular posts and find more hashtags until you spot a product opportunity with moderate hashtag popularity (50,000-500,000 posts). This could be a viable niche.
Quora: Quora is a question and answers site, offering discussions and related discussions categorized for you to find inspiration. If users "up-vote" an answer or topic, it's a good sign that they are interested in it.
Reddit: A collection of discussions already segmented into niches, Reddit provides a great forum for product ideas. On Reddit, you want to pay attention to follower count and growth, which page Subredditstats.com can help you find out.
This page also tells you other related keywords so if you stumble on a hugely popular topic, you can niche down your subject.
Search Amazon
If you have a rough idea of what you want to sell, search for it on Amazon.
Take note of the following things:
What is your competition like?
How is your competition promoting itself?
What reviews are competitors getting?
Anything people particularly like or don't like?
Any big gaps or opportunities for you?
After a bit of digging across a few channels, you should have some idea what your market is interested in, talking about, and looking for - as well as who you're up against.
Creating a business plan
Once you have a handle on what you want to sell and your business model, creating an Amazon business plan is a smart next step.
In your business plan, you'll articulate exactly why you've chosen the route you want to take, the goals you will set for your business, and how you'll achieve them.
We have a business plan template you can use here. This is your roadmap to make informed, strategic decisions from day one.
Setting up accounts
Accounting for Amazon sellers (and ecommerce sellers in general) needs to be a top priority.
The fees to sell on Amazon are not straightforward, and you have numerous financial metrics to monitor and keep on top of, in order to be successful.
One of the main challenges across the business models listed above was keeping track of the money. This step is crucial for your business to survive, let alone thrive.
The Amazon accounting stack you need:
Amazon accounting software
Integrating your Amazon Seller Central account with cloud accounting software gives you instant, automatic, and accurate books, accessible from anywhere.
Many sellers start with spreadsheets but it's easy to make mistakes this way, and they are not scalable.
We recommend Sage, Xero, and QuickBooks for the best in ecommerce accounting software.
Delve deeper into Amazon accounting software and get set up with it here.
A2X for Amazon
Amazon can send you one bank deposit which represents numerous sales transactions. To figure out what your settlements actually represent, you'll either need to work backwards manually, or integrate A2X.
A2X was designed by two ex-Amazon sellers, exasperated by the reconciliation process after doing business on the platform.
By integrating this connector app, settlements are broken down for you automatically, showing what fees you paid, what sales tax you collected, any returns or reimbursements received, and shipping costs paid.
A2X also splits Amazon settlements that span months, and organizes books via the accrual method. This enables you to forecast your cash flow, predict the peaks and troughs of your business performance and get a more transparent picture of the health of your business.
"If you're not using A2X for Amazon Accounting you're doing it wrong!"
Click here to start your very own free trial today.
To ensure you set up your accounts for success, check out our Amazon accounting hub for everything sellers need to do.
Starting to Sell on Amazon
By this point, you should have a clear idea about what you're selling on Amazon, why (based on your product research and niche), and how (your chosen business model).
So, let's get listing!
How to register for an account and choose a plan
Head to your chosen Amazon marketplace and create an Amazon account. If you're a US-based seller, that'll be Amazon.com.
Scroll down to the Make Money section and "See pricing" link for a choice of seller plans:
You have two plan options: individual and professional seller.
The individual Amazon seller plan charges per listing rather than a monthly subscription. This starts at $0.99c, but don't be fooled - there are a number of fees and transactions that your listings may be subject to on top.
The Amazon professional seller account plan is charged monthly, at $39.99 ( plus any additional fees). This plan makes financial sense if you're selling anything from around 40 items per month or more, whether you consider yourself a "professional" or not.
Here's what you get with each plan:
Source: Amazon.
On selecting your account type, follow these registration steps:
Enter your email address and click "Create new account".

Verify your email address.

Enter your business location (where you are located), your business type (most select "privately-owned"), and your full name.

Enter your personal information (you'll need your passport or license for this page).

Choose the Amazon marketplaces where you want to sell.

Enter your billing information.

Next up, you'll be asked about your Amazon store. You'll need to enter:

The name of your store.
Whether you'll use UPC codes for your products ( you don't have to).
Whether you own or manufacture your products.
Whether your products are trademarked.

The last step is your address verification. Amazon will send you a postcard with a verification code. Once you have entered this code, you're in and ready to start a listing!
How to list an item
The practical steps of creating your listings are not complicated. It's optimizing for Amazon's search engine and customer experience that takes a little more work.
Steps to list an item:
From Seller Central, open the Inventory drop-down menu, and select Add a Product.
You can either search for a product from Amazon's catalog or click Create a new product listing.
Select your product category, ensuring that it isn't restricted, and that it's as relevant to your product as possible.
Enter all the required information in as much detail as possible. This will include a title, price, description, brand/manufacturer, condition, and other optional items.
That's it! You've listed an item.
But as we said above, it's not these steps that are the hard part. It's doing them right so your listing gets noticed.
Listing optimization tips:
We go into much more detail about listing optimization in our dedicated blog, Amazon SEO.
Here, we'll briefly cover the key elements:
Listing title: In your title, you want to get as much information across as succinctly as possible. Try to include a target keyword, and details that customers will be looking for in particular. For example, if you're selling a phone case, your title might look like this:
Samsung S21+ Ultra Phone Case, Lilac Silicone, Waterproof, Drop Proof, Home Recyclable. Available in more colors.
Bonus tip: Mobile users see between 50-80 characters, so try to get your key selling points across within that length.
Listing images: Use hi-res, high-quality images only. You have limited opportunity to attract a buyer's eye, and great photos are an easy way to do that. Bad photos are also an easy way to lose them.
Bonus tip: Try using images to demonstrate the features and benefits of your product. This is a quick and easy way to induce FOMO and tempt your customers.
Listing description: That keyword research you did to find your niche product makes a reappearance here. Your listing description should be shaped by your research findings and speak to everything you learned about your target audience.

What do they ask, want, worry about, and look for? Show that you're one of them and that you understand their needs in a keyword-rich, appealing product description.

Listing price: Pricing research is as much a priority as product research. You need to ensure your items are priced competitively, within Amazon's requirements, and still able to make you a profit.* For more on pricing strategy, check out this blog.*
As you grow, you'll need to pay close attention to your reviews and ratings as well. These will impact the visibility of your listings and the success of your business.
For more information about maximizing your organic reach on Amazon, check out our blog here.
How to use Seller Central
Seller Central is your mission control.
In our blog tour of Amazon Seller Central, we introduce all the areas of your seller dashboard so that you can make the most of it from day one.
From tracking your sales to reports, inventory, brand health, forums, news bites, and more, Seller Central is designed to give you the tools you need to succeed.
Here are a few bonus tips when using Seller Central:
You can customize your dash. You can click and drag the widgets around the screen and reorder them to suit you.
You can create pricing rules so that your items aren't left behind when competitors change their goalposts. These rules automate the increase or decrease of your pricing to meet the supply, demand, and competition as it changes.
The brand analytics section (unique to brands) is full of useful insights about your customers, clicks, and conversions. Pay close attention to this as you might find opportunities for upselling and cross-selling.
The Amazon Selling Coach (for professional sellers only) offers prompts and ideas for you to improve your business, based on its performance and activity.
For a detailed tour of Seller Central, check out our blog here.
FBA vs. FBM
Hopefully by this stage you'll have some idea as to whether you want to use Fulfilment by Amazon or manage it yourself (Fulfilment by Merchant).
You might be surprised to learn that around a third of sellers use a combination of the two. Different products suit different fulfilment styles, so it doesn't have to be all or nothing.

Source: JungleScout.
We delve deep into Amazon FBA in our dedicated guide, so here, we'll just have a look at why sellers may choose one option over the other in a general sense.
FBM may be best for:
Sellers that want more control over customers and customer experience.
Sellers listing oversized or heavy inventory.
Sellers with slow inventory turnover.
Sellers that have the logistics to support fulfilment.
Sellers prepared to take on the costs of self-fulfilment.
FBA may be best for:
Sellers that want, or are happy to, hand over customer service to Amazon representatives.
Sellers with quick turnover.
Sellers without the means to fulfil their orders.
Sellers that would need to pay more to fulfil their own orders.
Sellers that list small and light products.
A key downside of using FBA is the fees. And they're just a drop in the ocean when it comes to Amazon.
Amazon fees and transactions
Amazon fees for selling are notoriously wide-ranging and difficult to interpret on statements when it comes time to reconcile them.
We have three guides dedicated to breaking these down for sellers:
Fees begin with the following:
For individual sellers: Each item you list costs $0.99c (listing fee) plus a referral fee.
For professional sellers: The monthly subscription is $39.99, plus a referral fee per sale.
Referral fees are Amazon's commission for bringing you a customer, and are charged on every sale.
Other fees you may come across include fulfilment fees ( for FBA), inventory fees, rental book fees, high-volume listing fees, refund admin fees, and any advertising or upgrades you might choose to run.
These fees are circumstantial, so you need to make sure you understand them fully before they're charged and begin eating into your profit margins.
Check out our Amazon selling fees calculators blog for help estimating your fees.
There is a better way to manage your fees, and that's by integrating A2X with Amazon and your accounting software. Keep reading to find out how much time (and money) you could save with this simple step.
Optimizing Your Amazon Business
Now that we've covered the basic practical steps, it's time to take your business operations on Amazon to the next level.
By leveraging these elements too, you'll set yourself apart from the competition and be maximizing the tools that the world's largest ecommerce platform has to offer.
The Amazon Best Sellers Rank (BSR)
Almost every item that has one or more sales on Amazon has a Best Sellers Rank (BSR).
This is determined within a category and by the number of sales made. For example, this smartwatch has a BSR in 2 categories:
The better the BSR, the more sales it has accumulated and this is updated hourly - not to be confused with organic ranking, which is how effective a product's SEO is.
Organic ranking determines where you'll end up on the search results pages. Best Sellers Rank helps you figure out how well a product performs, or how well it may perform, within its category.
How to use BSR to help you decide whether a product is worth selling on Amazon:
Find out the BSR of the product, under Product Information on the listing.
Enter the BSR into a sales estimator to determine the sales volume required to reach that BSR.
Calculate the cost to sell that volume of products. What are you left with?
BSRs will help you figure out whether a high profit margin item is also likely to sell quickly. You might need to compromise on margin slightly for quicker selling items.
Find out more about the Amazon Best Sellers Rank with this helpful blog.
The buy box
82% of Amazon sales go through the buy box.
Source: JungleScout.
The game of the buy box game is streamlined, frictionless shopping. A buyer can complete a sale in just a few clicks - easy.
But how does Amazon choose the lucky buy box seller?
First of all, they need to have a professional seller account.
Their account needs to be healthy and performing well, with buy box-eligible items. You can find out whether your listings are eligible for the buy box by heading to Inventory > Manage Inventory in Seller Central.
There, you'll find a table that includes the columns: Buy Box Price and Buy Box Eligible.
Source: JungleScout.
Being eligible is just step one.
Typical buy box winners:
Price competitively: Buy box winners tend to offer the lowest price. Try to stick to around 5% of the buy box price to be in with a chance.
Sell new items: This tends to win over used items.
Are often Prime sellers: If sellers have the Prime badge, whether via SFP or FBA, they are more likely to win the buy box.
Have consistently positive feedback: Customer feedback scores will impact your performance in many ways on Amazon, the buy box being one of them.
Maintain consistent inventory levels: Amazon protects its customers from the potential of fulfilment delays. If you are low in stock, you may be a less attractive buy box contender.
If you run your business efficiently across the board, with competitive prices, great customer service, and quick fulfilment, your buy box performance should see a boost too.
Improving customer experience
Amazon's incredible success is built on great customer service.
It is picky with its sellers, and holds them to high standards in order to protect its reputation. It will kick sellers off the platform who don't meet its standards and reward those that go above and beyond.
So, it's worth your time and energy ensuring that your customer journey is top-notch.
Things to think about when delivering a great customer experience:
Packaging and unboxing: Your customer's journey begins the moment their parcel arrives. How do you want that to feel for them? What will the unboxing experience be like? Get creative - brands have even made their packaging collectible, like Coca-Cola's named cans campaign. See why it was so successful here.
Include a special offer in the box: Reward your customers. According to Shopify's Ecommerce Industry Trends Report for 2021, customer retention is at the heart of many marketing strategies now with the increase in acquisition costs. This is a great way to prompt returners and develop brand loyalty.
Include a gift with purchase: Another way to reward a customer is to include an unexpected item with their order. You can't advertise a free gift with purchase on Amazon, but including a surprise one is a great way to thank your customers and encourage loyalty.
Honesty is the best policy: The best way to achieve great customer feedback is to be transparent at every opportunity. Don't over-promise. Be upfront with your customers and manage their expectations - if anything, you want to under-promise and over-deliver, not the other way around.
When those amazing reviews come in, don't forget to capture and show them off! You can also reach out to customers to remind them to review you as well, boosting your ratings and performance scores.
Check out our dedicated guide to Amazon feedback automation for ways you can do this without putting the manual hours in.
Advertising and SEO
There are plenty of ways and opportunities to advertise your Amazon products.
Start with the free approach: excellent Amazon SEO. We have an entire blog dedicated to that here.
Paid Amazon advertising comes under two banners: Self-Service Amazon PPC ads (Pay-Per-Click) and Managed-Service Amazon CPM ads (Cost Per Thousand Impressions).
Advertising on Amazon is a mammoth topic in itself, so here we'll just cover the basics and where you can go for more information.
The Amazon ad programs:
Sponsored Brand, Product and Display Ads: PPC ads. The trend of these is moving away from Sponsored Products towards Brands and Display as you can see from the data below:
Source: JungleScout.
These ads boost either individual listings to the top of search results pages, brand banners which then funnel traffic to a store, or in the case of Display ads, show listings to interested customers that have navigated away from Amazon.
Amazon Stores: Amazon Stores allow brands to have a dedicated space without competitors cramping their style, with more freedom to design and display their products in their own way. Think a Shopify store with Amazon customers.
Amazon Attribution: For brand-registered sellers and Amazon vendors, this free tool allows them to keep track of their marketing channels off Amazon - like social media, for example.
Amazon Live: A livestreaming tool that allows sellers to connect with customers on the platform and discuss their brand or products.
To use most of the programs above, you'll need to have a professional Amazon seller account.
For individual sellers, make sure you have maximized our SEO tips first, so that once you grow and upgrade to a professional plan, your ads will have the best chance of success.
Check out this comprehensive guide on Amazon advertising methods, costs and best practice.
Automation
The technology exists to automate just about every aspect of your ecommerce business today.
Automation gives you peace of mind and more time. You can rely on apps and integrations to repeat tasks accurately, automatically, and most of the time, instantly.
Our Amazon Automation Guide takes you through the priorities when it comes to automation, and the "nice-to-haves". This way, you can add to and develop your ecommerce tech stack over time as your business grows, without compromising on efficiency.
Is There a Way to Sell on Amazon for Free?
Many ecommerce sellers are attracted to the industry because of its low start-up costs. But just how low do they go?
Well, free, as it happens.
The steps to selling on Amazon for free
Find something to sell that you already have: Selling something you own and no longer want is a win-win scenario: free inventory.
Create an individual seller account: This way, you avoid monthly subscription costs and no listing fees yet.
Find another listing of the same product and add your name: If your item is already listed on Amazon (which considering its database of around 350 million products, is likely), you can simply add your name as a seller of that item to the listing for free.
Ship your item once it sells: This might cost you, depending on the shipping method your buyer chose.
And that's it - simple!
We haven't explored this in much more detail because it would be challenging to scale an Amazon business using this model alone.
By clicking the "Sell on Amazon" button at the bottom of an existing listing, you don't have your own which you can boost, advertise, develop or build a brand from. If you're an ambitious seller, you'll likely want more control and freedom than this.
Whatever You Sell, Make It Profitable!
However you choose to sell on Amazon, the way that you manage your money will dictate how successful your business is.
One of the biggest challenges for Amazon sellers is tracking and reconciling their fees, particularly if they use other services too, like FBA.
Why the challenge?
Not only are there numerous fee types which are applied at different times, but Amazon settlement statements aren't always clear about what you have been charged and when.
Plus, they can span months, making it difficult for you to forecast and map out your business' performance throughout the year.
By integrating A2X with your Amazon accounting software and Seller Central account, each of your bank deposits will have corresponding journal summaries, detailing every fee and transaction that it represents.
Your books will be organized via the accrual method, with statements spanning months split out, so that your forecasting is both doable and accurate in a fraction of the time.
Check out what co-founder of accounting firm Catching Clouds, Patti Scharf, says about A2X and getting your Amazon bookkeeping right:
Try A2X for Amazon for free today!
Find more help with your Amazon accounting in the Ecommerce Accounting Hub.
Selling on Amazon FAQs
Get quick answers to your questions about how to sell on Amazon right here.
Why sell on Amazon?
Amazon is more than an ecommerce platform. The brand ecosystem homes a multitude of companies, brands and ultimately, opportunities. Amazon selling partners are members of a trillion dollar family, with access to extensive, expert ecommerce infrastructure as well as the millions of Amazon buyers that flood its marketplaces every day, across the world.
Is selling on Amazon profitable?
Selling on Amazon can be very profitable. As long as you have identified a niche product and a demand, priced competitively and built up your reputation on the platform, there is no reason why you can't make profit on Amazon.
Who can sell on Amazon?
Just about anyone. Amazon will ask for identification and verification when you register for an account. As long as you can meet its criteria at this step, you will be able to start selling.
How much does it cost to sell on Amazon?
Sellers on individual plans pay 99c to list an item, plus a referral fee which is dictated by the category of the sold item. Professional plan sellers pay $39.99 per month, plus referral fees. There are additional fees which may be applicable based on varying circumstances. You can find a list of Amazon fees and transactions here.
Can you sell on Amazon for free?
It is possible to sell on Amazon for free. To do this, you'll need an item you already own, and you'll need to find an existing Amazon listing for that same free item. You can add yourself as a seller of the same item on that existing listing, rather than creating your own.
How do you sell on Amazon?
To sell on Amazon, you need an Amazon account. You'll need to list the item you have to sell and wait for a buyer. There are a multitude of ways you can improve, maximize and accelerate this process, which you'll find in this blog.
How do you sell on Amazon Prime?
You'll need to prove yourself as a great Amazon seller before you can join the Amazon Prime waiting list. If you are an Amazon FBA seller, your items are automatically eligible for Prime customers.
How do you sell on Amazon FBA?
After listing an item, you can elect to use FBA. Amazon will ask you to send your item, properly packaged, to one of its FBA warehouses. Once it receives your inventory, it will handle all the fulfilment demands and customer service requirements of selling that item.
How do you sell on Amazon without FBA?
As you list your items, you'll need to offer shipping methods that you can fulfil yourself. Once your item sells, you'll need to ship it. There is no requirement to classify yourself as non-FBA (or FBM) anywhere.
How do you sell Amazon products?
If you are interested in selling to Amazon directly, then the vendor program is for you. You need to operate successfully as an Amazon seller first, and be invited to the program. Unfortunately, you can't fast-track it to vendor status. Find out more about the program here.
How do you sell Amazon affiliate products?
The Amazon Associates program allows you to add an affiliate link to Amazon products on your own website and monetize it. Simply sign up to the program on its homepage.
How much does it cost to sell books on Amazon?
Individual sellers will pay 99c to list a book, plus the 15% referral fee for the book category. Professional sellers will pay their $39.99 monthly subscription fee, plus the 15% referral fee per book listed. Listings may be subject to other fees on top.* Find out how to sell books on Amazon profitably here.*
What is an FBA seller?
An FBA seller is an Amazon seller that elects to have their orders fulfilled by Amazon. This means that they send their inventory to Amazon warehouses, and Amazon employees store these items, pick, pack and ship them as orders come through. For details about how to become an Amazon FBA seller, check out our in-depth guide here.
Can you automate selling on Amazon?
Yes, you can automate aspects of selling on Amazon. From listing to fulfilment, pricing, advertising, accounts and more, your automation options for Amazon are almost endless. See our detailed Amazon automation guide for more information.
Is it better to sell on eBay or Amazon?
This depends on what you want to sell and how. It is quicker to start selling on eBay and arguably easier, but you don't have access to the same perks of selling under the Amazon umbrella. For a more detailed comparison of the platforms, check out our eBay vs. Amazon guide here.
How many products does Amazon sell?
Amazon lists around 12 million of its own products on the site. If you take into account third-party sellers (like you), then products listed get to over 350 million.
Are there any selling on Amazon podcasts?
Yes, there are a lot of Amazon seller podcasts. In fact, we have an entire list of them which you can find here.
What are the requirements to sell on Amazon?
To begin selling on Amazon, you will need to be able to verify your address, identity and bank account. These are the basic requirements. If you have a professional account, you will need to provide business information at registration.
Also on the blog
The best advice and insights for selling on Amazon this year
There's a lot to know when it comes to selling on Amazon. In this guide, you'll find expert tips and advice to make sure you start strong and stand out from the crowd.
Download our free guide