Etsy vs Amazon Handmade: How Do They Stack Up?
Listen up, talented artisans.
If you're eager to share your creations with the world but unsure whether Etsy or Amazon is the right space for you, don't go away.
Etsy is an established marketplace of similar sellers that saw a growth of 160% in its habitual buyers last year (2020).
The ecommerce giant that is Amazon has a dedicated section for handmade products, giving sellers like you access to its unparalleled visitor numbers.
Neither should be sniffed at, but like with all comparisons, there are pros and cons of each platform.
And that's what we'll explore here.
In this guide on Etsy vs. Amazon Handmade:
Table of Contents
Want to feel completely confident in your ecommerce bookkeeping?
Businesses that document their processes grow faster and make more profit. Download our free checklist to get all of the essential ecommerce bookkeeping processes you need every week, month, quarter, and year.
Download it here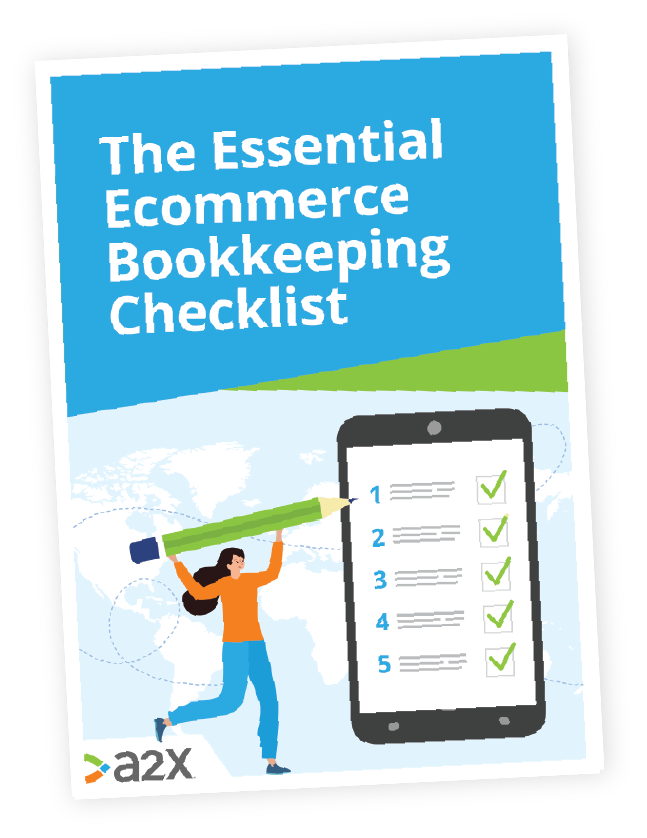 Let's kick things off with a little bit of background on each of the platforms.
Setting the Scene: Etsy vs. Amazon Handmade
Etsy was launched in 2005, around a decade after Amazon.
Today, it is worth over $2 billion on the NYSE.
Whilst Amazon may be vast in size in comparison to Etsy, the success of the latter should not be understated.
And with its niche firmly rooted in handmade, vintage and craft supply items, you know that all Etsy buyers are looking for items just like yours.
But should that put you off the biggest platform in the world? One that welcomes billions of visitors every single day?
No, it shouldn't. But the numbers should be put into context, and that's what we'll do here.
Here's a quick overview:
Etsy is a dedicated marketplace to handcrafted items. Amazon Handmade is a dedicated category on Amazon.
New Amazon Handmade sellers must have seller central accounts already, and be approved before they can open shop. But they do have simpler fees.
Etsy allows digital downloads as products, Amazon does not.
Let's get into the details.
Market Share
First up, Etsy vs. Amazon Handmade by numbers.
The bottom line
Whilst these numbers are helpful in illustrating the relative sizes of Etsy and Amazon, they are far from the whole story.
Amazon's gigantic visitor numbers do not reflect targeted buyers looking for handmade items. With Etsy, you can trust that the vast majority of buyers are there looking specifically for these.
Keep these numbers in mind, but they should not alone dictate which you choose for your business.
Buyers
So we have some idea how many buyers are visiting Etsy and Amazon, but who are they? And what do they want?
| Etsy | Amazon Handmade |
| --- | --- |
| Buyers specifically visit Etsy to look for niche, artisan items. | Amazon has become an "everything store", though the Handmade category does provide more targeted traffic. |
| A 2020 buyer survey revealed that 88% of Etsy buyers agree that they can find unique items on Etsy that they won't find elsewhere. 'Personalized gift' was the most searched-for item on Etsy in 2020. | Amazon Handmade is relatively new and there isn't a huge amount of data about it yet. What we do know is that the most popular categories on the wider Amazon platform have been: Clothing, Shoes and Jewelry (15%), Home & Kitchen (13%), and Health & Household (11%). |
| Most of the (minimal) data on Etsy buyers suggests that the majority of them are female and within the millennial age bracket (approx 18-35 years old). | Studies suggest that Amazon is popular across the generational board, with almost half the millennials surveyed saying they shop on Amazon weekly. |
| As of the end of 2020, 20.2% of Etsy buyers were active, loyal buyers for four years or longer. | 60% of Amazon's retail revenue is generated from 1.9 million small and medium businesses. This might indicate some preference for the smaller sellers. |
| Etsy finds that its buyers tend to be value-driven, eager to express their beliefs in the brands they support and the things they buy. | The key reasons shoppers choose Amazon, according to reports, include low prices, quick delivery and plenty of reviews to look at. |
The bottom line
Amazon has made a name for itself for deals and convenience. This is what buyers associate the platform with, and why they flood it every day.
Etsy sees a more concentrated group of buyers that look for products and brands who reflect their own values.
Relationships tend to reach beyond the Etsy marketplace, as demonstrated by this seller's experience below:
"I've found that Amazon customers almost never contact me, and our conversations are extremely short and to the point.

This means we're not really bonding the way I do with Etsy customers (who often love chatting about their purchases before and afterwards), but this gives me even more reasons to make their purchase extra special with fancy wrapping and personalized notes when they open their package."
Sellers
What about the seller experience for both platforms? Are the rules for one more restrictive than the other?
| Etsy | Amazon Handmade |
| --- | --- |
| Anyone can sell on Etsy. | You can apply to sell via Handmade only after you have a seller central account on Amazon. |
| Products on Etsy must meet the following criteria: They must be handmade, vintage (older than 20 years), or craft supplies. | Products on Amazon Handmade must be handcrafted, upcycled, or repurposed. They cannot be digital downloads. |
| Designers may sell their designs, or outsource the making of products, as long as they declare their production partners. | Products must be designed and made by the maker, or a close team of collaborators. |
| Sellers may employ others to produce items, as long as this is disclosed. | Sellers may employ up to 20 people to assist in making items. |
| Sellers can use any tools and workspaces (including commercial ones) to make products. | Makers must use hand-held or light machinery tools, in home studios or small workspaces. Mass or commercial production processes are prohibited. |
The bottom line
Sellers are required to demonstrate full transparency as to the production of their items, regardless of platform.
Etsy is more flexible in general, with greater room for movement with types of products sold.
A key difference is that designers can't sell their designs or templates on Handmade.
Here's one artisan seller's perspective on the difference:
"In 2013 Etsy changed its policy allowing sellers to hire people to run their businesses and to partner with manufacturers to produce their goods … my business slowed … [cheaper] designs that were once unique to my shop flooded the platform.

… to sell on Amazon Handmade you need to qualify by submitting an artisan application. [This process, in my opinion] encourages a more authentic artisanal space by auditing each shop prior to accepting them to ensure the items are genuinely handmade."
- MimicDesigns, artisan seller.
Fees
Before we go much further, you're probably wondering how much each platform will cost you. Let's explore that next.
| Etsy | Amazon Handmade |
| --- | --- |
| Etsy is free to set up and there's no subscription fee (unless you upgrade to Etsy Plus). | You must register as an Amazon professional seller first, for $39.99/month. |
| Listings cost $0.20, and stay active for four months before you need to relist and pay again. You can upgrade to Etsy Plus for US$10/month and access more tools, resources and greater customization. | There are no listing fees, and listings don't expire. |
| You'll pay a 5% transaction fee on the full value of each sale. | You'll pay a 15% referral fee on each total transaction amount. |
The bottom line
These fees are just a topline overview. Most ecommerce selling fees are circumstantial - in other words, you may acquire fees for different reasons.
For example, you may have payment processing fees on top of those mentioned above, depending on the methods you choose to offer your buyers.
For this reason, we have more detailed guides for each platform below. If fees are a particular concern for you upfront, check those out.
Find our dedicated Etsy fees guide here for more information.
Find our dedicated Amazon Handmade fees guide here for more information.
Fulfilment
Ecommerce sellers need to get their fulfilment strategy right from the start.
Amazon Prime offers unparalleled shipping speeds, so staying competitive means, at the very least, excellent communication and convenient services.
Both Etsy and Amazon Handmade sellers are able to manage fulfillment themselves.
They are also both able to use the services of Fulfilment by Amazon (FBA).
The main benefit of being an Amazon seller using FBA is that your fees would be slightly lower.
Non-Amazon sellers still need an Amazon account, and would use the service through MCF (Multi-Channel Fulfilment). But this does mean that selling on Etsy doesn't rule out the fast shipping options that come with Amazon FBA.
The Setup Process
So how does the setup work for each? Is one longer or more difficult than the other?
The bottom line
It's quick and simple to get set up on Etsy.
Handmade takes longer to get set up because you have to apply to sell on Handmade and be vetted as an artisan first.
In fact, you will need to disclose a number of details about your business that might require you to do some planning first. Check out our Amazon business plan template for ideas on what to include.
Dashboards, Reports and Analytics
When it comes to the daily running of your store, you need the platform to keep you updated on your store activity. Let's check out what this looks like on Etsy vs. Amazon Handmade.
Etsy
The Etsy dashboard, depending on your store type and channels, can look like this:
Etsy's shop dashboard includes the following information:
Shop advisor for alerts, notifications and overdue tasks.
Recent activity of orders, reviews and favorites.
Open and unpaid orders.
Listings.
Stats overview for orders, revenue, views and listings.
Amazon
You'll be using Amazon's seller central dashboard as a Handmade seller.
It will look something like this:
Amazon's dashboard includes the following information:
The statuses of your orders.
Seller-fulfilled item tracking.
Fulfilled by Amazon item tracking (if you use it).
Seller forums for discussions and community posts.
Inventory planning features.
Notifications about your business activity.
Payments summaries.
Sales summaries.
You can learn more about seller central here.
The bottom line
Both platforms give you plenty of tools and resources to help you manage your business.
You'll also find advertising functions for both if you want to boost and promote your listings.
Learn more about Etsy advertising here, and Amazon advertising here.
Listings and Categories
Picking the right category for your product is important.
It dictates which customers see your listings, so if you're not showing up to the most relevant buyers, you're not giving your business the best chance at a sale.
Let's check out what options you have on Etsy and Amazon.
Etsy
Etsy has 160 product categories listed under 15 main categories:
Accessories
Art & Collectibles
Bags & Purses
Bath & Beauty
Books, Films & Music
Clothing
Craft Supplies & Tools
Electronics & Accessories
Home & Living
Jewelry
Paper & Party Supplies
Pet Supplies
Shoes
Toys & Games
Weddings
Amazon
Amazon Handmade has 14 product categories:
Accessories
Artwork
Baby
Beauty & Personal Care
Clothing
Shoes & Handbags
Home
Outdoor & Home Care
Jewelry & Watches
Kitchen & Dining
Pet Supplies
Sporting Goods
Stationery & Party Supplies
Toys & Games
The bottom line
You might find it easier to reach targeted traffic on Etsy. This really depends, however, on your items and which category they belong to.
It may be more productive to look at your potential competitors in the relevant category on both sites, and make some decisions about where you're best placed that way.
Payment Processing
The checkout process can cement a sale, or it can prompt a customer to abandon their items. Ensuring that your payment options are attractive, and the experience is smooth, is crucial.
| Etsy | Amazon Handmade |
| --- | --- |
| Etsy has an integrated payment gateway: Etsy Payments. | Amazon also has an integrated payment gateway that can be used outside of Amazon too: Amazon Pay. |
| You will be charged payment processing fees for most payment options. | You will be charged payment processing fees for most options here too. |
| Customers can also pay via: PayPal, Google Pay, Apple Pay, Mastercard, American Express, Visa, Discover, iDeal, SoFort, Klarna or Etsy Gift Card, through Etsy Payments. | Amazon customers have a few options for credit and debit card providers, as well as via Amazon store card and any Prime membership perks. |
| Etsy makes funds available to sellers as soon as a transaction has been finalized. | Amazon only releases payments once products are marked as 'shipped' by the seller. This could take two weeks or longer. |
| You set a schedule for having net funds deposited to your bank account (e.g. weekly). | Amazon makes professional seller payouts (including Handmade sellers) every two weeks. |
The bottom line
Amazon Handmade and Etsy both offer payment flexibility to buyers, although Amazon Prime members who use an Amazon Store Card can actually earn benefits through the program.
Etsy pays out faster, and to the sellers' own schedule.
Advertising
Regardless of your selling platform, if you want to grow, you'll want to know your advertising options.
| Etsy | Amazon Handmade |
| --- | --- |
| You can pay to promote your entire Etsy store or individual listings via Etsy's integrated advertising options. | You can pay to sponsor your Amazon products to boost them in the search results ahead of your competitors. |
| For off-site visibility, Etsy automatically promotes your items for you. If a sale goes through, you'll pay them a fee. Only smaller sellers can opt-out of this. | To help you boost your Amazon promotions both on and offsite, make sure your Amazon SEO is up to scratch. This will make it easier for search engines to find you. |
| Check out the Etsy apps available that can help you manage and improve your advertising strategy on the platform. | The Amazon appstore also has options for helping you improve and manage your store promotions. |
The bottom line
You have options on both sites which are relatively similar. Etsy's relatively recent updates to its off-site advertising program have proved unpopular with some sellers, but this won't affect you until you see your revenue pass $10,000 in a year.
So if you're planning speedy growth, look into what this might mean for your business and whether you're on board.
Support for Sellers
Lastly, let's look at the kinds of support that you can expect from the platforms when you join.
| Etsy | Amazon Handmade |
| --- | --- |
| Etsy's Seller Handbook provides a mine of helpful information for sellers. | Amazon provides plenty of guidance to sellers through its Seller University. |
| The Etsy Help Center contains troubleshooting articles. If you can't find an answer to your question, you have to email Etsy via an online form in the Help Center. | You can access 24-hour live online support through chatbots. |
| Etsy Forums allows sellers to engage with and help one another. | Amazon Seller Forums allow sellers to engage with and help one another. Handmade has its own locked/private forums only visible to Handmade sellers. |
The bottom line
Etsy doesn't quite stack up to Amazon here: You can get help instantly on Amazon.
Emailing Etsy may take time to get an answer, but both provide extensive articles and guidance on their sites to answer the most common questions. And both offer seller forums where you can get help from other sellers.
You can also find plenty of resources for both Etsy and Amazon via the A2X blog, and the Ecommerce Accounting Hub.
Still Unsure Which Is Best?
Here are a few thought-starters to help you make your decision.
Do you see outsourcing in your business' future? Amazon Handmade doesn't currently allow you to sell items not made by you.
Would you be looking to sell designs, templates or digital products in the future? Etsy will be less restrictive for you.
Are you eager to have more control over customization? Etsy has developed an additional service similar to Shopify, called Pattern, which gives you this flexibility and allows you to transfer your listings over with ease.
Are you eager to join the ecommerce giant and potentially attract Prime customers? Then Amazon would be the way to go.
We recommend putting together a business plan to help you clarify your goals and the best solution for you.
We have templates for Etsy and Amazon, but you can use either to help make your decision.
Get the Money Right, Whatever Happens
Whether you choose Etsy or Amazon Handmade, your settlement statements won't always give you the level of detail you need to reconcile your accounts accurately.
A2X integrates with your ecommerce platform (or platforms) and accounting software to do this for you.
Every bank deposit receives a corresponding journal summary, so that you know exactly how much you paid in fees, collected for shipping, took in sales tax, received in reimbursements, and spent on costs of goods sold - all automatically.
A2X also splits any settlements that span months and organizes your books via the accrual method of accounting, which gives you more reliable data that you can use to forecast your business' performance month to month.
It's accurate accounting without the fuss.
FAQs and Helpful Tips
Is Amazon Handmade better than Etsy?
Handmade is a category on parent site Amazon. Sellers benefit from the massive global audience of this ecommerce giant. Etsy has a dedicated, established audience looking for niche artisan and vintage products. Sellers have to be vetted to sell on Handmade, whereas Etsy is open to anyone.
Can you make money on Amazon Handmade?
Handmade is part of Amazon, a global ecommerce giant with massive buyer reach. Once vetted by the site, sellers selling unique artisan and handmade products have potential to make good earnings, with a relatively simple fee structure.
Is it worth it to sell on Amazon Handmade?
Handmade offers the benefit of product exposure on Amazon - the world's most dominant ecommerce site. It may well be worth it.
Should I sell on both Etsy and Handmade?
This may be a good strategy because you can build your brand on Etsy (especially if you sign up for Etsy Pattern to create your own site), and you can leverage a huge buyer reach on Amazon.
Also on the blog
Want to feel completely confident in your ecommerce bookkeeping?
Businesses that document their processes grow faster and make more profit. Download our free checklist to get all of the essential ecommerce bookkeeping processes you need every week, month, quarter, and year.
Download it here