eBay vs. Amazon: Where Should You Sell [Ultimate Guide]
Amazon and eBay were part of the first wave of true digital natives. Both are entrepreneurial platforms; competitive, diverse, financially-minded, and borderless.
Connecting buyers and sellers across the globe, Amazon and eBay are both household names. eBay is the classic auction site, and Amazon is the Google for shopping, right?
Did you know that these days, eBay sells more via Buy It Now listings than it does auctions? And that Amazon actually has less sellers, but makes more money? How does that work?
A true comparison of these platforms needs to go deeper to get to the conclusion that's right for you. Each business owner will reach a different conclusion, and that's why it's important for them to understand what their business is first (or will be), and where they see it going in the future.
If you haven't already, consider creating a business plan before going further. We have a template for Amazon here and a template for eBay here, but you can merge them if you're undecided on your platform at this stage.
In this eBay and Amazon comparison guide:
Table of Contents
Want to feel completely confident in your ecommerce bookkeeping?
Businesses that document their processes grow faster and make more profit. Download our free checklist to get all of the essential ecommerce bookkeeping processes you need every week, month, quarter, and year.
Download it here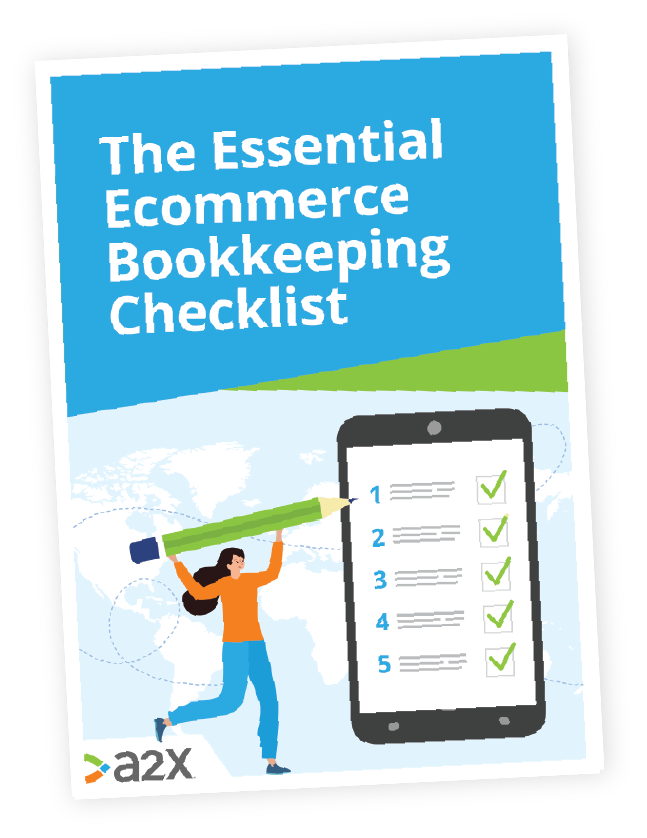 eBay and Amazon: The Original Ecommerce Platforms
On Labor Day weekend 1995, Pierre Omidyar listed a broken laser pointer on his new auction website, Auction Web, for sale.
Surprised by how quickly the price rose for the pointer and how many others began listing items, Omidyar knew he was onto something.
"During that first two year period, we were growing 20-50% every month… It was exhilarating and terrifying at the same time."
Auction Web became eBay, and by the second quarter of 1997 (only two years after launch), eBay sold its millionth item - a Big Bird Jack-in-the-Box toy:
Just a few months prior, on July 16, 1995, another company launched.
Almost called Cadabra, Amazon began by selling books - but founder Jeff Bezos was already planning for it to become an " everything store".
In the earliest days of Amazon, the servers running the platform out of the Bezos home needed so much power that the soon-to-be-tycoon and his wife couldn't use a hair dryer without blowing a fuse.
When eBay launched, Amazon attempted to build an auction site to compete with it. The idea flopped, but Bezos loved it and bought an Ice Age bear skeleton for $40,000 which is still on display in the Amazon HQ lobby today:
As information technology developed to a stage that could support commerce online, both Omidyar and Bezos saw huge potential and opportunity.
Today, Omidyar is worth $22.8 billion and Bezos a staggering $182 billion, second in the world to Elon Musk.
So which gigantic pie should new sellers take a piece of? Although Amazon and eBay started life as very different platforms, is that still the case today?
Let's see.
eBay vs. Amazon: A Comparison
The differences between eBay and Amazon nowadays may not be as contrasting as they once were.
Traditionally an auction site, eBay now sells most of its items via the Buy It Now option. Amazon offers quick shipping options that have made it famous for convenience. With both platforms giants of the ecommerce industry, what do new sellers need to consider when choosing between them?
We'll start with an overview of their place in the industry.
The platforms
Let's take a bird's eye view of the platforms today and some of the KPIs (Key Performance Indicators) that investors would look at when comparing businesses.
Amazon vs. eBay market share:
Looking at the stats alone, the platforms perform quite differently. Amazon has less sellers and listings but generates more unique monthly visitors and revenue. On the flip side, eBay's margin average and growth rate outpaces Amazon's.
In terms of the market share of visits, eBay is second to Amazon but not exactly close:
Source: Leading online marketplace websites worldwide in 2020, based on share of visits, Statista.
Amazon is the bigger corporation with an offering extending beyond buying and selling online. It has a subscription service with rewards; a streaming platform and studio; a cloud gaming platform; its own branded products spilling into technology with devices like the Kindle and Alexa; a home grocery delivery service; a cloud drive for storage; a publishing service; and even a charitable venture called AmazonSmile.
eBay has mostly stuck to what it knows best in ecommerce, and acquired companies which will enhance its offering firmly in this space.
It's clear to see that the trajectories for each company look very different. Amazon is on a mission to become the number one ecommerce retailer and marketplace in the world - and it's succeeding. It has many strings to its bow and shows no sign of slowing down.
And for those stock-savvy readers out there, with the exit of Jeff Bezos, increase in ecommerce demand and a new strategy for Amazon of "coopetition" (helping competitors rather than strangling them), investors think 2021 is full of opportunity for Amazon investments.
eBay's stocks have also seen a recent boom, but sceptics wonder how sustainable it is.
But what about the experience for sellers and buyers on each platform? Putting the top-line financials aside for now, let's look in more detail at the day-to-day aspects of selling on Amazon vs. eBay.
The seller experience
The sign-up and setup experience for Amazon and eBay are quite different. On eBay, a seller can create a new account and list an item in just a few minutes.
Amazon requires a little more establishment and because of the information it asks for, in theory, any one person should only be able to have one Amazon account in their lifetime.
You'll see in this checklist the types of information Amazon will want to know when you set up - things like your legal business name and tax ID. eBay is a little less formal, and better suited to an individual wanting to sell the odd item as a hobby rather than a business or a full-fledged ecommerce entrepreneur.
Seller Hub vs. Seller Central
The backends of Amazon and eBay are called Seller Central and Seller Hub, respectively.
A snapshot of Amazon's Seller Central:
A snapshot of eBay's Seller Hub:
Both platforms show you the key data you need as a seller. Both platforms allow you to create similar-looking listings and drop them in bulk to save time.
Amazon categories can be found here.
eBay categories can be found here.
The number of selling categories is similar (once grouped), with Amazon offering its own branded products on top and a grocery delivery option to boot.
It is important for new sellers to consider that choosing to sell on Amazon will mean you also compete with its own branded range. If you sell similar products to these, you might need to spend more time (and money) on an effective ad strategy to gain traction and visibility.
The buyer experience
Buyers arguably see two different things when they look at Amazon and eBay.
On eBay, they might see an op-shop community of like-minded individuals selling niche items and experimenting. On Amazon, they see a major retailer with a robust infrastructure and centralized operation that individual sellers are governed by, rather than linked to.
Both are easy to shop on for buyers and offer a multitude of payment options, but they will likely go to each for different types of purchases. This is where the type of business you want to start becomes fundamental in your choice of platform.
eBay for buyers
eBay is traditionally an auction site, attracting sellers that want to clear out their pre-loved items or sell more unusual collectibles and vintage belongings. As such, these types of buyers also flock to eBay and expect to bid on items they are interested in.
These days, consumers want things more quickly and the Buy It Now activity on eBay has overtaken that of auctions. The platform itself however, hasn't changed drastically and still offers both format options.
When a buyer searches for items on eBay, they see every individual listing - whether there are duplicate items sold by numerous buyers or not. On Amazon, this isn't the case.
Amazon for buyers
Amazon is the go-to for competitively-priced items, fast, and consumers know it.
Many users treat Amazon as a kind of Google for shopping - if they want to know the going price for something in their decision-making process, they'll likely check Amazon. Some may even stand in front of an item in a store and check whether they can get it cheaper on Amazon and delivered the next day.
This kind of customer loyalty is invaluable, and Amazon has earned it by setting high expectations of its sellers and delivering the most convenient service to its buyers.
If there are duplicate items on its platform, Amazon will group them in one listing and award the top seller with the " buy box" position. This lucrative reward is the quickest route for a buyer to purchase an item, keeping their experience convenient and seamless - even if it does make things a little more competitive for sellers.
The fees
Ah, eBay vs Amazon fees. This is where the benefits of selling on eBay may begin to shine through more brightly than Amazon…
With Amazon's wide scope of services and offerings comes a fee structure to match. Notoriously complex and tricky to interpret, Amazon FBA sellers in particular have a tough time reconciling what they've paid.
In fact, we have created a number of blogs on this to help:
eBay fees are a little more simple.
But let's start at the beginning: Selling plans on eBay vs. Amazon.
eBay plan options:
Prices quoted for yearly plans, see eBay's official page for pay monthly options.
No plan: individual sellers don't need to start a store and pay a subscription. They just pay listing and insertion fees for each item they want to sell.
Starter: $4.95/mo for entry level sellers selling up to 100 items/month.
Basic: $21.95/mo for approx 250 items/month or high value items.
Premium: $59.95/mo for more business tools and 1000 items/month.
Anchor: $299.95/mo for high volume sales of 10,000 items/month.
Enterprise: $2,999.95/mo for highest volume sales of 100,000 items/month+.
Find eBay's store subscriptions page and further information here.
Amazon plan options:
Individual: $0.99c/item + additional fees for new starters selling <40 items/month.
Professional: $39.99/mo for a business selling >40 items/month and requiring tools like advertising and reporting.
Find Amazon's subscription page here and more information.
As you can see, eBay offers sellers far more choice with plans that largely consolidate fees and make life easy for sellers. Buying your ticket with eBay gets you most of your activities included.
Amazon's subscriptions are more like ticket prices at the gate, with each activity costing extra. It's not cheap to have that logo associated with your business, but it does come with significant perks which we'll explore as we continue below.
The fulfilment options
Fulfilment is one example of where Amazon dominates. Not only does it offer a solution which eBay does not (in the same way), but Fulfilment by Amazon (FBA) is an incredibly effective resource for sellers that is only growing and expanding.
eBay fulfilment
There has been talk of integrated eBay fulfilment solutions for years now. eBay Managed Delivery was talked about in 2020, and a couple of years before that there was eBay Valet which was a kind of reverse dropship model. Neither of these appear to be on the horizon again anytime soon.
It appears that some eBay marketplaces might offer solutions unique to that country. Australia for example, has access to an eBay Partner Fulfilment Program which it provides through Australia Post. This offering is a localized partnership so isn't currently something that is widely available to other eBay sellers.
Something eBay does have going for its sellers though is the Global Shipping Program which takes the hassle out of sending products overseas. Sellers send their items to eBay's warehouse where it is processed for them, any paperwork is handled, and customs and import fees are paid.
Amazon fulfilment
Amazon FBA takes a lot of work off its sellers when sending both domestically and internationally.
Amazon FBA gives sellers the ability to offer buyers those irresistibly quick shipping options. How does this work? FBA spreads your items out over its US warehouses based on predictions for where it thinks they'll sell. Ideally, a buyer close to that warehouse will purchase your item and delivery is quick and easy.
See more about Amazon FBA here:
Amazon FBA is the biggest selling point for the platform aside from its brand recognition. The brand has become synonymous with quick shipping - after all, that's what customers want today: Instant gratification.
Here's a neat tip: If you sell on both platforms, you can use FBA for all your fulfilment needs. You need an Amazon account to do it, so if you're keen to expand across Amazon and eBay in the future, this might help your decision about which to go for first. See more about using FBA as an eBay seller here.
The advertising opportunities
Amazon and eBay both offer sellers the opportunity to boost listings from within the platform. On Amazon, these are called Sponsored Products and on eBay, Promoted Listings.
Things to note for eBay advertising:
You either need a store or a Top Rated or Above Average status: You'll need to do some groundwork before you can start running promoted listings.
They don't have designated top spots: Promoted listings can show up in different spots of the search results, not necessarily at the top. You need to optimize your listings and seller account to help the algorithm work in your favor. See more on eBay SEO here.
There is no buy box on eBay: If multiple sellers list duplicate items, all these listings will show up to buyers. The buy box can be a blessing (it generates more sales) and a curse (it's difficult to win), so not having one may affect the visibility of your items either way.
Things to note for Amazon advertising:
Reviews matter: If you don't have a lot of feedback, it will be harder to get your ads placed higher. This makes things tricky for newbies.
Get familiar with keywords and ad strategy: If you're going to spend money on Amazon ads, brush up on what the algorithms look for and how to get the most bang for your buck. This guide can help.
Monitor your results and use the reporting tools: Be proactive rather than passive with your ads. Look at what the data is telling you and adjust your approach accordingly.
Go for the buy box: With around 82% of Amazon sales going through the buy box, landing this coveted spot is the best free advertising you can get.
Do a little digging, see what similar products to yours are ranking highly on Amazon and eBay. What do buy box winners have in common? What about the top spot sponsored products? Can you learn anything that will help in your own strategy?
(Yes, of course you can).
The integrated payment gateways
As ecommerce grew, so did the need for secure payment gateway solutions to protect sellers and buyers.
eBay owns PayPal and has relied on the gateway for some years now, but that's changing as we speak.
eBay Managed Payments is the new kid on the block, an integrated solution that eliminates some of the fees for sellers and keeps all their transaction information in one place. Still relatively new, it will become the system all sellers need to use over the next year.
Amazon Pay does the same for Amazon sellers. It helps buyers feel safe and secure, especially when purchasing from a seller overseas, and it keeps your financials centralized too. Sellers on other platforms can even integrate an Amazon Pay button to help give easy access to Amazon's millions of global sellers.
When it comes to payment gateways options, neither platform particularly outshines the other, but the flexibility that Amazon Pay brings is greater than eBay Managed Payments as it can be used off the platform too.
The customer service support
For Amazon sellers using FBA, customer service is provided by the platform.
eBay doesn't have a version of this, so if you sell on eBay or you're a non-FBA Amazon seller, customer service is down to you.
The global reach
Keen to expand and sell overseas? Let's check out the global footprints of eBay and Amazon.
eBay international marketplaces:
Amazon international marketplaces:
When it comes to worldwide marketplace reach, eBay has the edge. And with its Global Shipping Program, eBay opens up these marketplaces for US sellers to trade with ease.
The accounting side
Staying on top of your books is crucial to running a successful, profitable ecommerce business no matter your platform.
Typically charging more types of fees than eBay, Amazon seller statements are famously challenging to interpret and reconcile. But neither platform gives you all the detail you need as an ecommerce seller, much of this must be calculated manually.
A problem shared…
Both platforms will post your bank deposits to your accounts and if you're using it, accounting software. Each deposit is made up of numerous income and expenses like margin, sales tax, fees, and reimbursements.
You won't know the value of each of these without figuring it out yourself and if your transactions are in the hundreds or thousands, that could take you some time.
This is the problem that A2X solves for sellers.
A2X for eBay and A2X for Amazon crunches these details for you, organizing your accounts via the accrual method into journal summaries which give you each value associated with a bank deposit.
Accounting software for eBay and Amazon
Regardless of which platform you pick, the problem will be the same. Make sure you have excellent accounting software as a start, and then integrate A2X for the most accurate, seamless experience.
Find out more about software for eBay and Amazon in our guides:
Hint: The best software options are compatible with eBay and Amazon, so whichever you pick should work for you. Most will also scale if you choose to expand onto the other platform later on.
The combined experience: Sell on eBay and Amazon
Why pick one? It is possible to be selling on eBay and Amazon.
This is where automation will become your best friend, because the time you'll have to manage your stores will need to be split between the two.
See our guides on automation for each platform:
As with accounting software above, many of the apps discussed in these pieces are the same, built for ecommerce platforms in general. Look for ones that are designed for multi-channel sellers to centralize as many of your tasks as possible and save you time.
A word of warning: Don't just sell Amazon products on eBay (or vice-versa), this is called retail arbitrage. Platforms are on the lookout for sellers that buy from one platform and sell for a profit on the other - they don't like it and neither will your customers. There are ways it can be done to make profit, but it is arguably unsustainable and risky. Find out why and how here.
The Amazon and eBay Alternatives
Is it better to sell on eBay or Amazon? Or is the top platform somewhere else?
Let's check out the Amazon/eBay competition.
Here's a snapshot of some of the other platforms you have to choose from and their top pros/cons:
| Platform | Most Like | Key Points |
| --- | --- | --- |
| Shopify | WooCommerce | Your own store and site; Greatest control over brand identity and customer journey design; No one can kick you off; It's all you - no established brand name to help you. |
| Walmart Marketplace | Amazon | Selective criteria for new sellers, not just anyone can join; Leverage a huge brand name and physical presence across the US with their fulfilment network; Stringent rules and regulations for sellers in place (like Amazon). |
| Etsy | Amazon Handmade | Geared towards home-made arts and crafts items, you can only sell these on Etsy; Niche audience. |
eBay remains king of auction sites so if that's your bag, it should probably win.
If you're looking to develop a brand with a distinct identity and maximum website customization, Shopify might be your best bet (but it's all on you to bring the visitors).
For an alternative with an impressive reach and fulfilment network, Walmart Marketplace is probably your best bet, but beware of their criteria - not just anyone can sell.
Making things yourself? Try Etsy or Amazon Handmade.
Selling on Amazon or eBay: How to Decide
Both of these ecommerce giants offer sellers similar things: Established marketplace platforms by household brand names.
They have protections in place for both sellers and buyers, customer support for both, and apps and integrations designed to help their users go pro.
So, how do you decide between eBay or Amazon to sell?
Questions to ask when choosing Amazon vs. eBay
What do I want to sell?
Do your product research and check out the best selling items on Amazon and eBay if you need help. See where your products (or similar) perform better, and where there might be gaps. Hint: eBay is quick to set up and great for experimenting, so you could start there and test the water.
How will I sell it?
What is your fulfilment plan? Will one of the platforms suit you better for this?
What will my sales volumes look like for the next year/2 years/3 years?
Set some goals for realistic sales volumes: How might your fees be affected? This could dictate your profit margins.
Where is my target customer more likely to shop?
Think about your customers and their behaviors. Where are they shopping? If they're shopping via devices like Alexa or social media, think about which platform will integrate better with those paths.
Will I have the control over my business that I want with each platform?
Do you want to build a brand or leverage the logo of either platform? How much control do you want over each stage of the customer journey?
These are just the beginning. Your ecommerce platform should be just that: A platform on which to build the foundations of your new business.
Its features should strengthen the framework, its add-ons should enhance and elevate, and its reputation should attract your target demographic.
If those things align, you'll have everything you need.
Good luck!
Don't forget, you can start a free trial of A2X for eBay or A2X for Amazon today to get your ecommerce accounting in check. Plus, it scales with you - so if you expand onto the other platform, so will our software.
Also on the blog
Want to feel completely confident in your ecommerce bookkeeping?
Businesses that document their processes grow faster and make more profit. Download our free checklist to get all of the essential ecommerce bookkeeping processes you need every week, month, quarter, and year.
Download it here