Shopify vs eBay: Where Should You Sell? [Ultimate Guide]
Thinking of selling online, but unsure of which platform to pick?
While Shopify and eBay are both popular ecommerce platforms, this is where the similarity ends. They are, in fact, very different, and they offer different experiences to both buyers and sellers.
So, what do these experiences look like and how should you go about picking one? In this article, we'll find out.
In this Shopify vs. eBay guide:
Table of Contents
Want to feel completely confident in your ecommerce bookkeeping?
Businesses that document their processes grow faster and make more profit. Download our free checklist to get all of the essential ecommerce bookkeeping processes you need every week, month, quarter, and year.
Download it here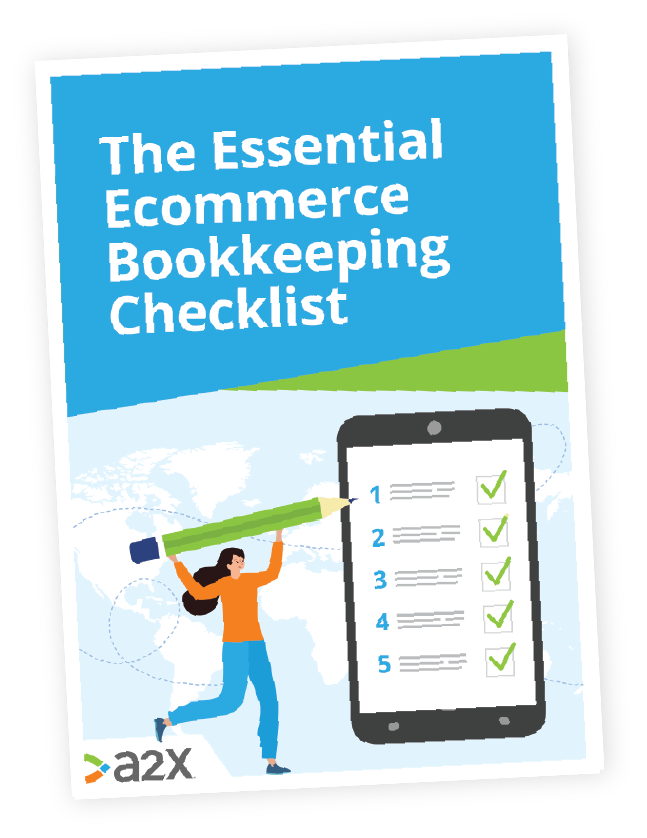 Grab a notepad and let's dive in!
eBay vs Shopify: What You Need to Know First
Before we dig into how these platforms work, let's consider eBay and Shopify in their simplest terms.
Whilst both platforms are designed to make it easy for people to participate in ecommerce and sell physical products online, that's about where their similarities end.
Compared to an in-person shopping experience, eBay would be like visiting a market with many different vendors selling all sorts of treasures, while Shopify would be a branded, standalone shop.
eBay provides vendors with the space to sell, a stall to sell from, and lets everyone know that the market is happening. eBay is the digital equivalent of a retail event facilitator.
Shopify is more like a landlord, and the store's owner is responsible for how it looks, what's inside it, getting people to visit, and managing their experience.
Which of these formats would suit you in the real world? Knowing this, you may already be forming a decision about which platform would be better for what you're trying to do.
Ready to go on Shopify? Check out our Ultimate Guide to Selling on Shopify in 2022.
Ready to go on eBay? Check out our eBay Beginner's Guide.
If you're still on the fence, this guide will help you compare Shopify and eBay.
An Introduction to Shopify
Shopify is an all-in-one ecommerce platform that allows anyone to set up and operate a store online. It was designed for entrepreneurs who wanted a level of control over their brand that isn't offered by platforms like eBay and Amazon.
The setup process
The beginning of your Shopify journey can begin with a 14-day free trial.
From there, you will be prompted to choose a theme that will be your store's design. Shopify has over 1,200 professionally designed themes to choose from, ranging in price from $0 to $180USD.
If you have coding experience, you'll be able to customize your store in any way you want. This is where Shopify really stands out (if you have absolutely no idea what we mean by that, that's okay too).
Shopify's themes have easy to use settings, and are optimized for desktop and mobile. They contain everything you'll need to get your store online - with or without coding experience.
Customization
From here, you can customize the look, feel, and sound of your store so that it reflects your unique business. You can also upload your inventory and control the way that your business interacts with customers.
You have a few options in order to get this done:
Do it yourself
Hire an expert (through Shopify)
Hire an expert (not through Shopify)
If you get stuck, Shopify has 24/7 support, so you're never truly on your own.
Pros and Cons of Shopify
With over 200 million users on Shopify, the platform must be doing something right. So let's take a look at the best things about Shopify, followed by some of the not-so-great things.
Pros of Shopify
You're able to act with your own entrepreneurial desires, values and interests in mind. Your website, business and brand are all your own, just the way they would be if you cobbled together your own physical storefront and filled it with things to sell.
Whilst Shopify themes are designed to work by simply adding your content to the existing designs, you can also customize your store in virtually any way you want from the back end.
As long as you can get traffic to your site, the potential for growth is endless.
You have full control over the customer experience.
You can create your own processes for returns, guarantees, shipping times, and so on.
You own your Shopify store, so you can't get kicked off it.
Shopify has 24/7 help and support available for all subscription levels.
Cons of Shopify
These add up. You'll have to purchase a domain, spend some time and/or money on branding, and start paying Shopify as soon as the 14 day trial period ends.
Marketing effort and costs
You'll need to do your own marketing and advertising in order to get traffic to your store.
While Shopify is equipped for you to set up your store yourself, it isn't a quick process. There are a lot of steps between creating your account and getting your store live, and if you're just starting out, it could take awhile.
You'll be on your own for market research and figuring out the viability of your item/s.
Shopify doesn't have a free option that extends past the 14-day trial. If your store isn't ready to go live after 14 days, you'll need to pick a subscription in order to keep building it.
An Introduction to eBay
Amazon and eBay are the oldest online selling platforms. As a marketplace facilitator, eBay provides the space for buyers to search items and see multiple listing options from a variety of different sellers, all in one space.
You can have your own 'store' on eBay, but it is very much a part of the wider platform, unlike Shopify.
The setup process
To sell on eBay, you can either list an item as a one-off, or open a fully-fledged eBay store. This gives you the freedom to test the waters first before diving in head-first.
Either way, you'll start by creating an eBay account. You can start with a personal rather than business account and change this later if you wish.
You may assume that PayPal is the logical payment solution to integrate with eBay right off the bat, and you were right a year or two ago. eBay Managed Payments is the platform's new integrated solution, and new sellers will eventually be moved onto this so you might as well start off with it.
Once you've done that, you're ready to start listing. From this point, selling on eBay is about optimizing your listings and building your reputation.
Not sure what to sell? Check out our list of the best things to sell on eBay in 2022.
Optimization
eBay's search engine works in a similar way to Google: it shows users the best results for their query. In order to show up on eBay, you'll need to play the optimization game.
The main thing to remember is to make your listings friendly for humans. Include a clear title, a benefit-based description, and a list of features (if applicable).
If you want the nitty gritty on optimizing your eBay listings, check out our eBay SEO Guide.
Build your reputation on eBay
eBay gives you access to millions of online buyers - but first, you'll need to earn their trust.
When you're just starting out on eBay, the first thing you'll need to do is generate some feedback from other users.
To get feedback quickly, you can:
Buy items from highly rated sellers.
Sell high demand items at a good price.
While your beginner account still has limits, you can list ten items. The best way to get feedback fast is to make sure those ten items are in high demand, and competitively priced. Buyers may be willing to overlook your lack of feedback if they know they'll get a good deal.
Pros and Cons of eBay
Born an auction platform, eBay has evolved to meet the changing nature of the ecommerce industry and stay competitive. Let's have a look at the advantages and disadvantages of joining the eBay brand.
Pros of eBay
You won't have to get the word out on your own. eBay will show your listings to relevant buyers who already trust the marketplace. This means that you don't have to promote your items, or drive traffic through a website, because eBay does that work for you
It's incredibly easy to get started on eBay. You can conduct your research on the eBay platform, then just optimize and list your items.
The eBay platform is an extremely low cost entrance into ecommerce.
You can get access to analytics on certain items, research sell-through rates, and see other seller's behaviour all inside the platform. When you start selling, eBay provides you with detailed analytics on how your listings perform.
Only pay fees when your item sells
Whether you're advertising on eBay or just listing, any fees that you generate are only applied when the item actually sells.
Comparatively easy to build your reputation
If you begin strong, you can easily get enough feedback to earn the trust of buyers and the eBay platform.
Cons of eBay
Traffic is limited to eBay traffic
Even though eBay has 183 million buyers, that's the scope of their reach. You won't be visible to potential buyers who aren't on eBay.
When you first open your eBay account, you'll be limited by the number of items you can list and/or the full value of what you can list at one time. You need to prove that you can follow the rules before the limitations are lifted.
Less control of customer relationships
You have to manage the customer experience inside the limits of the platform.
You have to follow eBay's policies
You can't make your own rules on eBay. The platform runs like clockwork and is trusted for a reason: everyone's following the rules.
Risk of getting kicked off
Speaking of following the rules, if you don't stick to eBay's policies, they can kick you right off their platform.
Pricing Comparison
Check out our side-by-side comparison of running costs (all in USD). These were correct at the time of publishing, please check the Shopify pricing and eBay pricing pages for the latest costs.
Shopify
Shopify offers three subscription offers and charges these fees only:
Basic Shopify: $29 per month
Shopify: $79 per month
Advanced Shopify: $299 per month
Additional costs to consider: Third-party app fees. For a truly customized user experience, most Shopify sellers utilize a stack of third-party apps. Each of these comes with a price tag, so it's worth checking what kind of functionality you'll need in the early days in order to accurately project your running costs.
eBay
eBay isn't so straight forward. For those wanting to list items piecemeal rather than opening a store, you'll have the following fees to consider:
Insertion fees
Good 'Til Canceled listings fee
Final value fee and final value fees on shipping
Payment processing fees if you're a managed payments seller
If you are interested in opening a store for a more comprehensive approach, these are your subscription options:
Starter: $7.95/month, or $4.95/year
Basic: $27.95/month, or $21.95/year
Premium: $74.95/month, or $59.95/year
Anchor: $349.95/month, or $299.95/year
Enterprise: $2,999.95/year
Additional costs to consider: Advertising fees. If you want to advertise your items within the eBay platform, an additional fee is applied when the advertised item is sold.
So, Which is Better: eBay or Shopify?
Both platforms have industry-leading reputations for ecommerce, but as we've seen, they offer sellers quite a different experience.
The best one for you will solely depend on your business and the goals you have for its future. The below are suggestions for which may suit typical types of sellers, but the decision, ultimately, is yours.
Best for beginners: eBay
Whilst you can begin on Shopify, overall eBay is better for beginners. It's easy to get set up and start selling right away, and it's low risk: if it doesn't work out, there's little harm done.
eBay is a great platform to sharpen your teeth on, even if you plan to become a full-fledged ecommerce entrepreneur.
Many of the things you'll learn along the way will apply across the board to selling online: building trust, optimizing sales, and best practices with shipping and returns, to name a few.
Best for dropshipping: Either
Either platform could work well for dropshipping, but with low startup and running costs, as well as instant access to buyers, eBay would be the best place to start for most people. However, it really depends on where you envision your business going, and there are pros and cons for each.
Check out this video from Zik Analytics which compares dropshipping on the two platforms, for more information:
Best for brands: Shopify
Shopify offers a level of control over your branding and customer experience that a large marketplace facilitator simply cannot match.
For businesses that want full control over their brand and customer journey, Shopify is the way to go.
Why Pick One? Multi-Channel Selling
Why sell on a single platform when you can sell on many?
For established sellers, multi-channel selling is a good way to diversify your income stream and reach a wider audience. There's no reason why you can't sell on both eBay and Shopify, as well as other platforms like Etsy, Amazon and Walmart.
Multi-channel selling can give you insights into your product performance and audience behavior that you may miss when selling on a single platform.
For businesses who are just starting out, it's best to focus on gaining some traction on a single platform before diversifying and growing your business even larger by selling on multiple platforms.
You could for example, have an established business through Shopify, but want to do some product testing to see how a product will be received by your online customers. Using eBay to test your product, and then selling that same product on your Shopify store is perfect for this.
Check out this article for more information about multichannel selling.
Wherever You Sell, You Need Accurate Accounting
Regardless of where you sell, you'll need to keep a track of your fees and expenses.
A2X for eBay and A2X for Shopify intercept your financial data before it reaches your accounting software, splits settlements by month and organizes the information you need into neat journal summaries.
Say goodbye to manual calculations of your fees, sales tax or reimbursements for each order. A2X has you covered. Plus, it scales, so if you opt for multiple channels or just hit it big on one, you can rest easy that your accounts have you covered.
Start your free trial of either A2X for eBay or A2X for Shopify today!
Also on the blog
Want to feel completely confident in your ecommerce bookkeeping?
Businesses that document their processes grow faster and make more profit. Download our free checklist to get all of the essential ecommerce bookkeeping processes you need every week, month, quarter, and year.
Download it here