Meet A2X's New Product Homepage & Simplified Setup Experience
A2X is renowned for being the most robust and accurate ecommerce accounting solution, and that will always be at the core of everything we do. But that doesn't mean it shouldn't be easy to set up and use.
A common theme in both customer feedback and product UX reviews was that getting set up on A2X could be a little daunting. First impressions are so important, and we care about our customers having the best first experience with A2X.
Meet the redesigned A2X product homepage and setup experience
The new product homepage aims to make the A2X setup process a breeze. By simplifying the steps involved to get up and running, reducing the number of clicks, and providing clear instructions, we make it easy for customers to quickly start benefiting from A2X's automated and accurate ecommerce accounting. That, and it's also on brand with our recently re-freshed website, meaning it looks pretty sharp too. 
Here are some of the updated features available on the new product homepage and setup experience. 
Simplified onboarding steps to connect your sales channels and accounting software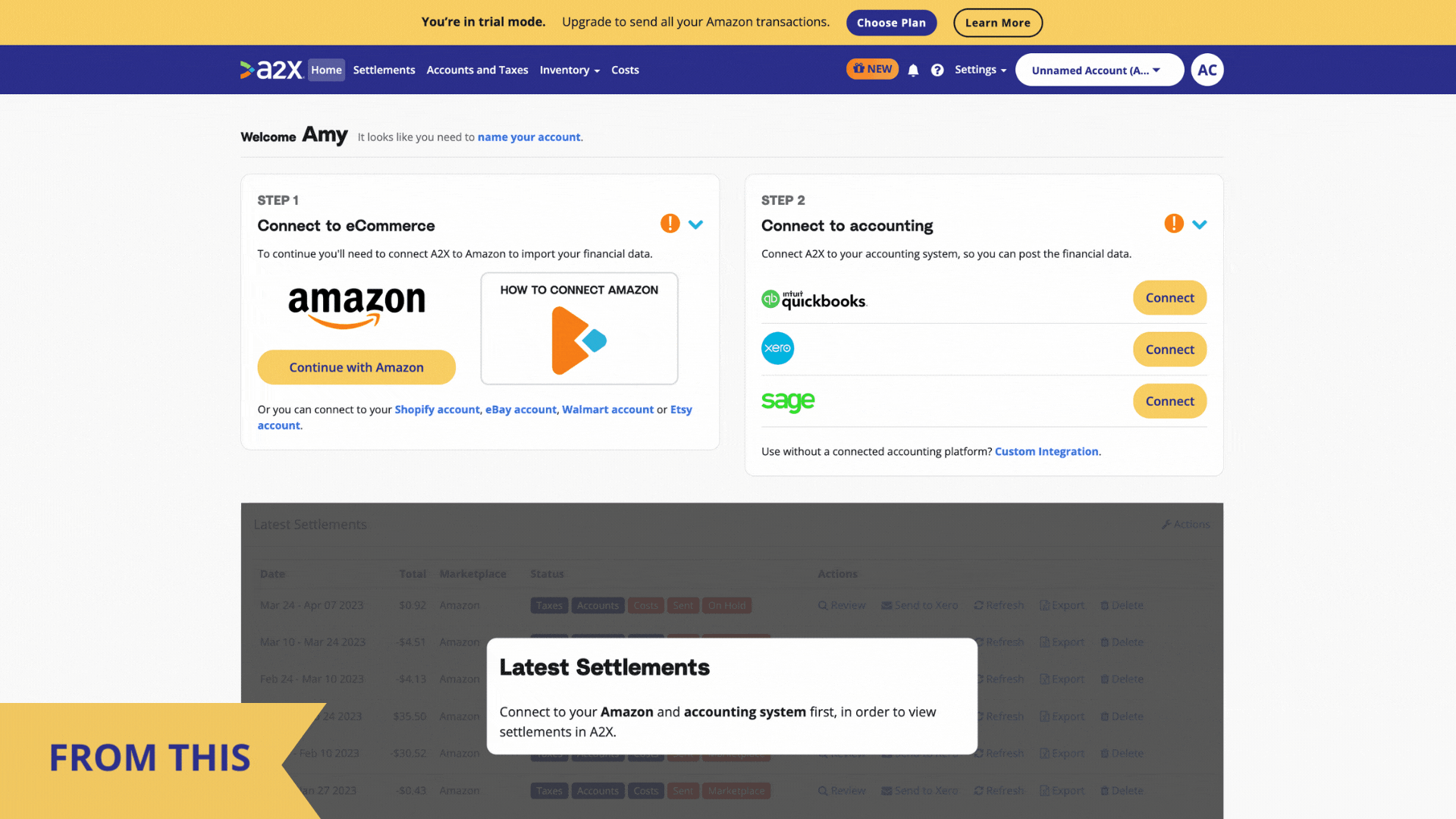 The addition of new pending status indicators that show how much time is left on pending connection requests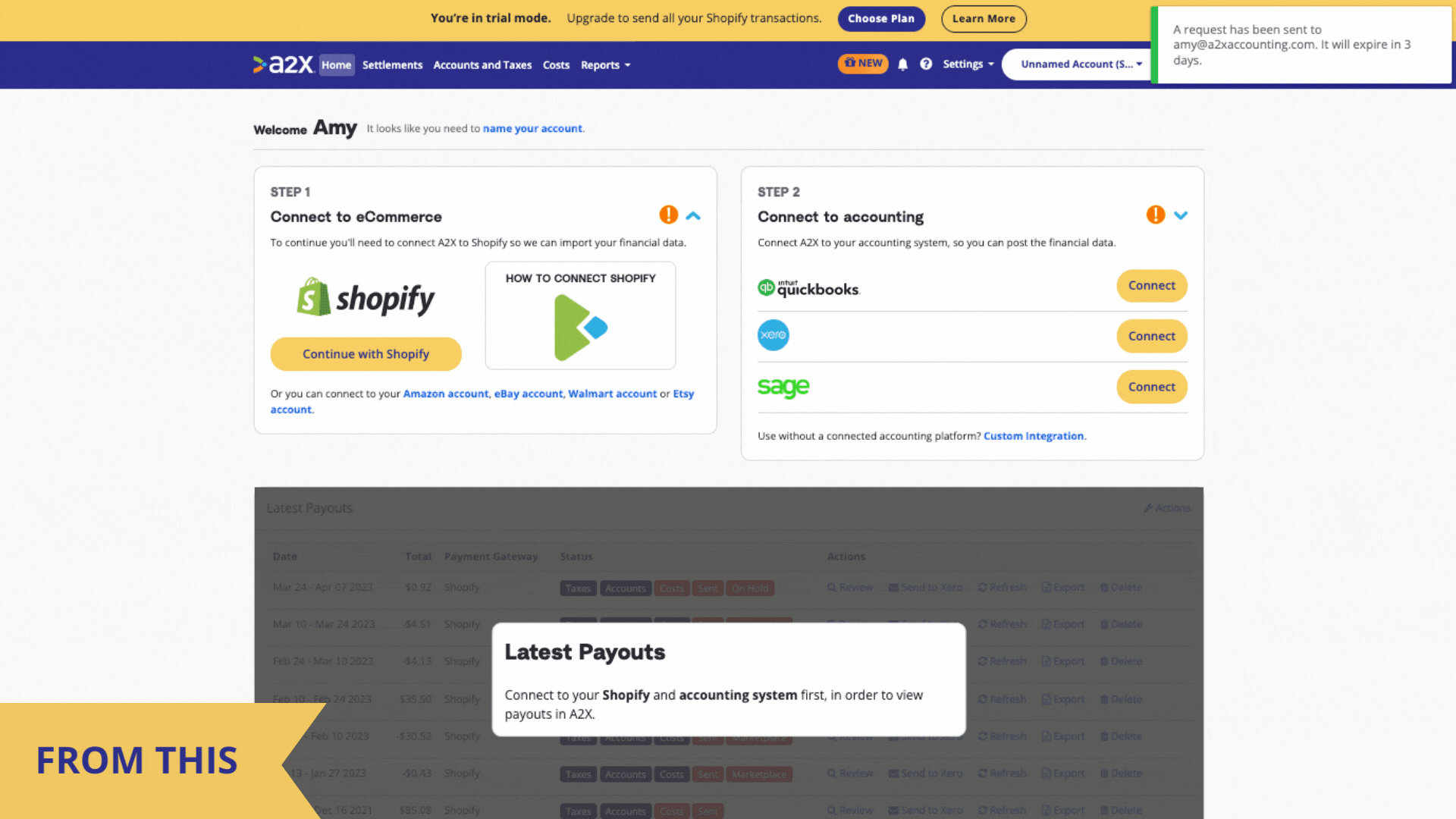 Collapsed components so that once you're setup, there is more space for your important data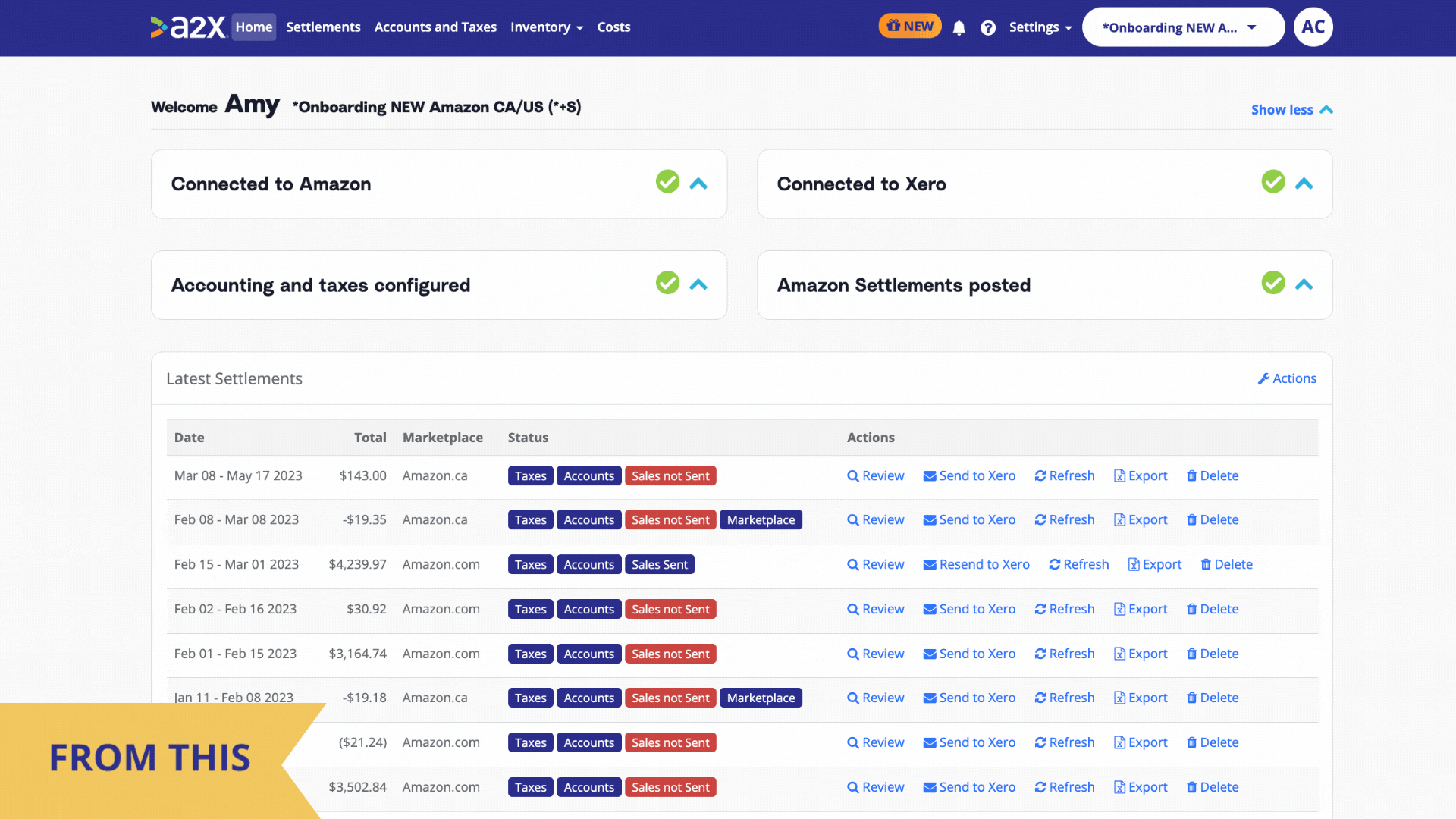 Increased clarity on what data is availability in trial mode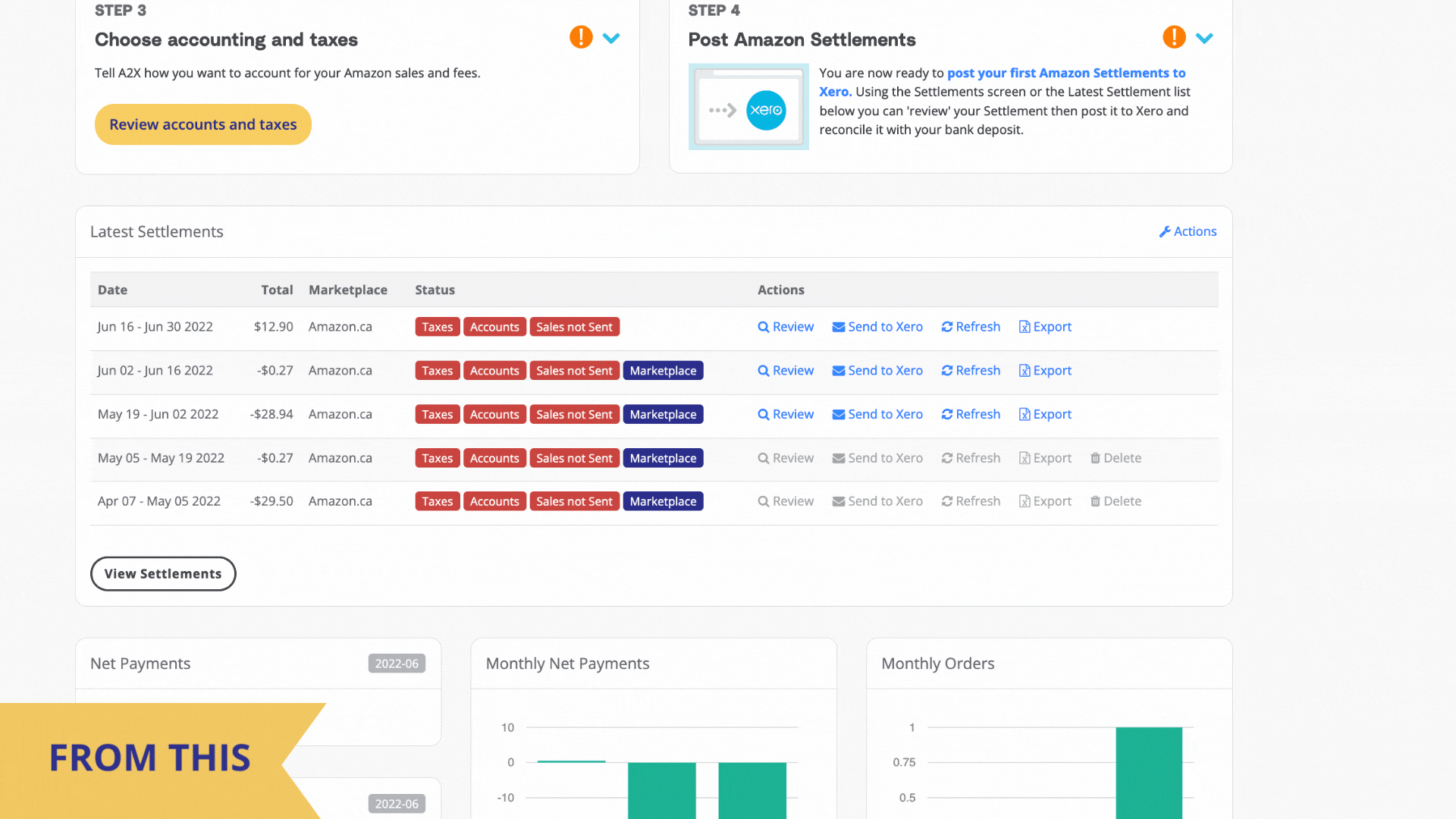 You now know when you've initiated a bulk action and can see its progress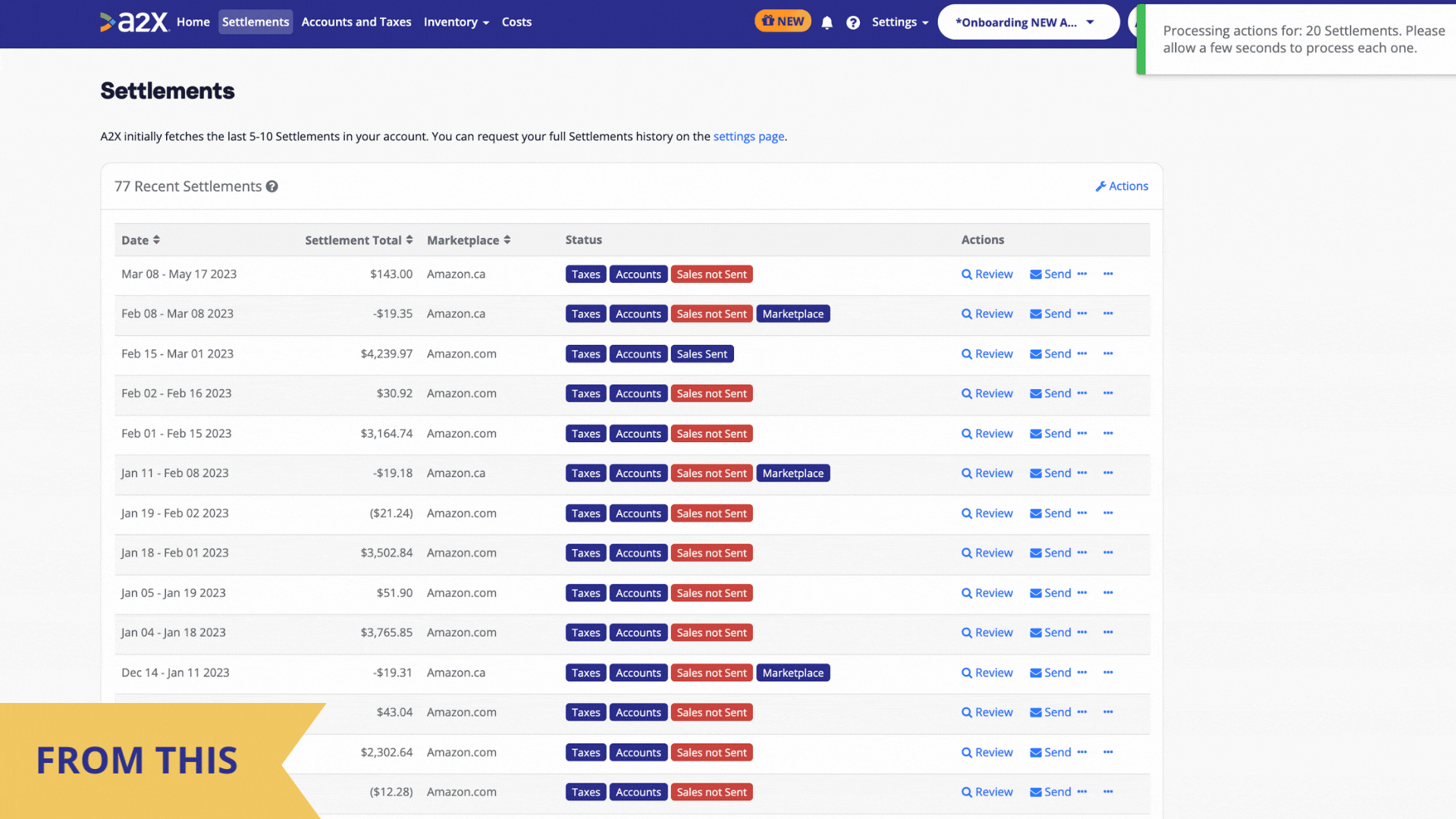 A2X's new product homepage and setup experience is available on every new account. If you have an existing A2X account, and you'd like to switch to the new product homepage and setup experience, please reach out to contact@a2xaccounting.com and our Customer Success team will be happy to switch you over. 
We know your time is valuable, and we want A2X to make your ecommerce accounting not only accurate, but also easy. That's why this is the first update of many to improve your A2X experience and processes without compromising on the accuracy you've come to expect from A2X.
Keep an eye on the What's New page for all of your A2X updates.
Save hours on your ecommerce accounting
A2X connects your sales channels and accounting software for fast and accurate monthly bookkeeping.
Try A2X today