What is A2X and How Does It Automate Ecommerce Accounting?
A2X is an ecommerce accounting app that helps businesses, accountants, and bookkeepers, automatically reconcile payouts from their sales channels in QuickBooks, Xero, or Sage.
Founded in 2014, A2X works with over 12,000 customers as well as the top ecommerce accounting and bookkeeping practices in the world. With the support of our customers and partners, A2X is the most accurate ecommerce accounting solution available today – helping businesses increase their financial visibility while saving hours a month.
Table of Contents
Save hours on your ecommerce accounting
A2X connects your sales channels and accounting software for fast and accurate monthly bookkeeping.
Try A2X today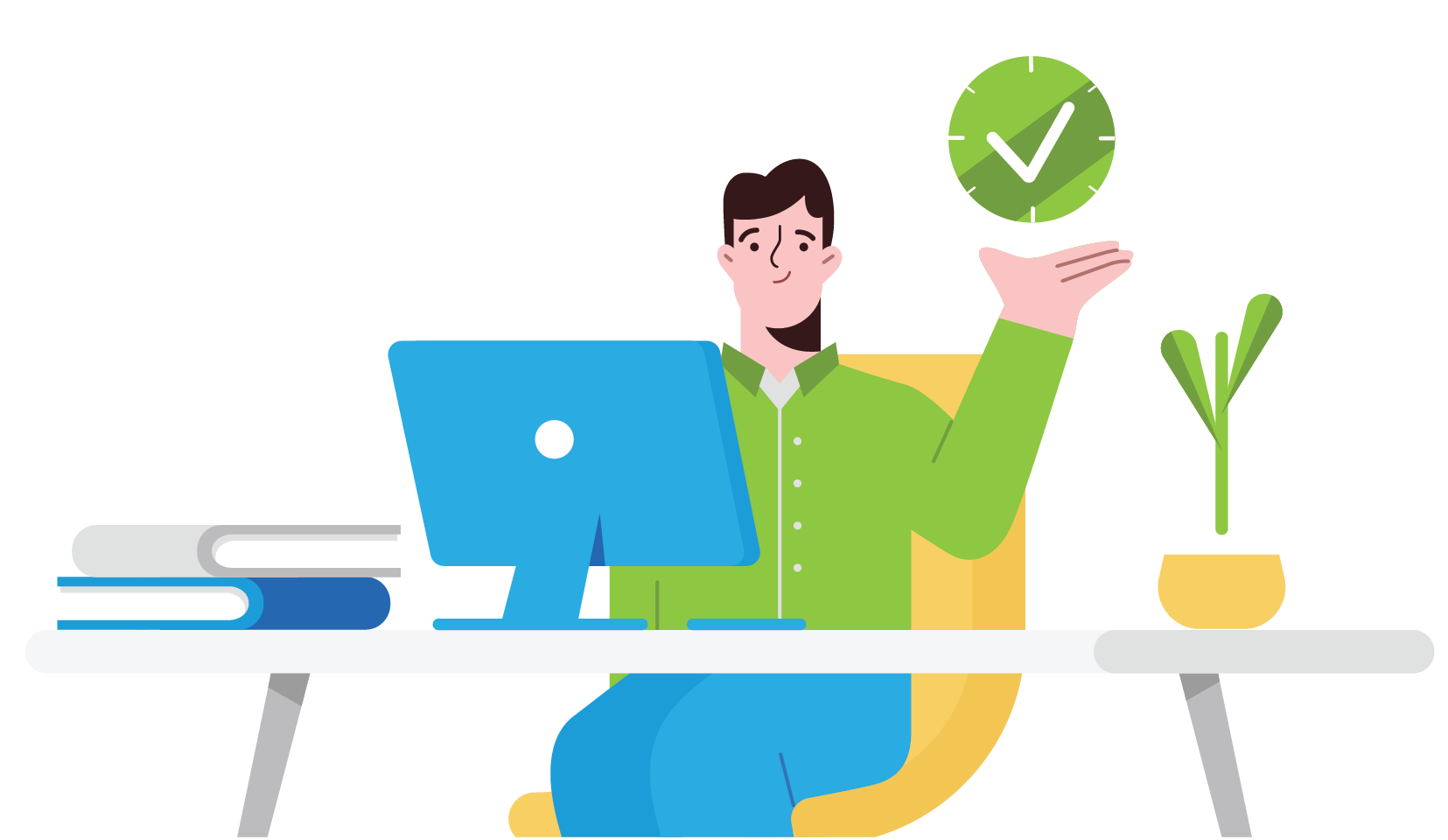 How does A2X automate ecommerce accounting?
A2X transforms payout data from Amazon, Shopify, eBay, Etsy, and Walmart into organized summaries that reconcile perfectly in Xero, QuickBooks Online, or Sage.
It automatically categorizes sales, fees, taxes, refunds, and more, and organizes the transactions into summaries that perfectly match to the payout deposits in your accounting software – allowing you to reconcile payouts in just one click.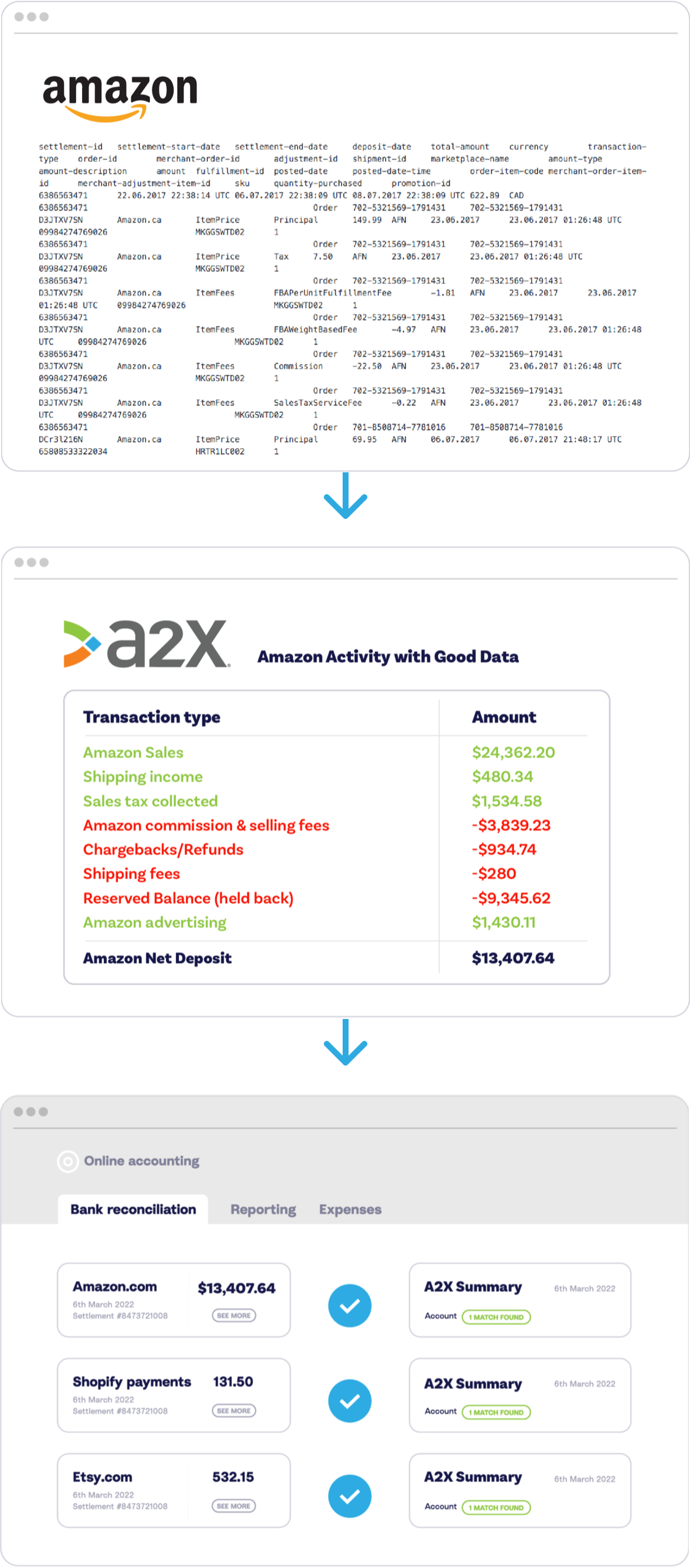 With A2X, you'll:
Automate a time-consuming monthly process
Always pay the right amount in taxes
Get a better view into your financials with a more detailed Profit & Loss Statement (P&L)
Have confidence in the accuracy of your books
Why is ecommerce accounting challenging without A2X?
Ecommerce payouts are different from traditional retail sales payments.
For traditional retail sales payments, the seller generally receives the money directly from the buyer, so there's a clear connection between where the money has come from and what it was for.
This isn't the case for ecommerce sales.
Ecommerce businesses are paid in batches from their sales channels, which causes an array of accounting complications.
Correctly accounting for ecommerce transactions is difficult because:
All transactions are lumped together into batched payouts.
There's no clear timeline or cutoff for payments. One payout could cover multiple days, weeks, months, or even partial periods, meaning a day could be split into separate payouts.
The payout doesn't just cover sales and could also include; tax collected, shipping income, discounts, refunds, fees, disputes, pending payouts, and many other transaction types.
One payout might cover multiple countries, meaning different tax rates need to be applied.
Transaction types aren't always labeled correctly, which makes them difficult to identify if they change or a new one is added.
For correct accrual accounting, financial reporting, and tax compliance, these batch payouts from sales channels like Amazon, Shopify, and other gateways need to be broken down into the correct transaction types, time periods, tax rules, and locations.
It might seem obvious to get this information from your sales channel, but it's not so straightforward. Reports that are generated from sales channels contain a lot of raw data that isn't categorized. Think of a spreadsheet with thousands and thousands of rows.
So, the ecommerce merchant has to try and split out the data manually in a spreadsheet.
At worst, this is near impossible. At best, it's incredibly time-consuming and error-prone.
Even if the ecommerce merchant manages to get the numbers close, they would then need to create manual entries in their accounting system every time they receive a payout. And they would still have a residual balance that isn't accounted for.
When it comes to paying tax, making financial decisions, calculating margins, or even valuing your business, close enough isn't good enough.
Why do the top ecommerce businesses, bookkeepers, and accountants trust A2X?
A2X is the most accurate solution. A2X doesn't just transfer data from your sales channels to your accounting software, it first makes sense of the data. Your transactions are grouped into the correct categories and time periods, with tax rules applied, and batched into summaries that match to the payouts in your bank feed for reconciliation.

A2X is reliable. With experience in reconciling millions of ecommerce transactions across different countries, currencies, and tax jurisdictions, A2X leads the way in ecommerce accounting.

A2X will get your books up to date in no time. Unlike trying to organize raw data manually, with A2X, there's no room for error, no time wasted, and no manual entries. A2X can also fetch historical data if you're behind in your bookkeeping.

A2X is customizable. You have the power to customize A2X for your specific accounting needs. From account codes, tax rules, transaction categories, and more. A2X gives you as much or as little control as you need.

A2X has a support team that understands ecommerce accounting. Many of our support representatives have a background in accounting or bookkeeping. They're located all around the world, meaning you can get local assistance in hours, not days.

A2X has the strongest network of expert ecommerce accountants and bookkeepers in the world. Not working with an accountant or bookkeeper? Find one on A2X's Partner Directory, where you'll find the top ecommerce accountants and bookkeepers in your countryAre you an ecommerce accountant or bookkeeper? Find out how to become an A2X partner.
Is A2X safe?
Yes, A2X maintains the highest level of security, so you know your data is safe. A2X uses the following accepted industry standard measures to ensure the security and privacy of user's data, including; data encryption, SSL Certificates issued by leading certificate authority LetsEncrypt, and regular security audits. Additionally, A2X is compliant with the General Data Protection Regulation (GDPR) and the California Consumer Privacy Act (CCPA).
All A2X data is stored within the Google Cloud Platform infrastructure (GCP) using servers located in the USA. Google Cloud is a top-tier server infrastructure and managed server provider that complies with important US and EU data protection. All data that is stored by Google is encrypted at the storage layer using the Advanced Encryption Standard (AES) algorithm, AES-256. It is important to note that A2X customer data is encrypted not just while it's stored, but also during the transfer process. 
Strict Identity and Access Management (IAM) controls are enforced within the GCP. Application controls prevent unauthorized access, except as approved through application privileges and credentials. Data safeguarding is a top priority for the A2X engineering team and additionally, A2X has a Data Protection Officer who is responsible for tracking A2X's security processes. 
For more information, you can read the A2X Privacy Policy. 
Overall, these measures demonstrate that A2X takes data security seriously and is committed to providing a safe and secure platform for its users.
Save hours on your ecommerce accounting
A2X connects your sales channels and accounting software for fast and accurate monthly bookkeeping.
Try A2X today