The Ultimate Guide to eBay Integration with QuickBooks
If you're an eBay seller, having the right tools to manage your business is key. One powerful asset often recommended is QuickBooks Online. To make the most out of your accounting software, you'll need to focus on an eBay integration with QuickBooks. Doing this will allow you to effortlessly manage your revenue streams, keep an eye on your cash flow, and tackle month-end financial tasks more easily, all without overloading QuickBooks.
When it comes to an eBay QuickBooks integration, you have three main options:
A QuickBooks eBay integration with an ecommerce accounting automation tool like A2X that will categorize and reconcile your payout data.
Integrate eBay and QuickBooks with a data-syncing app that puts individual orders into your accounting software for manual categorization.
Manually enter data from eBay reports into QuickBooks.
This comprehensive guide will walk you through each of these three methods for an eBay QuickBooks integration. By the end of this article, you'll have all the information you need to decide whether manual entry, a data-syncing app, or a specialized solution like A2X will be the most efficient way to manage your eBay accounting, now and as your business grows.
Table of Contents
Integrate eBay and QuickBooks for accurate accounting
A2X accurately and automatically categorizes the sales data that makes up each eBay payment, saving you time.
Try A2X today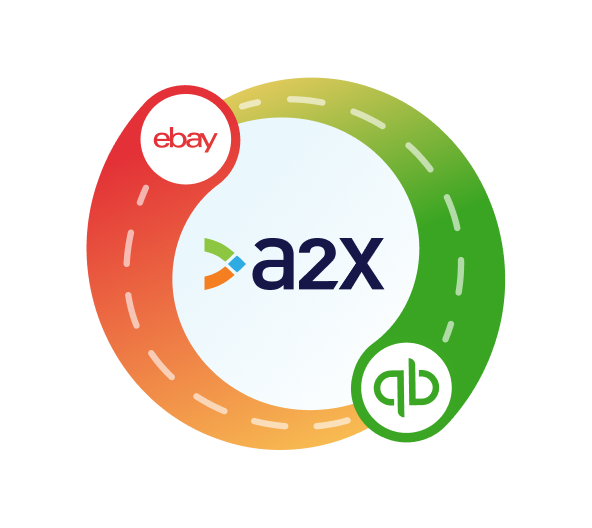 eBay integration with QuickBooks using ecommerce accounting automation tool, A2X

A2X bridges the gap between eBay and QuickBooks
A2X is an ecommerce accounting automation tool designed for businesses that operate on sales channels, including eBay, Amazon, Shopify, Etsy, and more. It also integrates with cloud accounting software like QuickBooks and Xero, acting as a facilitator between your sales channel and accounting system.
A2X streamlines the eBay QuickBooks integration by taking the raw sales data from your eBay account and organizing it into concise summaries. These summaries are then sent to QuickBooks making your eBay accounting a breeze. What sets A2X apart is how well it matches these summaries to the lump sum payouts you receive in your bank account from eBay, enabling one-click reconciliation of your settlements.
Why A2X is a game-changer for eBay sellers
The complexities of eBay's billing cycles can make accounting quite challenging. eBay sellers can schedule payouts to occur weekly or bi-weekly, meaning you're left to deal with payments that span across days or weeks. Additionally, payout periods can easily extend over two months, resulting in you needing to carefully split out which sales were made in each month to retain accurate records.
All of this makes it cumbersome to accurately allocate sales and expenses to the correct time periods. A2X solves this by automatically splitting this data based on the exact days sales and expenses occurred, eliminating the manual labor usually required to get your books in order.
Easy and straightforward integration
Setting up the eBay integration with QuickBooks via A2X is incredibly simple. You can either manually map your Chart of Accounts or opt for A2X's recommended settings. Either way, the setup takes just a few minutes.
If you ever find yourself stuck or in need of assistance, A2X has you covered. There are various resources available to help you out, including an extensive support center, a chat service, and a dedicated support team ready to assist you.
How to do a QuickBooks eBay integration with QuickBooks using A2X
Sign up for a free A2X trial: Start the process by getting a free trial of A2X for eBay to QuickBooks. 

Select Create an Account and enter your details.
Give permission to Google to log in or sign in using your QBO account.
You will land on the A2X dashboard.

Connect to QuickBooks: In your A2X dashboard start step one of the sign up process. Select the QuickBooks logo, then click the Connect to QuickBooks button.

You will be redirected to your QuickBooks account to grant permission for access by A2X. After giving this, A2X will return you to your dashboard.

Connect to eBay Seller Hub: Proceed to step two of the sign up process. Here you have two options:

Option 1: If you are the store owner or have access to the eBay store you are connecting, select I have access. Log into eBay, and click I agree to grant permission for A2X to access your account. 
Option 2: If you are integrating A2X on behalf of a store owner, select I need to request access to send an email to the seller with a link to authorize the connection. You will need to wait for them to authorize before proceeding any further.
After permission is granted, A2X will return you to your A2X dashboard, and your first payouts will automatically begin populating. This could take as little as 10-20 minutes for smaller stores and a few hours for larger ones.
With both accounts connected to A2X, the first part of the integration process is complete. Next, you should set your accounts and taxes. This is your blueprint for where all eBay transactions will be categorized by A2X and sent to QuickBooks, so it is worth spending time on this part and even consulting with an accountant to get it right. A2X also has generic suggestions to make things easier.
Setup accounts and taxes: This is the process of selecting which General Ledger account you want each transaction type to be posted to in QuickBooks, for example, sales to an eBay Sales account. A2X can automate this whole process for you or you can map it yourself.

First click Setup Account and Taxes.
The first time you visit the accounts and taxes page, A2X will prompt you with a few questions about your business. Once you've answered these questions, you will be presented with two options, Assisted Setup or Custom Setup

Assisted setup: A2X will automatically apply best practice recommendations to your new A2X account for accurate ecommerce accounting. These recommendations include applying the tax rate, and creating the Chart of Accounts in QBO and mapping the transactions to these accounts.
Custom setup: If you prefer to map your own transactions, you can choose your own accounts and taxes for each transaction type rather than an A2X generic default. To do this, click the down arrow next to a transaction type and find the account you want from your Chart of Accounts list.

Save your mappings: Click the Save Mapping button at the bottom of the page. Your account mapping will now apply to your settlements consistently.
Note: If you create new accounts in your QuickBooks after connecting A2X, you will need to refresh your cache by going to Settings → Connections.
Review and post: Before sending an entry to QuickBooks, you should review the entry in A2X by going to Settlements and clicking review. Use the dropdown to review all information that will be posted to QuickBooks.

You have control over when you send the entry, so only post when you're ready, and don't be worried about swamping your QuickBooks.
Auto-posting is available to you when you're ready to use this
Your QuickBooks Journals can be found if you click into the search bar (this will show the most recent journal entries in QuickBooks). They should automatically appear as a match in the banking screen.

Reconcile:

In QuickBooks, on the right-hand side, go to Banking. You'll see the journey entry sent by A2X in the For Review category.
Next to the payout from your sales channel, in the Action column, will be the word match. The A2X entry will be there and match perfectly, Click match to reconcile in one click.
This tutorial explains how to do your eBay bookkeeping in QuickBook with the help of A2X and why doing this process manually is too hard, even for seasoned bookkeepers:
Note: In the video Sarah is using the old A2X interface and maps manually, whereas now you also have the option to use assisted setup.
A2X pros
Designed for eBay specifics
A2X is a specialist tool crafted for ecommerce businesses, including those selling on eBay. This ensures your unique eBay transaction types, such as sales marketplaces fees, sales shipping fees, eBay dispute, and refund discount are accurately identified and categorized by A2X before they're sent to QuickBooks for one-click reconciliation.
Time-saving and error-reducing automation
Automation is where A2X truly shines. It not only cuts down on manual data entry, which can be prone to errors, but also saves you invaluable time. You can use those extra hours to focus on other areas of your eBay business that need your attention.
Attach only what's needed
Order details are essential but can be bulky. A2X strategically attaches the necessary order details to each entry, ensuring that you can look up individual orders without overwhelming your QuickBooks Online account with unnecessary data.
No clearing accounts needed
A2X takes the hassle out of reconciliation by directly syncing with both your bank account and QuickBooks Online, bypassing the need for a separate clearing account. This makes your accounting tasks simpler and faster.
Customizable to your needs
Every eBay business is unique, and A2X gets that. While it offers recommended settings for ease of use, it also allows you to customize your account mappings to better align with your specific business requirements.
Top-notch support
Whether you've hit a snag or just have a quick question, A2X's support team is there for you. With a wealth of helpful articles, a comprehensive ecommerce accounting hub, and a team that really knows their stuff, you're never alone on your journey to streamlined accounting.
A2X challenges
Initial setup time
A2X offers advanced capabilities beyond simple data-syncing, which means it might take a bit longer to set up—especially if you're customizing account mappings. However, the bright side is that A2X provides guided setup and an always-on support team to make the process as smooth as possible. Once you've finished setting it up, A2X takes over with its automation, ensuring your books are in tip-top shape.
The detail can be daunting
If you're new to detailed bookkeeping, the level of detail that A2X provides might feel overwhelming initially. That said, all that detail is there for a good reason: it offers a thorough picture of your eBay business performance. If you're not sure how to interpret the numbers, consulting with an accounting professional can offer valuable insights.
End-of-month timing
eBay offers either weekly or bi-weekly payouts, which could affect your ability to finalize your books at the end of the month. If a payout cycle starts at the end of one month and extends into the next, you might experience delays in your monthly close-off. But once the payout period is complete, A2X helps you reconcile everything accurately, ensuring your financial reporting is accurate down to the last penny.
Do a QuickBooks integration with eBay using a data-syncing app

If you're an eBay merchant looking to integrate with QuickBooks Online, data-syncing apps like eBay Connector could be your go-to option. These apps specialize in transferring your eBay transaction data straight into QuickBooks, often summarizing your daily sales as a single invoice. Various apps in this category can be found in the QuickBooks app store.
While these data-syncing apps can be a fitting solution for new or smaller businesses, they might not scale well with your growth. They often import large volumes of sales data, which can slow down your QuickBooks Online account. Plus, their lack of customization options and limited support for international businesses may leave you wanting more, especially when it comes to in-depth financial analysis.
How to integrate eBay with QuickBooks using a data-syncing app
Just like with other platforms, an eBay integration with QuickBooks through a data-syncing app is a straightforward process. However, keep in mind that these apps offer fewer customization options compared to specialized tools like A2X. Set up for these apps will vary depending on which app you use, but here's a general overview:
Create an account: Choose a data-syncing app that works for you and create an account.
Connect eBay: Navigate to the section where you can add platforms and choose to connect eBay. This is where your sales data will come from.
Connect QuickBooks: In the same app, look for the option to add an accounting platform and select QuickBooks. This is where your eBay sales data will go. Double-check to make sure that data won't start syncing automatically, as you'll want to have everything properly configured before you turn the app on.
Set up data transfer: Now, configure what exactly you want the app to transfer. This might be as simple as setting up prompts that map sales data to your QuickBooks account when a sale is made, but some apps may offer more advanced settings.
Test the action and turn it on: After setting up the actions, run a test to ensure that everything's working as expected. Since these apps may have limited control over the types of data you can sync, make sure you're comfortable with the settings before you turn on the automation.
Note: Once the app is up and running for your QuickBooks integration with eBay, reversing its actions can be tricky. So, take the time to test and make sure it's doing exactly what you need before letting it run on its own.
Data-syncing app pros
Cost-effective
Data-syncing apps are often less expensive, and many offer free or low-cost plans. This makes them a good entry-level option for eBay sellers who are looking to integrate with QuickBooks without breaking the bank.
Convenient order lookup 
With most data-syncing apps, your eBay sales data will be directly imported into QuickBooks. This means you can look up orders right within your accounting software, avoiding the need to log into eBay separately to find this information.
Speedy month-end close
Unlike dealing with settlement cycles, using a data-syncing app can help you close your books faster at the end of the month. Just be cautious—this convenience can sometimes come at the cost of financial accuracy.
Ideal for smaller operations
If you're running a small eBay store with less transaction volume, a data-syncing app can be a sufficient and cost-efficient choice to handle your basic accounting needs without all the bells and whistles you might not yet need.
Data-syncing app challenges
Missing transaction types
eBay has its unique transaction types, and there's always a chance that they may add new types. These transaction types might not get picked up by a generic data-syncing app. This can make reconciliation a headache, forcing you to spend extra time figuring out what's what in your QuickBooks Online.
Tax functionality gaps
These apps usually have a basic grasp of tax, but they often miss the finer points. For example, they might not track if a sale included tax or was tax exclusive, or they might not accurately track VAT or GST for international sales. This would leave you scrambling come tax time.
Reconciliation roadblocks
Data-syncing apps often have set transaction cut-off times, which could be daily, hourly, or weekly. This can make it tough to reconcile your eBay sales with your QuickBooks Online records. It's not ideal when you have to manually match entries to settlement payments, which is exactly the opposite of why you chose to integrate the app in the first place.
Not great for growth
These apps often have a one-country, one-tax, one-currency focus (most likely US sales tax). So, if your eBay business starts branching out into new markets, the app might not be up to the task, making expansion complicated.
Clearing account confusion
A common issue with these apps is the use of clearing accounts that don't actually clear. If you discover that you have an uncleared balance, you'll have to put on your detective hat and find out where that money came from, which is time you could have spent on more important tasks.
Data overload
These apps can flood QuickBooks Online with so much data that it can slow down the software, making it difficult to sift through the information you actually need. In some cases, you might even have to start fresh with an entirely new QuickBooks account, which is extra time, effort, and stress no one wants.
Support Shortcomings
Depending on the app you opt for, customer support might not be reliable. Sometimes the support team might not fully understand the challenges you're facing with your QuickBooks integration with eBay. If you're on a free or low-tier plan, this could make getting help even more difficult, defeating the purpose of using the app altogether.
Manual eBay Integration with QuickBooks: A How-To Guide for Sellers

If you're an eBay seller who prefers a hands-on approach or if you're just starting out and are budget-conscious, manually entering your eBay sales data into QuickBooks is definitely doable. It might take a bit more time and attention to detail, but for many sellers, the tradeoff is worth it.
How to "integrate" Shopify with QuickBooks manually
Log into eBay: First off, log into your eBay Seller Hub. This is where you'll find all your sales data.
Download your sales report: eBay offers various types of reports, but for accounting purposes, you'll want the most comprehensive one.

Monthly Financial Statement: This report gives you an overview of all your transactions, fees, and other financial details for the month. Navigate to Seller Hub → Payments → Reports, then adjust the time period to the month you want to record and click Download Report.
Download the report: Usually, you can download these reports in CSV or Excel formats, making it easier to manipulate the data later.

Consolidate the data: Once you've got the report, you'll need to prep the data for entry into QuickBooks.

Sift through transactions: Look at the various transaction types like sales, fees, and refunds.
Create a summary: Sum up the transactions in a way that aligns with your QuickBooks accounts. Be meticulous; you want this to match your actual deposits.

Open QuickBooks:

Create a new journal entry: Head over to QuickBooks, click on New in the top left corner, and then choose Journal Entry.
Map the data: Take your summarized eBay transactions and start entering them into the appropriate accounts in QuickBooks. If you haven't set up your Chart of Accounts yet, do it now.

Review and import: Before you hit that Save button, give everything one last look to make sure your journal entry matches your eBay deposit. Check, double-check, and then, when you're sure, go ahead and save.
Manual pros
Free, mostly
Just like other platforms, the big advantage of manually inputting your eBay sales into QuickBooks is that it's basically free, apart from the time you invest and the cost of your QuickBooks plan. So if you're just dipping your toes into ecommerce or running a small eBay shop, manual data entry can be cost-effective.
Full control over data
You get to decide what goes into QuickBooks and what doesn't. Unlike automated solutions, where you might get a deluge of data you don't need, manual entry ensures that only the necessary data lands in your accounts.
Customize as you go
Doing it yourself means you can make journal entries that fit your specific business model. You can tweak the categorization, take account of unique transactions, and set things up exactly how you want them.
Manual Challenges
Volume of data
eBay transactions can add up quickly, especially if your store takes off. The more transactions, the more data to sift through, sort, summarize, and enter into QuickBooks. Over time this might become overwhelming and burdensome.
Transaction types galore
eBay also has various types of transactions like sales, returns, and shipping fees. Keeping track of these different categories and entering them correctly can be time-consuming and a source of errors.
Month-end crossover
eBay settles payments at different intervals, meaning you could have transactions that span the end of one month and the beginning of another. This adds an extra layer of complexity when you're trying to reconcile your books at the end of the month.
Tax responsibility
Just like any business, you have to be accurate with your tax information. Manually entering data increases the risk of errors, which could cause problems down the line, especially during tax season.
Multiple sales channels
If eBay is not your only sales channel, then the challenge of manual data entry increases exponentially. You'll have to download and manually enter data from other platforms too, which could get overwhelming really quickly.
Time-intensive and error-prone
Manual data entry takes a lot of time, and it's easy to make a mistake. All it takes is one typo or misplaced decimal to throw off your financials. Correcting these errors later on can be a real headache.
Not ideal for scaling
If your eBay store grows, the demands of manual bookkeeping will grow with it. The method might work when you're small, but it could become a roadblock as you expand.
eBay to QuickBooks Integration FAQs
What is the best eBay to QuickBooks integration software
A2X is one of the best eBay to QuickBooks integrations. It is trusted by the world's leading ecommerce accounting practices where it is an indispensable tool for accountants and bookkeepers who use it to automate tasks that would otherwise be time-consuming and error-prone.
Does eBay integrate with QuickBooks?
Yes, eBay integrates with QuickBooks if you use the A2X app. A2X imports your sales transactions and payment data from eBay, interprets and categorizes it, and sends it on to QuickBooks to be reconciled in one click. Once A2X is set up, it will monitor your eBay account for transactions and then automatically extract data, process it, and send it to QuickBooks with no further action needed from you.  
How can I connect eBay to my QuickBooks account?
Connect your eBay account to your QuickBook accounts in five simple steps. You can do this using a free A2X trial before committing to a paid plan:
Sign up for a free trial of A2X for eBay to QuickBooks. 
Connect A2X to your QuickBooks.
Connect A2X to your eBay account.
Setup accounts and taxes so everything is mapped to the right places.
Review your settlements, post to QuickBooks, and reconcile them with one click.
Who integrates with eBay?
There are many apps and platforms that have integrations with eBay that help make your job easier as an ecommerce seller. When it comes to doing your eBay accounting and bookkeeping, one key integration is A2X, which makes eBay bookkeeping easy and accurate. A2X sits between eBay and QuickBooks, automatically extracting eBay sales data, processing it, and passing it onto QuickBooks for easy reconciliation. It integrates seamlessly with eBay as well as Shopify, Amazon, Etsy, and more.
How do I link QuickBooks to ecommerce
Connecting your QuickBooks account to your ecommerce platform of choice is easy. Here's the five steps eBay users you need to follow:
Sign up for a free trial of A2X for eBay to QuickBooks. 
Connect A2X to your QuickBooks.
Connect A2X to your eBay account.
Setup accounts and taxes so everything is mapped to the right places.
Review your settlements, post to QuickBooks, and reconcile them with one click.
You can also use A2X to integrate QuickBooks with Amazon, Shopify, Etsy, Walmart, and BigCommerce.
How do I import payments into QuickBooks Online?
To get your eBay transaction data in QuickBooks Online, either set up a tool like A2X to automatically pull the data from eBay and pass it on to QuickBooks Online or download reports from eBay and manually enter the data into QuickBooks.
Also on the blog
Integrate eBay and QuickBooks for accurate accounting
A2X accurately and automatically categorizes the sales data that makes up each eBay payment, saving you time.
Try A2X today